Think you can't go Paleo because you love bread, cheese and pasta too much? Think again! Use this handy Paleo substitutes guide so you never feel deprived.
You might be surprised at how easy it is to swap in veggies, healthy sweeteners and grain-free flours to recreate all of your favorite dishes.
If it's starchy carbs you crave, pulse up some cauliflower florets to replace rice, or get a spiral slicer to make zucchini noodles instead of pasta.
Want to go Paleo? Not sure where to start?
Start with this FREE Paleo For Beginners Guide Today!
If it's dairy you're after, coconut cream or almond milk can stand in as a tasty replacement for nearly any recipe. You can even use cashews to make your own 'cheese'!
Refer to this handy Paleo substitutes guide anytime you're tempted to reach for something unhealthy. From coconut yogurt to homemade hot sauce, we've got all your needs covered!
Paleo Substitutes for Grains
Bread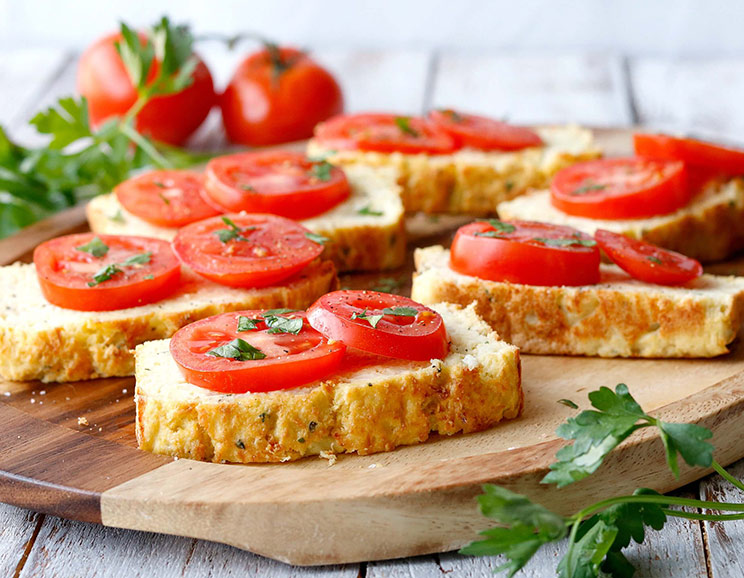 There's a Paleo bread for nearly every occasion, and none of them need any wheat. Almond flour helps create a sturdy bread strong enough for sandwiches, arrowroot powder makes for fluffy pita bread, and cauliflower bakes up some pretty impressive naan. Don't even get us started on Paleo-friendly banana bread recipes (here are our 29 favorites)
Alternatively, you can ditch the bread and come up with more inventive ways to eat a sandwich or burger. For breakfast, use eggs as the tortilla replacement in a burrito, make sweet potato pancakes to hold together your egg sandwich, or weave together some bacon as sandwich bread. At lunchtime, roll up lettuce or cabbage leaves as a wrap, have two portobello mushrooms stand in for a burger 'bun', or fill half a bell pepper with your favorite fixin's. Check out these breadless cucumber subs and crustless pizza recipes if you need some inspiration.
Rice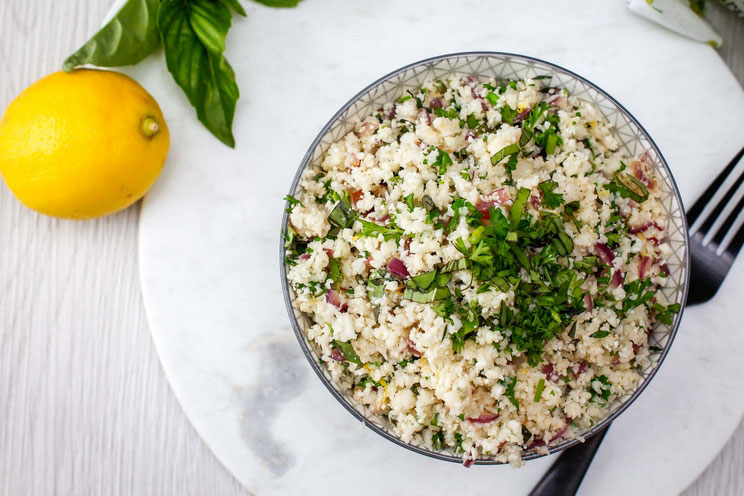 Put cauliflower in the food processor and pulse until you get a fine texture similar to couscous or rice. It's a versatile base that you'll use in pilaf recipes, grain-free fried rice, and even savory risotto.
Pasta and Noodles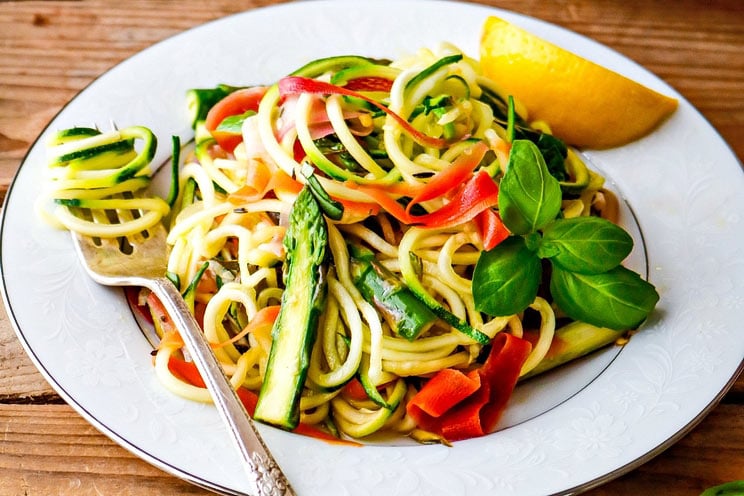 Get a spiral slicer and experiment with all the hearty veggies you can turn into pasta. Start with this list of Paleo noodle recipes to turn zucchini, beets, and sweet potatoes into your favorite pasta shape. And don't forget one of nature's best Paleo substitutes for pasta: spaghetti squash!
Flour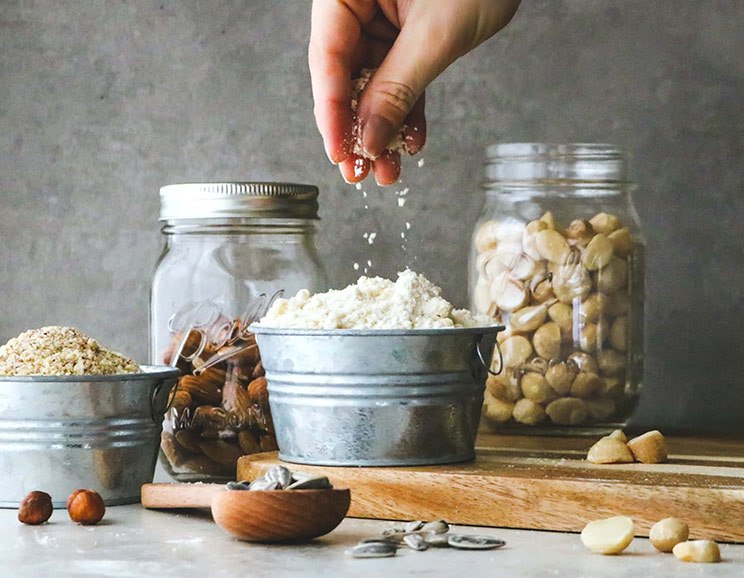 Ditch the wheat flour in favor of hearty almond flour, fluffy coconut flour and even fragrant coffee flour to bake up Paleo cakes, muffins, pancakes, biscuits and breads. However, beware that you can't always use a 1:1 ratio when using these in non-Paleo recipes. Tip: Check out this guide to baking with gluten-free flours.
Granola / Muesli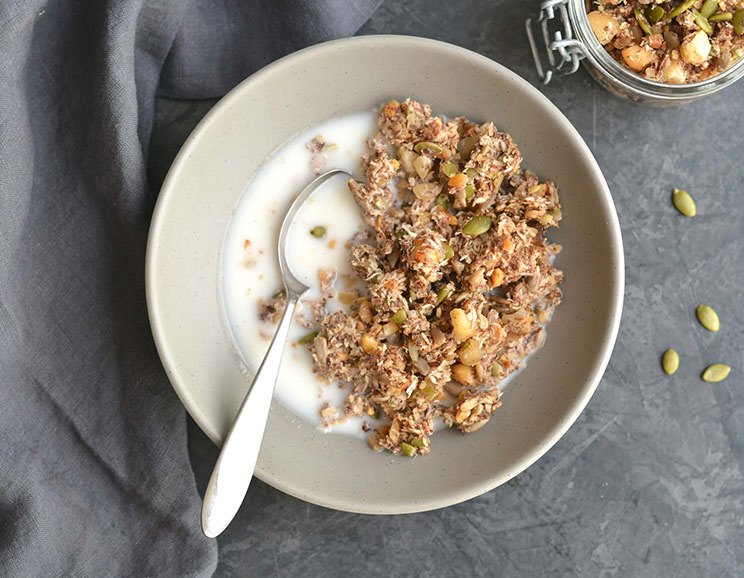 Use nuts to replace your morning oats, like pecans in this maple granola recipe or almonds in this more adventurous jerky granola. And if you want to get in on the overnight oats thing, we've discovered a whole new way to use coconut flakes or chia seeds for a Paleo-friendly variety. Speaking of which, we think chia pudding is a pretty great oatmeal replacement, too.
Lasagna Sheets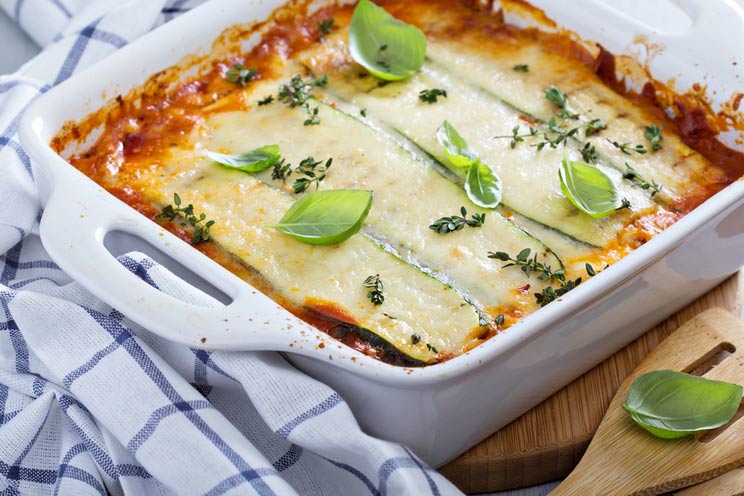 Think thinly sliced vegetables like eggplant, zucchini or sweet potato when you're craving some lasagna. Try these eggplant roll-ups for something a little different, or whip up this noodle-less butternut squash lasagna.
---
Paleo Substitutes for Dairy
Milk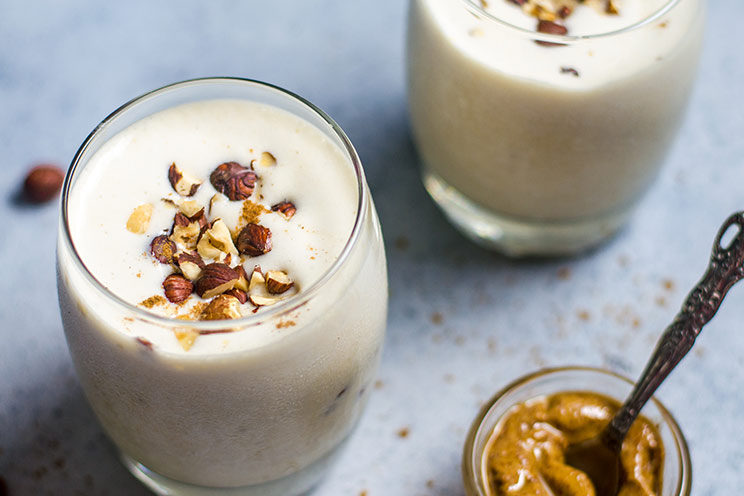 It turns out that nuts make for some pretty tasty milks. Try almond milk, coconut milk, or even the less popular hazelnut milk, hemp seed milk or walnut milk. If you can't find any at the store, you can easily make your won by blending up nuts with water, then straining.
If you want something truly unique, try using some allergen-friendly camel milk (just trust us). Use it to make this strawberry and banana ice cream cake!
Cream
For a creamier dairy-free replacement, stick a can of coconut cream in the fridge and allow the fat to solidify. Then set aside the liquid for later, and use the fat portion in place of cream. Try it in an au gratin, or whip it up for a decadent frosting.
Cheese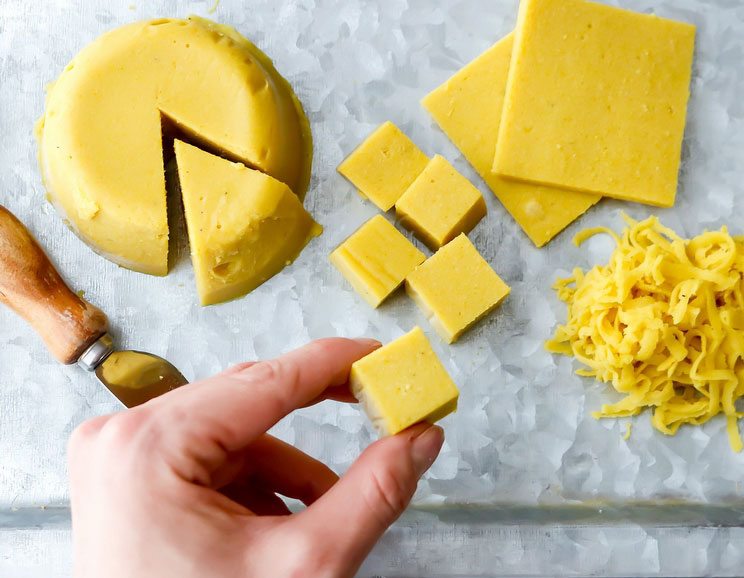 A little nutritional yeast goes a long way in lending lots of cheesy flavor. Try sprinkling some on soups or chicken, or check out this comprehensive list of Paleo cheese recipes that will show you how to pair nutritional yeast with cashews, cauliflower or even pistachios to make anything from nacho cheese to Parmesan, and everything in between.
Yogurt
No, yogurt is technically not Paleo, but fear not: you can make your own coconut yogurt right in the oven!
---
Paleo Substitutes for Seasoning
Sugar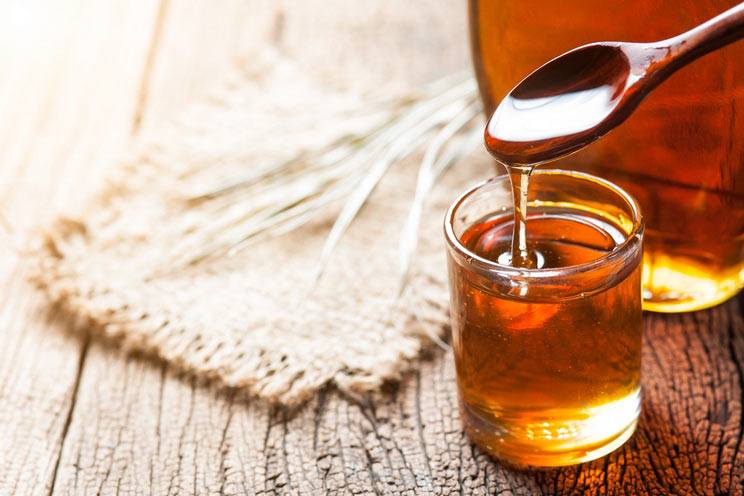 Processed sugar is a big no-no on the Paleo diet, but there are lots of other healthier sweeteners to use instead. Coconut sugar adds a bit of molasses flavor to baked goods, and Medjool dates can get blended up to create some pretty spectacular desserts (like these brownies).
Of course, you can also stick with tried-and-true sweeteners like honey (just make sure it's the raw kind) and maple syrup. Stevia is also great for those on the keto diet, but stay away from truvia if you can.
Salt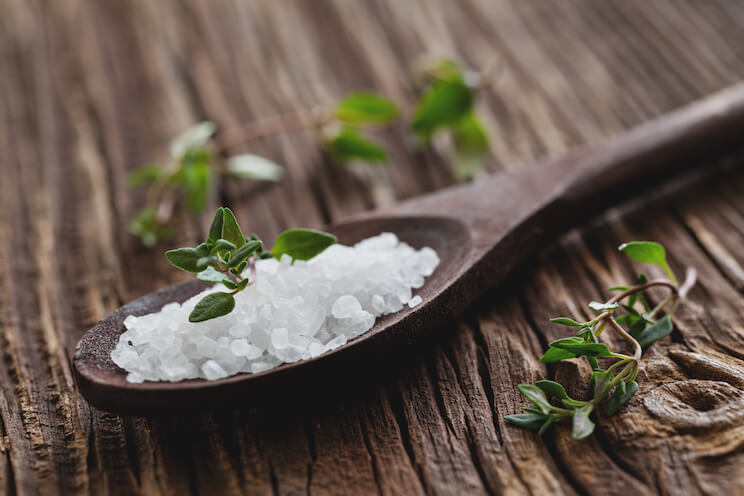 Replace your regular table salt with healthier varieties that are full of trace minerals, like sea salt or pink Himalayan salt.
You can also add capers, olives or anchovies for a naturally salty taste to your favorite foods. And who's ever complained about a little extra bacon crumbled on top?
---
Paleo Substitutes for Sauces
Tomato Sauce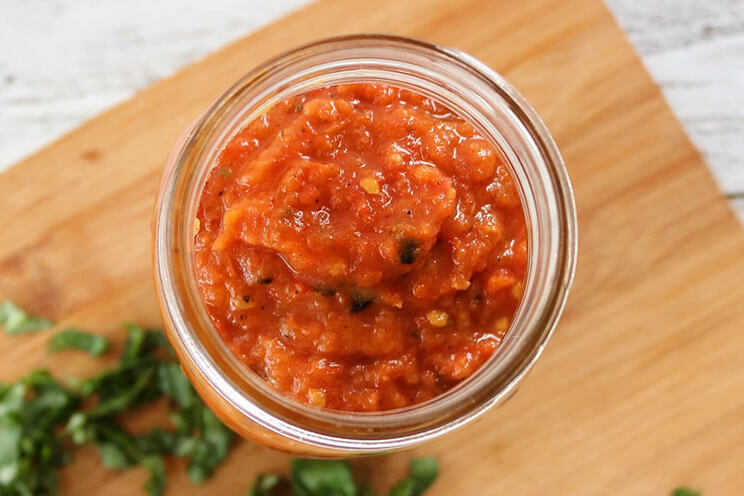 Canned tomato sauces are often laden with sugar and preservatives. It's easy to make your own sugar-free marinara sauce from Roma tomatoes, add some beef for a meat sauce, or make a hearty meat-free sauce using eggplant and mushrooms.
Condiments
Jazz up your meals with homemade ketchup, honey mustard, mayo and BBQ sauces with these easy condiment recipes. Amp up the heat by adding a little horseradish, chilli flakes, chilli oil or cayenne pepper to make your own custom hot sauce.
Creamy Sauces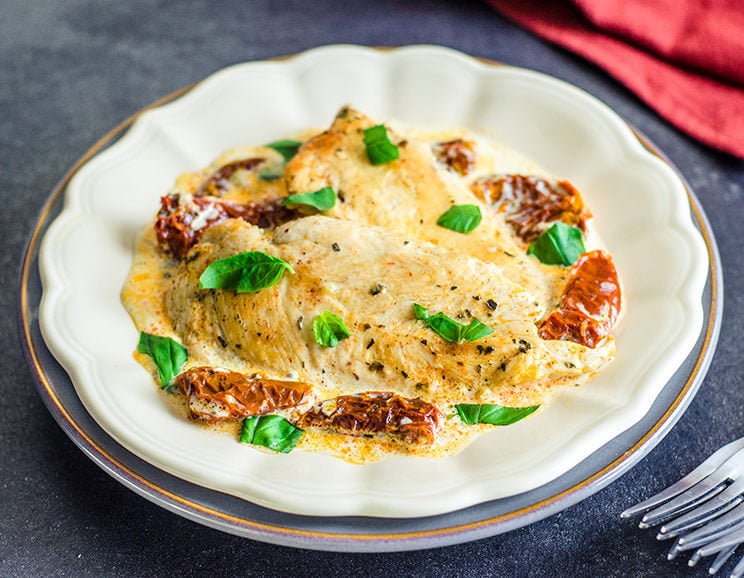 You don't need dairy to make decadently rich sauces, dips and dressings. Use coconut cream in place of regular cream, swap peanut butter for creamy almond butter or tahini, and mix up your favorite dip using a homemade mayo base. Here's another fun fact: You can make your own ranch dressing using just four ingredients!
If you need some inspiration to get started, we love this dairy-free Alfredo sauce recipe, meatballs smothered in a creamy sauce, Paleo carbonara, and this creamy chicken dinner with sun-dried tomatoes.
---
Paleo Substitutes for Oils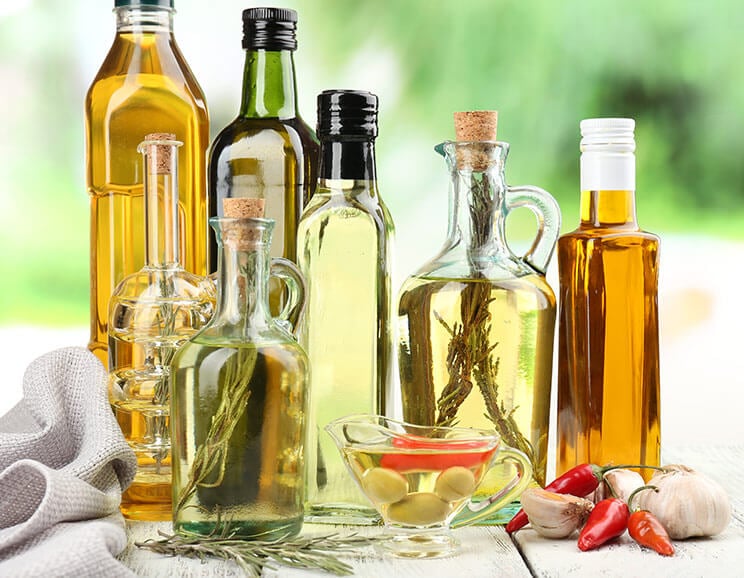 Vegetable oil is one of the worst things you can consume. It's time to avoid highly processed oils, including peanut oil, canola oil and corn oil, at all costs in favor of the heart-healthy kinds instead.
For Cooking
When you're cooking with high heat, use coconut oil, avocado oil, or ghee. Use olive oil only when cooking to medium heat – never to smoking point!
For Salads
Olive oil is great for dressing a salad, as a dip for Paleo bread, or drizzled on top of any entree. You can also branch out and try any of these Paleo-approved oils:
Flaxseed oil
Macadamia nut oil
Walnut oil
Hemp seed oil
Almond oil
Sesame seed oil
The possibilities for Paleo substitutions are limitless. All it takes is a little imagination and know-how to start recreating your favorites to fit a healthy lifestyle.
Ready to cook up grain-free, dairy-free recipes that burn fat, fight inflammation, and boost your energy levels? Our Paleo Plenty cookbook is filled with tasty but healthy Paleo recipes like sesame zucchini noodles, saffron & cilantro cauliflower rice, and maple ice cream. Get started on your Paleo journey today with this FREE cookbook.