Spice up your dinner table with a garlic and herb infused Sweet Potatoes Coconut Cream Au Gratin. This is a much lighter and healthier version of a traditional dish!
Potatoes au gratin is definitely a comfort food for me. The creamy goodness and starchy potatoes makes me think of childhood potlucks and parties, where this dish was always abundant.
While potatoes au gratin is certainly delicious, it is of course usually made with white potatoes and cream-of-something canned soup. However, it's possible to make potatoes au gratin with whole foods and still keep the cozy flavors. This casserole is made with sweet potatoes, coconut milk, herbs, and garlic.
Want to go Paleo? Not sure where to start?
Start with this FREE Paleo For Beginners Guide Today!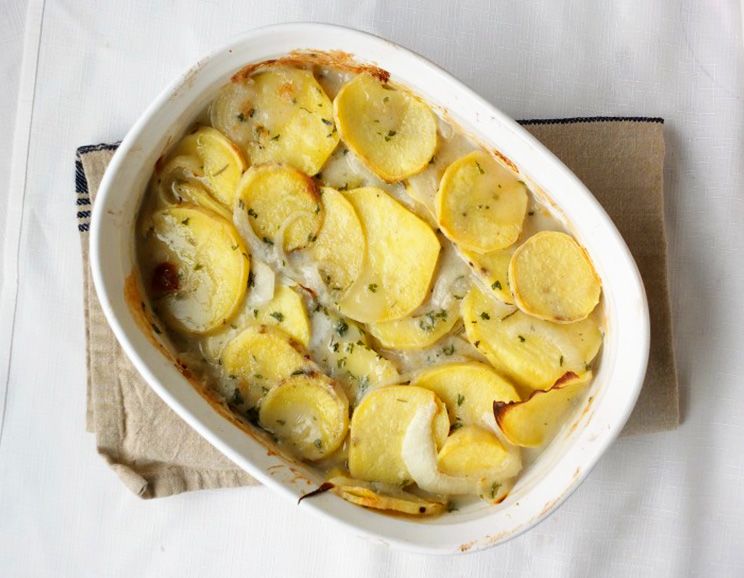 I used white sweet potatoes (usually sold as "jersey yams") for this recipe because I love how their creamy yellow color highlights the herbs. White sweet potatoes taste exactly like regular orange sweet potatoes, except they're lighter in color. Don't worry: They are not a nightshade. If you aren't able to find white sweet potatoes, feel free to use regular sweet potatoes or even purple sweet potatoes in this recipe. Using a mixture of assorted root veggies like turnips, rutabaga, carrots, and parsnips would be very delicious in this dish as well.
The rosemary in this dish sets off the sweetness of the root veggies, but you can swap it for thyme or your favorite herb. Make sure you let the casserole stand for the allotted time after it comes out of the oven; this allows the sweet potatoes to absorb any excess moisture from the sauce and enhances the flavors before you dig in.
This simple sweet potatoes au gratin recipe would be wonderful served with roasted meat or a fancier dish for a special dinner. It's also an easy-to-make dish to bring to a potluck.
Heather Resler
Sweet Potatoes Coconut Cream Au Gratin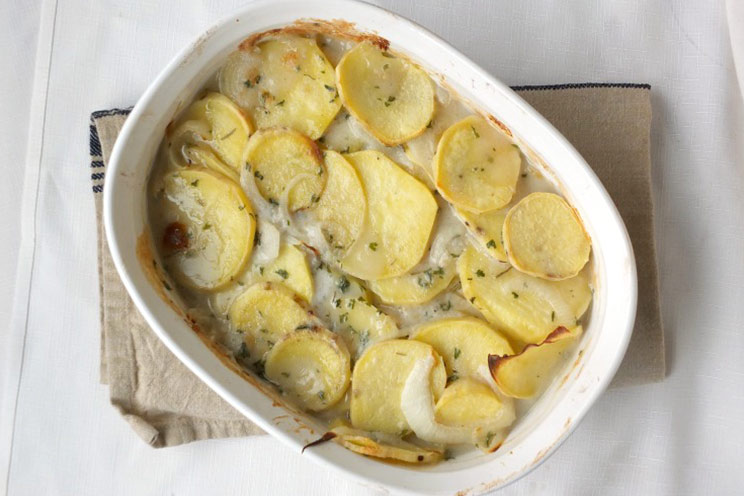 Prep Time:
30 mins
30 minutes
Sweet Potatoes Coconut Cream Au Gratin
Spice up your dinner table with a garlic and herb infused Sweet Potatoes Coconut Cream Au Gratin.
Ingredients
2 large jersey yams or regular (orange) sweet potatoes, peeled and thinly sliced

1 small onion, sliced

2 T coconut oil

2 T tapioca starch

1 cup coconut cream

1 cup chicken bone broth

1-1/2 t dried rosemary

1 T dried parsley

1 t garlic powder

Salt to taste

Black pepper to taste
Instructions
Preheat oven to 375°F.

Layer the sweet potatoes and onions in a medium-sized casserole dish.

Melt the coconut oil in a pan over medium heat.

Whisk in the tapioca starch.

Whisk in the coconut cream and chicken broth.

Add herbs, garlic, salt, and pepper and simmer just until thickened.

Pour over sweet potatoes and onions.

Cover and bake for 30 minutes.

Uncover and bake for another 15-30 minutes, or until bubbly.

Broil the top for 1-2 minutes to brown a bit.

Let stand 10 minutes before serving.
Looking for Paleo ingredients? Here are a few we'd recommend:
Cold pressed coconut oil (Viva Naturals)
Coconut cream (Native Forest)
Chicken bone broth (Kettle & Fire)

(You'll Also Love: Maple Nut-Topped Sweet Potato Casserole)