Blend up this creamy, dairy-free Coconut Yogurt for a healthy probiotic breakfast or snack!
This dairy-free Coconut Yogurt recipe gives you all the gut-boosting benefits of a fermented yogurt while keeping it 100% Paleo. You'll only need 3 ingredients – coconut cream, probiotics, and honey.
For the best yogurt, pay special attention to the quality of your ingredients. The coconut cream should be organic and from a BPA-free can. You can also substitute coconut milk with 2 or 3 tablespoons of tapioca flour to thicken, or just use unthickened coconut milk if you prefer a runnier yogurt.
Love Paleo Breakfasts? Then you'll love our FREE Paleo Breakfast Recipes.
Click here to get your FREE copy of our delicious Breakfast Recipes!
To get the needed gut-friendly bacteria in the coconut yogurt, use a dairy-free, plant-based probiotic with various bacterial strains. The three most important to look for are: Lactobacillus bulgaricus, Streptococcus thermophilus and Lactobacillus casei.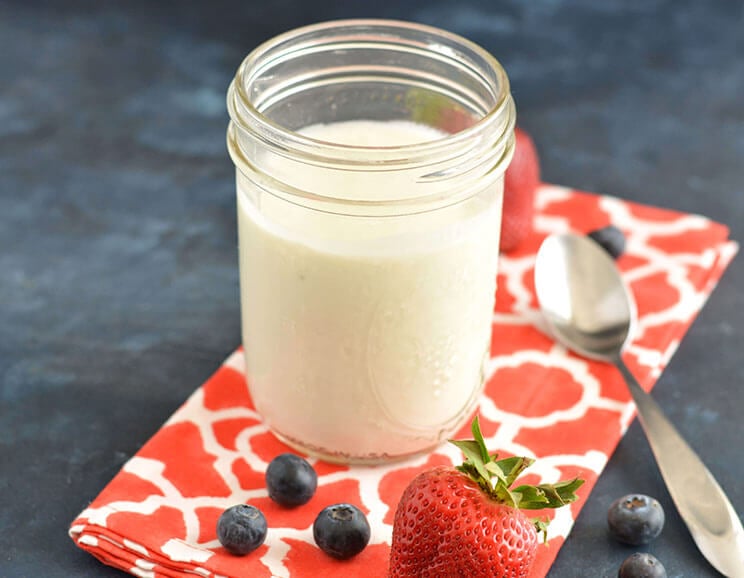 This recipe uses honey as a sweetener, but you can also substitute maple syrup, coconut sugar, stevia, or even blended fresh fruit if you prefer. Feel free to adjust the quantity of sweetener to your liking. You really can't mess it up, and it's so much better for you than store-bought yogurts!
After the mixture is blended well, transfer the yogurt to a glass jar with a lid, and let it ferment in the oven for a full day. Chill for at least two hours, then grab a spoon and dig in! Enjoy it as is, or try serving it with fresh fruit, raw nuts and seeds, or Paleo granola.
Megan Olson
How to Make Dairy Free Coconut Yogurt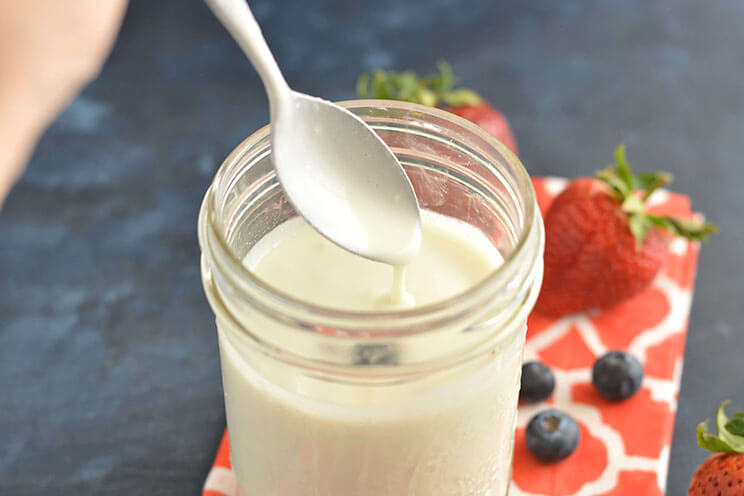 Cook Time:
24 hrs
24 hours
Prep Time:
5 mins
5 minutes
How to Make Dairy Free Coconut Yogurt
Blend up this creamy, dairy-free Coconut Yogurt for a healthy probiotic breakfast or snack!
Tools
Food processor or high-speed blender (sterilized)

Sterile glass jar with lid
Ingredients
2 15 oz. cans organic coconut cream, chilled in the refrigerator 4 hours

2 dairy-free probiotic pills with bacterial strains L. bulgaricus, S. thermophilus and L. casei

1 T honey
Instructions
Open coconut cream and separate the liquid from the cream.

In a food processor or high-speed blender, add the cream with the probiotic pills and honey. Process on high for 3 minutes until pills are broken down.

Check the consistency of the yogurt. If it's too thick, add a little of the coconut water and blend.

Transfer the yogurt to a glass jar and seal with lid.

Preheat the oven to 100°F. Place the glass jar in the oven for 24 hours to ferment.

Once fermented, remove from the oven, cool and stir the yogurt. Chill in the refrigerator for at least 2 hours.
Watch the Recipe Video Below!


(You'll Also Love: Healthy Coconut Yogurt-Less Parfait Recipe)
Eat cinnamon apple-crusted doughnuts… zesty lemon scones… and even breakfast chili all while staying healthy with the Paleo diet!
Enjoy 101 delicious Paleo
Breakfast recipes that melt fat, fight inflammation, and keep
you healthy
Enjoy 101 delicious Paleo
Breakfast recipes that melt
fat, fight inflammation, and
keep you healthy