Top fresh zucchini noodles with hearty meat sauce for a healthy and easy meal.
If you already own a spiralizer then you already know how it's done. But if you haven't used one before, don't worry.
All you do is push your vegetable – in this case a zucchini – into these sharp spokes so that it stays into place. Then you simply turn a handle and send the zucchini through the spiralizer and voila – you've got yourself curly, fresh Paleo zucchini noodles!
Trying to figure out exactly what to eat on Paleo? Look no further than our FREE 21 Day Paleo Meal Plan.
Grab Our FREE Paleo Meal Plan By Clicking Here!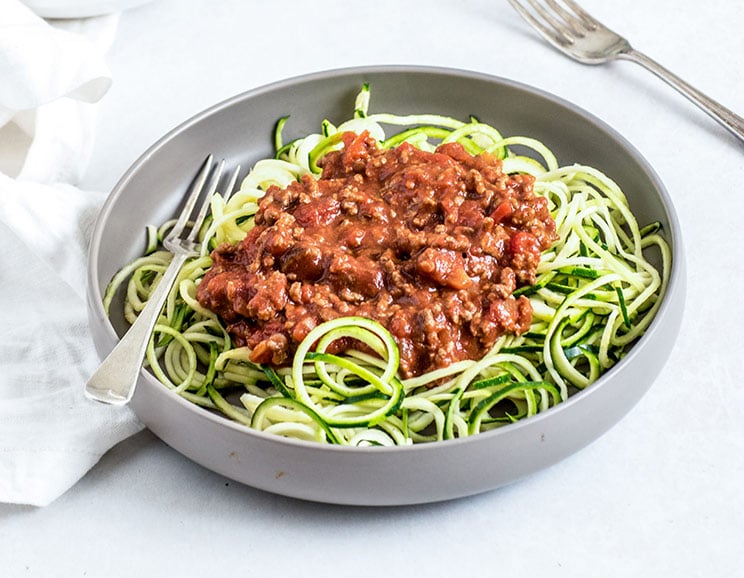 As for the meat sauce, it's deliciously simple. I've seen complicated marinara sauce recipes before and truthfully, I don't think it's necessary. If you have a favorite sauce recipe, feel free to add you own special touches to this recipe.
Erin Druga
Paleo Zucchini Noodles with Meat Sauce

Cook Time:
20 mins
20 minutes
Prep Time:
10 mins
10 minutes
Nutrition facts:
28 grams of protein
19 grams of carbohydrates
14 grams of fat
Paleo Zucchini Noodles with Meat Sauce
Top fresh zucchini noodles with hearty meat sauce for a healthy and easy meal.
Ingredients
4 zucchini

1 lb lean ground beef

1 T olive oil

1 T diced peppers

¼ cup yellow onion, diced

1 can tomato paste

2 cans diced tomatoes

½ t oregano

Pepper, to taste
Instructions
For the Sauce: chop up onion and peppers and heat in a skillet with olive oil. In a separate skillet, cook ground beef until no longer pink.

Once onions have turned slightly golden in color, add tomato paste, diced tomatoes and oregano and stir.

Once meat is cooked all the way through, add to skillet with the sauce; stir until combined.

For the Zoodles: set up your spiralizer correctly. Add zucchini and send through the spiralizer. Do this for all 4 zucchinis.

Pour sauce over zoodles. Enjoy!

(You'll Also Love: Zucchini Noodles with Meatless Mushroom Sauce
)
Enjoy amazing walnut muffins… savory omelets… banana cookies… and even chocolate! Eat your favorite foods and stay fit and healthy at the same time.
Get started on your Paleo
weight-loss journey today
with our beginner-friendly PaleoHacks Cookbook
Get started on your
Paleo weight-loss
journey today with
our beginner-friendly
PaleoHacks Cookbook