You've read all the labels. You've picked through every box on the grocery store shelves. But if you still can't make heads or tails of all the sweeteners available today, you aren't alone.
Slick marketing tactics and unfamiliar ingredients make this process difficult for even the most informed consumer. So let's clear up the confusion. We'll cover two of the most popular sweeteners on the market – Truvia and Stevia – and determine which one is better for your health. [tweet_quote] Truvia and Stevia seem similar when you see them on the shelves. So, what really sets these sweeteners apart? [/tweet_quote]
Looking for a Little Sweetness – Without Sugar's Harmful Effects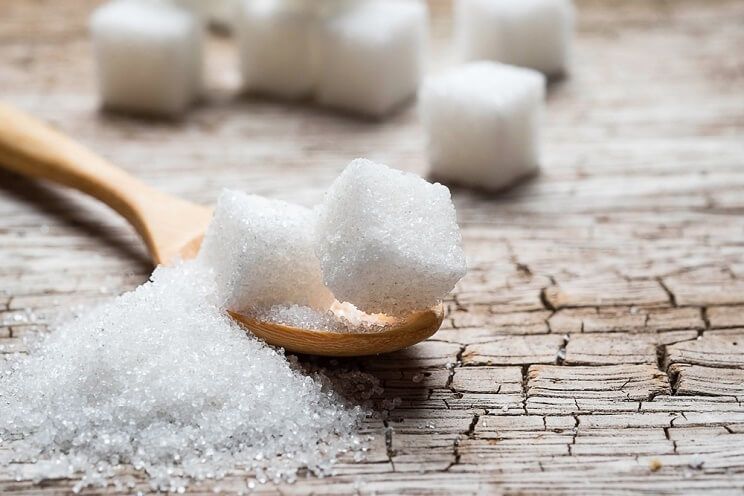 Many of us need to drastically cut down our sugar intake. This is one of those rare health topics that practically everyone you talk to – mainstream nutritionists, vegans, Paleos, etc. – all agree on.
Consumption of sugary sodas and processed foods drives obesity, type 2 diabetes, metabolic syndrome, and many other serious health issues (1, 2). Most people are aware of this, so they're taking action to avoid the stuff. Sometimes that's easier said than done because sugar has been proven to have addictive qualities (3). [tweet_quote] Sugar is addictive. Are Truvia or Stevia good replacements for your daily fix? [/tweet_quote]
Many of us are still looking for a little sweetness in our morning coffee or baked treats – without all the negative health consequences. This has created an enormous opportunity for food companies to create sugar alternatives. Artificial sweeteners, like NutraSweet (aspartame) and Splenda (sucralose), have been around for a while now. But increased skepticism about artificial ingredients stoked consumer demand for healthier options.
And so natural sweeteners were born. Two of the most popular ones that emerged are Truvia and Stevia. What sets them apart? Is one really healthier than the other? Are they even natural at all?
We'll take a look at Truvia first.
---
Truvia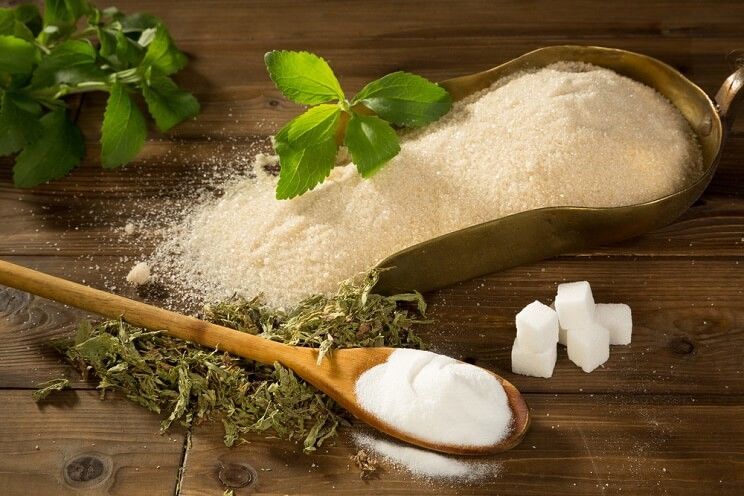 Since its launch in 2008, Truvia has risen to become the second most popular sugar substitute in the U.S. (4).
Truvia was developed by Coca-Cola and Cargill, a multibillion-dollar corporation that creates additives for some of the largest food companies around the world.
What Is Truvia?
Truvia is a sweetener made from a compound found in the stevia plant (Stevia rebaudiana). It consists of the following ingredients:
Erythritol. A sugar alcohol made by processing corn into a food-grade starch. Cargill adds this to "provide bulk and the sugar-like crystalline appearance and texture" (5).
Rebaudioside A. This is the specific compound isolated from the stevia plant that gives Truvia its sweetness. It's also called "Rebiana."
"Natural flavors." It's impossible to know exactly which flavors Cargill uses because they've patented Truvia's specific blend, blocking it from public knowledge.
The vast majority of Truvia consists of ingredients other than stevia extract. A single serving of 3.5 grams contains over three grams of erythritol. Less than one-half gram comes from stevia plant extract (6).
Pros:
Better blood sugar control. When you eat refined sugar, you feel a burst of energy (a "sugar rush") when your glucose spikes. But minutes later you crash when your system is flooded with insulin to compensate. Doing this over and over leads to insulin resistance, type 2 diabetes, and many of the modern health conditions people struggle with today (7). Erythritol, the sugar alcohol in Truvia, has a unique chemical structure that allows it to stimulate taste receptors without being broken down by the body. It passes through your system without any of sugar's adverse metabolic effects (8, 9).
Very low in calories. Truvia contains practically zero calories per serving, making it a decent option for those looking to lose weight while still enjoying something sweet every now and then.
Cons:
---
Stevia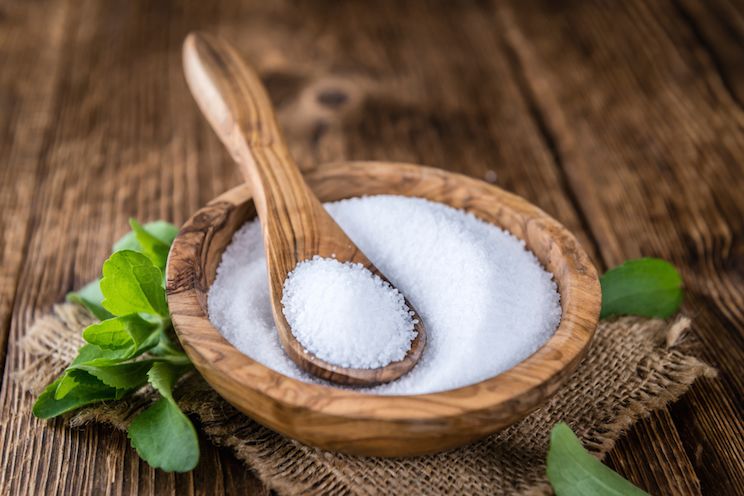 While Truvia is a specific formulation of the stevia plant extract, there are plenty of other alternatives available.
Stevia extract products come in both powder and liquid forms. You can also buy crushed stevia leaves (or even the whole plant), though most people prefer the extract for the convenience.
What Is Stevia?
Stevia comes from the leafy green Stevia rebaudiana plant, which is native to South America. Long used for its sweetness and medicinal purposes, the leaves have a very sweet, potent flavor. Researchers estimate that stevia leaves are hundreds of times sweeter than refined sugar. A little bit goes a long way! [tweet_quote] Stevia hails from South America, where it has long been used for its sweetness and medicinal qualities.[/tweet_quote]
Stevia plants found in the wild are a far cry from the extracts sold at the grocery store. With that said, stevia still has a lot to offer.
Pros:
A truly natural sugar alternative. Most stevia extracts are much less processed than Truvia, which can hardly even be said to be natural. Look for 100 percent pure stevia extract to get as close to natural as possible. It's a bit more expensive, but it's worth paying more to get just the leaves that have been dried and ground into powder. Mediocre-quality products often contain alcohol or other additives (maltodextrin, dextrose, etc.), so watch out for those.
Stevia leaves have been used for centuries without adverse effects. While Truvia was only developed a few years ago, the Guarani people of Paraguay and Brazil have used stevia for over 1,500 years for medicinal purposes and to sweeten foods and yerba mate tea without any adverse effects (14).
May help lower blood pressure. A systematic review of stevia studies concluded that stevia may be effective in lowering blood pressure in hypertensive patients, though this effect was only present in longer-term studies (one to two years), not shorter studies spanning one to three months (15).
May help control blood sugar. Consuming refined sugar skyrockets your glucose and leads to insulin resistance. But stevia doesn't cause those same effects. In fact, it might even help reverse them! A few rat studies found that stevia increased insulin sensitivity (16, 17). A human study compared stevia with aspartame and sucrose, finding stevia reduced both insulin and blood glucose after a meal compared to the artificial sweeteners (18). A lot more research needs to be done, but so far the results are promising.
Very low in calories. Stevia leaves don't contain any calories, which is awesome if you're trying to lose weight or working hard to maintain it.
Cons:
Has a slightly bitter aftertaste. This bothers some people more than others, but some notice a licorice-like aftertaste after consuming stevia products.
Can be costly. Low-grade stevia sweeteners are extremely affordable. But to get a truly natural sugar substitute – an organic, green leaf stevia extract – you have to shell out a lot more than you'd pay for refined sugar or artificial alternatives.
Might not be suitable for some. While stevia is generally considered safe, the effects on children, pregnant or breastfeeding women, and people with liver or kidney disease have not been studied enough to be conclusive. Talk to your doctor beforehand if you fall into any of these categories or have any concerns.
---
The Bottom Line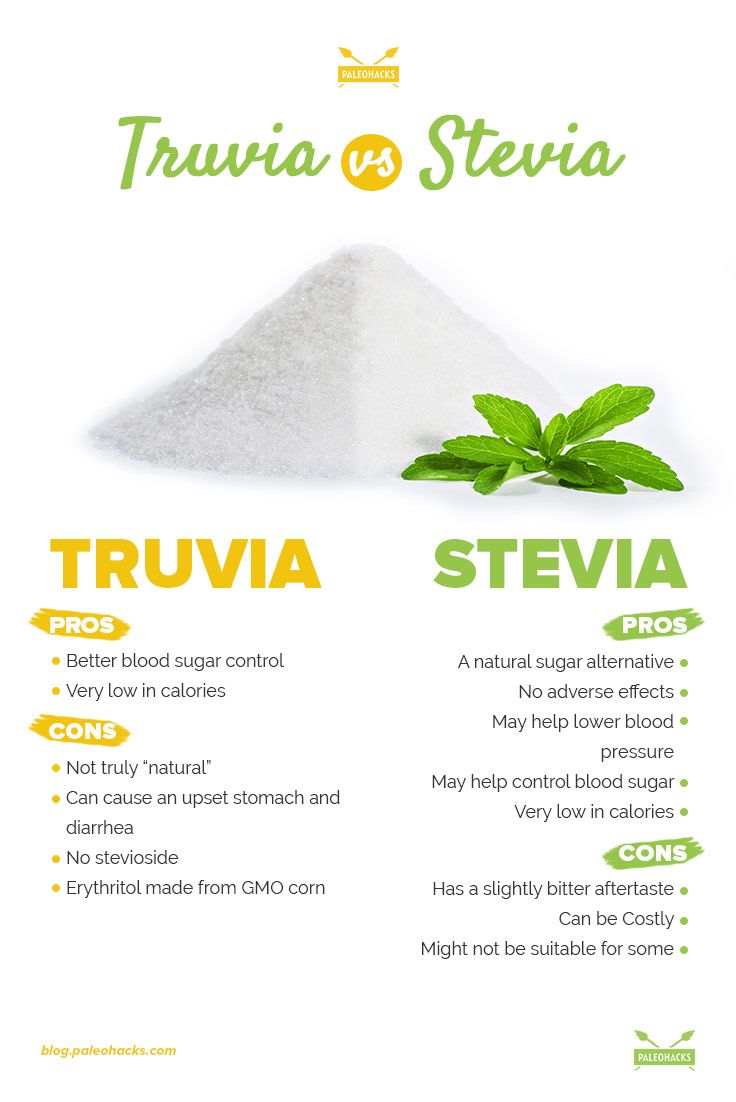 In this battle of the sweeteners, Stevia emerges as the clear winner.
While Truvia is unlikely to harm you, it's hard to justify consuming it without knowing the details of its manufacturing process. The marketing claim that it's "all natural" seems intentionally misleading. We just don't know what those "natural flavors" are, as the FDA requirements here are quite lax. Finally, the compound in the stevia plant shown to create health benefits, stevioside, isn't even found in Truvia! [tweet_quote] Stevia is more natural than Truvia, which contains erythritol and GMO corn. [/tweet_quote]
If you go with high-quality green leaf stevia extract instead, at least you know what you're getting. It won't hurt you in moderation. But you also can't expect any huge health benefits. Most studies linking stevia to health benefits use concentrated amounts of stevioside – more than what's found in a sensible dose of the sweetener.
Staying away from these sweeteners completely is ideal. Remember, artificial sweeteners have been linked to weight gain. Your brain and taste receptors receive only a semi-complete pleasure cycle, which drives you to consume more calories to complete the cycle (19). It stands to reason that consuming a "natural" sweetener like Truvia might create a similar effect. But if you're looking for a sensible indulgence or recovering from a sugar addiction, some high-quality stevia extract is a lot healthier than the refined stuff.
How do you feel about Truvia and stevia? Do you use either of these? If so, which one? Leave a comment below and let us know!
(Read This Next: Stevia: What It Is, Health Benefits & How to Use It)