Love eggnog? It tends to be something that people either love or hate.
The first time I ever had eggnog was when I was little and my mother used vanilla pudding mix instead of eggs! Sounds a little weird but the results were delicious, and it was always a favorite at our holiday parties. Now, I love to make eggnog with real eggs, sans processed pudding mix.
Even people who don't like eggnog love these paleo eggnog cupcakes, and why not? The nutmeg cake is a dessert dream when topped with creamy vanilla frosting. You'd never know that these are free of grains. As a bonus, they are also free of nuts!
Eggnog tends to be very rich, but these cupcakes are fluffy and light, while still keeping the eggnog flavor. I suggest using large eggs for maximum fluffiness. For larger cupcakes, plan to make six using this recipe so that the muffin cups are filled to the top.
Love coconut flour recipes?
Get our free coconut flour recipe cookbook here!
While the vanilla frosting is optional, I recommend it, as it adds a delicious creamy texture that can't be beat. You can pipe it on the cupcakes or spread it on with a butter knife or spoon (extra points for licking the spoon!) For less festive treats (but just as tasty) you can try switching it up with paleo chocolate frosting or even this coconut cream frosting.
Tip: You may want to double this recipe; these cupcakes won't last long.
Heather Resler
Paleo Eggnog Cupcakes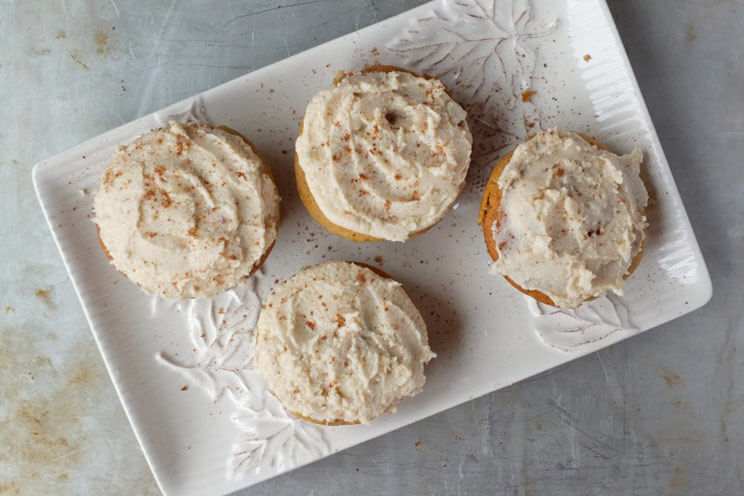 Cook Time:
20 mins
20 minutes
Prep Time:
25 mins
25 minutes
Paleo Eggnog Cupcakes
These fluffy eggnog cupcakes make the perfect holiday treats! With ingredients like nutmeg, coconut, and maple syrup, your family won't even know notice they're Paleo.
Tools
Muffin Pan

Whisk

Mixing Bowls
Ingredients
For the Cake Batter:
1/2 coconut cream

4 eggs

1/3 cup maple syrup, divided

3/4 t ground nutmeg, plus more for topping

1 T vanilla extract, divided

1/4 cup melted coconut oil

1/2 cup coconut flour

1/4 cup tapioca starch

1 t baking soda

1 t apple cider vinegar
For the Frosting:
1/2 cup coconut cream

3 T maple syrup, divided

1 t vanilla extract, divided

1/3 cup tapioca starch

2 T coconut flour

1/3 cup softened coconut oil
Instructions
Preheat oven to 375°F.

Grease a muffin pan with a little coconut oil.

For the cake batter: In a mixing bowl, whisk together 1/2 cup coconut cream, eggs, 1/3 cup maple syrup, nutmeg, 1 tablespoon vanilla extract, and melted coconut oil.

Mix in 1/2 cup coconut flour, 1/4 cup tapioca starch, baking soda, and apple cider vinegar.

Divide evenly between 6 muffin cups.

Bake for about 20 minutes, or until a toothpick inserted near the center of a cupcake comes out clean. Let cool.

For the frosting: To a small bowl, add 1/2 cup coconut cream, 3 tablespoons maple syrup, 1 teaspoon vanilla extract, 1/3 cup tapioca starch, 2 tablespoons coconut flour, and softened coconut oil. Cream together until well mixed.

Frost cupcakes and sprinkle with nutmeg.

(You'll Also Love: Dark Chocolate Paleo Cupcakes)