Creamy strawberry banana ice cream and coconut pound cake get coated in dark chocolate for a healthy, decadent ice cream cake!
Everyone remembers ice cream cake from their childhood. A summertime treat that is the epitome of what being a kid was all about. We've taken everything you love about ice cream cake and turned it into a swoon-worthy, healthy dessert.
With the natural sweetness of ripe bananas, this ice cream is made of only three simple ingredients: camel milk, strawberries and bananas. Frozen sliced bananas provide the creamy, icy texture you expect from ice cream without the artificial ingredients and added sugar.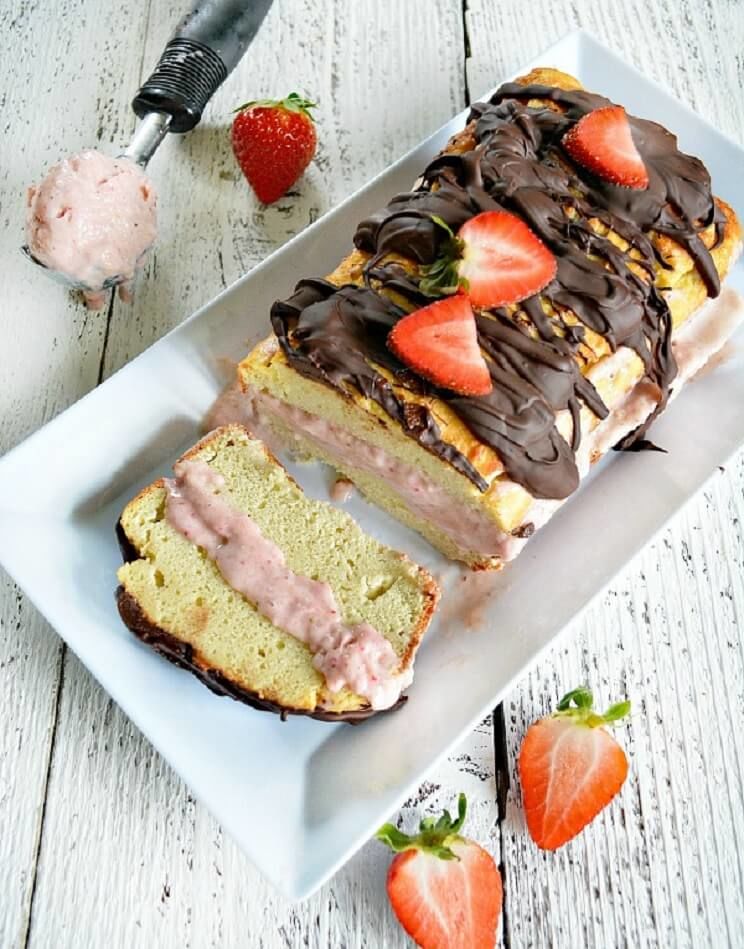 Then there's the camel milk. If you're allergic to cow milk but still want the calcium boost, camel milk is an easy, better-for-you substitute. We recommend going with Desert Farms for a healthy, Paleo alternative to cow milk. It's easy to get confused with all the options out there, but Desert Farms is the only Grade A camel dairy in North America and one of the most trusted brands in the health industry.
For a limited time, you can grab 4 FREE bottles of 8 oz. Camel Milk here, so you can stay at home and make this recipe in your PJs if you wanted!
As for the cake, store-bought pound cake is full of processed flour and a ton of sugar. So, we swapped it out with coconut flour and tapioca starch. Tapioca starch helps to lighten up the denseness of the coconut flour, giving it a lighter texture. Just a touch of honey is added to sweeten the cake batter before pouring into a bread pan and baking.
Love coconut flour recipes? Get our free coconut flour recipe cookbook here!
Once out of the oven, let your cake cool before removing from the pan and slicing lengthwise. The strawberry-banana ice cream is spread onto the bottom half and wrapped in saran wrap to hold it together while freezing.
The pièce de résistance is the final step in which rich dark chocolate is drizzled over the ice cream cake. You can stop after this step and devour the cake, or return it to the freezer to quickly turn the chocolate into a shell. Finally, you can have your ice cream cake and eat it too!
Jennafer Ashley
Paleo Strawberry and Banana Ice Cream Cake Recipe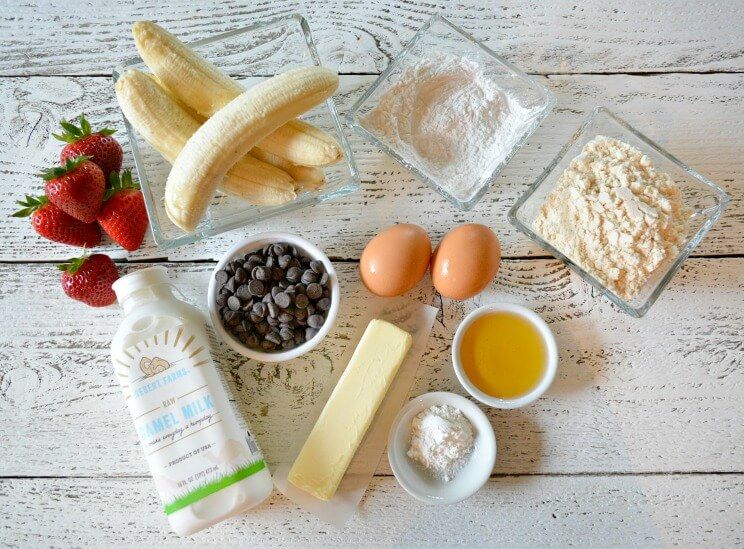 Cook Time:
35 mins
35 minutes
Paleo Strawberry and Banana Ice Cream Cake Recipe
Creamy strawberry banana ice cream and coconut pound cake get coated in dark chocolate for a healthy, decadent treat!
Ingredients
FOR POUND CAKE:

1 cup coconut flour

1 ½ cups tapioca starch

8 pasture-raised eggs

1 stick grass-fed butter, melted

2 T pure honey

1 t baking powder

1/8 t sea salt

1 cup dark chocolate chips, for topping

FOR ICE CREAM:

4 ripe bananas, sliced into 1-inch slices

1 cup strawberries, halved

½ cup camel milk
Instructions
First, make ice cream by placing banana slices into a container and freezing for 2 hours.

Combine the frozen bananas, strawberries and camel milk in a blender. Pulse until smooth, scraping the sides as needed. Pour into a bowl and place in freezer for 1 hour.

Next make the pound cake. Preheat oven to 350°F and coat a bread pan with coconut oil.

In a small bowl, combine dry ingredients. Stir to combine.

In a large mixing bowl, add eggs. Beat eggs until slightly frothy.

Slowly beat in butter and honey. Gradually beat dry ingredients into the wet ingredients.

Pour batter into greased bread pan and smooth evenly.

Bake 30-35 minutes. Allow cake to rest 10 minutes. Use a butter knife to loosen edges of bread from pan. Flip over to remove bread. Cool 20 minutes. Turn cake on its side and slice lengthwise in half.

Place bottom layer of cake back into loaf pan lined with a large piece of saran wrap. Scoop 4 scoops of ice cream onto cake, use a spoon to smooth ice cream onto bottom layer, and spread evenly. Place the top layer of cake on top of ice cream. Wrap tightly in saran wrap and place in freezer for 2 hours.

Melt dark chocolate chips in a small saucepan over low heat. Remove ice cream cake from freezer and unwrap saran wrap. Drizzle with chocolate. Freeze 10 minutes to set (optional). Slice and serve. Store in freezer.
Watch the Recipe Video Below!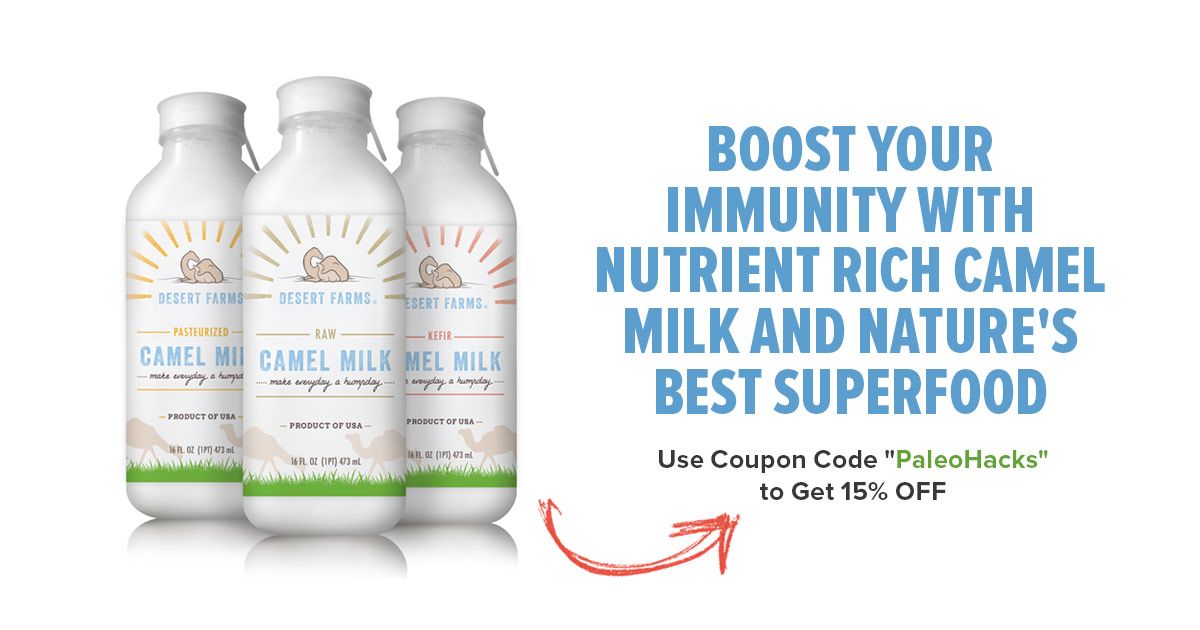 This post is sponsored by our friends at Desert Farms. Our goal is to always bring you healthy, Paleo-friendly articles that we know you'll love. We only feature trusted brands approved by the PaleoHacks team.

(You'll Also Love: Paleo Pizookie with Ice Cream)