Sweet and savory, this naan bread is the perfect base that can be enjoyed with almost anything. From sweet potato hummus to pizza toppings, the possibilities are endless!
This cauliflower naan bread recipe keeps things veggie- and protein-packed. An easy Paleo alternative to regular flat breads, it's the perfect snack to have on hand to curb midday cravings. The best part is that it's super simple and easy to make!
Just remove the leaves and stem of the cauliflower, cut it into small florets, and blend them into fine, couscous-sized granules. Steam the veggie until tender, mix in all the other ingredients, then bake and enjoy warm.
Want to go Paleo? Not sure where to start?
Start with this FREE Paleo For Beginners Guide Today!
You can make a large batch ahead of time and keep them in an airtight container in the fridge for up to a week or freeze them for up to 3 months. Just layer with parchment paper and take them out when you need them.
Tips:
If you don't have a blender or a food processor, you can use a cheese grater to grate the cauliflower (it works just as well, but will take some elbow grease).
I added pistachio and sultanas to give the bread a sweet and savory twist. You can omit them to have a plain bread, or simply add your favorite herbs and spices.
Dina Hassan
Cauliflower Naan Bread Recipe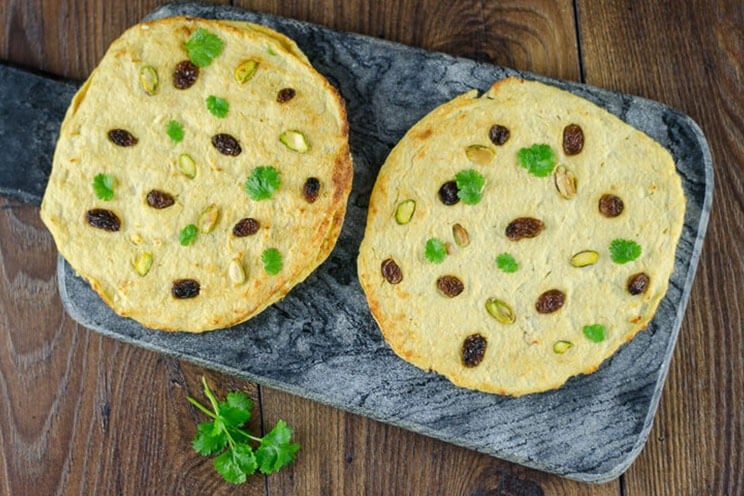 Cook Time:
20 mins
20 minutes
Prep Time:
10 mins
10 minutes
Cauliflower Naan Bread Recipe
Sweet and savory, this naan bread is the perfect base that can be enjoyed with almost anything.
Tools
Baking tray

Blender

Parchment paper

Stockpot with lid

Blender

Medium-sized bowl
Ingredients
1 cauliflower

2 eggs

¼ cup ground almonds

½ t garlic powder

Salt and pepper, to taste

Chopped fresh coriander, for garnish

⅛ cup sultanas, optional

⅛ cup chopped pistachio, optional
Instructions
Preheat the oven to 350°F.

Line a baking tray with parchment paper.

To steam the cauliflower, cut into florets. Next, fill the bottom of a stockpot with 2 inches of water. Set up the steamer and add the cauliflower florets. Cover with a lid and steam over medium-high heat. Steam for about 5-7 minutes until the cauliflower is tender.

Remove from heat and cool to room temperature. Drain any water.

In a blender, pulse the florets to couscous-sized granules.

Transfer cauliflower to a medium-sized bowl and add eggs, almond flour, garlic powder, salt and pepper. Mix well until a dough forms.

Divide dough into 4 equal parts and roll into balls. Gently flatten each ball into circles on the parchment-lined tray; top with chopped pistachio and sultanas.

Bake for 15-20 minutes until golden-yellow and cooked through. Remove from oven and top with fresh chopped coriander. Serve warm.
You'll Also Love: Golden Cauliflower Turmeric Flatbread Recipe