This tasty Butternut Squash Lasagna is a grain-free, Paleo spin on classic comfort food that will have you coming back for more!
Butternut squash makes for the perfect, no-boil lasagna noodle swap. This fruit (yes, it's a fruit) has a subtle sweetness and just the right "pasta" texture when baked. Hearty enough to hold up those lasagna layers and soft enough to make you come back for seconds.
The best part is that this pasta-less recipe packs nutritious ingredients. Sun-dried tomatoes, tomato sauce, garlic and basil melt in between layers of wholesome squash. So much yum.
Love slow cooker recipes?
Click here to get your FREE copy of our delicious Slow-Cooker Recipes!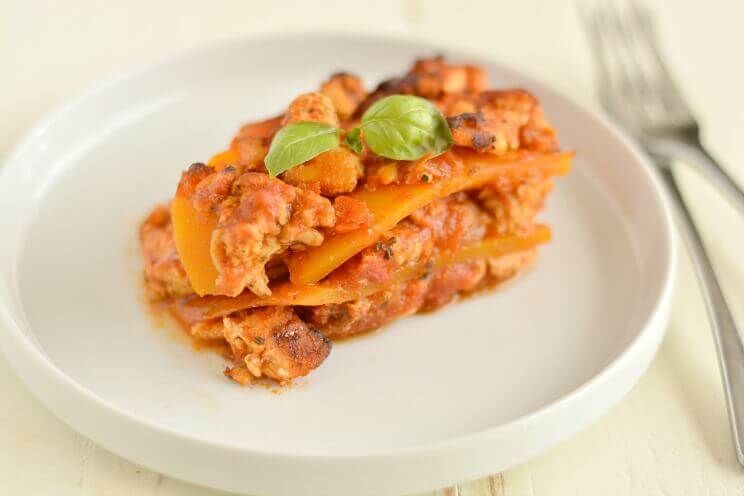 Now butternut squash can be a bit tricky to cut. To make things easier, start by peeling the outside of the squash. Next, place it on a plate and microwave it on high for 30 seconds. It will soften the squash just enough to slice it in half and remove the seeds.
If it's still too hard, microwave at 30 second intervals until it's soft enough to cut. Be careful not to microwave it too long, or the squash will cook. Once you've got it sliced in half, slice again into strips of "pasta".
Serve with sliced avocado and fresh basil on top!
Megan Olson
Noodle-less Butternut Squash Lasagna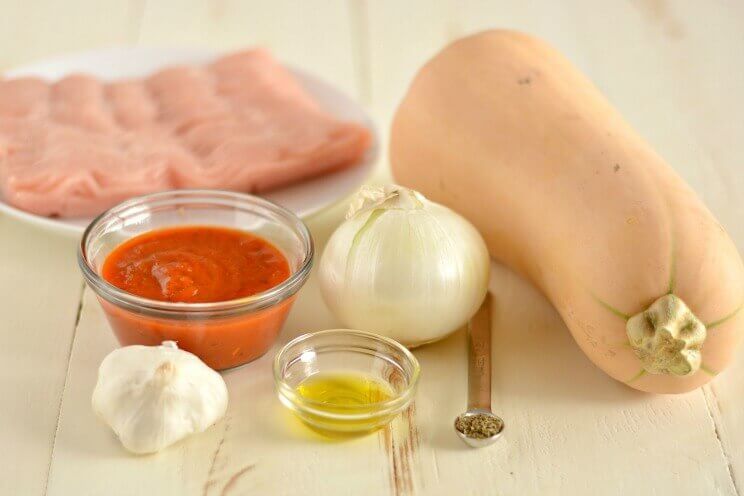 Prep Time:
30 mins
30 minutes
Noodle-less Butternut Squash Lasagna
This tasty Butternut Squash Lasagna is a grain-free, Paleo spin on classic comfort food that will have you coming back for more!
Ingredients
1 lb ground grass-fed beef

1 large butternut squash

1 28 oz jar tomato sauce

1 T extra virgin olive oil

1 cup white onion, diced

6 cloves garlic, minced

5 T sundried tomatoes, diced with oil drained

2 basil leaves

Salt & pepper to taste
Instructions
Peel the butternut squash and slice in half. Remove the seeds with a spoon. Slice both halves in half widthwise. Slice each section into thin slices, lengthwise.

Preheat the oven to 375°F.

Bring a large saucepan to medium heat. Add extra virgin olive oil, garlic and onion.

Once onions are translucent, add the meat, salt, pepper and basil. Cook until meat is browned.

Add sun-dried tomatoes and marinara to the pan.

To assemble the lasagna, place 2-3 tablespoons of the sauce on the bottom of a 9"x13" baking pan.

Layer with slices of butternut squash so they overlap slightly. Add a layer of meat and sauce to cover the squash.

Repeat step 7 until there is no more squash or sauce left, about 3 layers.

Bake in the oven 60 minutes uncovered at 375°F.

Remove from the oven, slice into 6 pieces and serve immediately.
Pro Tips:
Remember, if the butternut is too tough to slice, place in the microwave for 30 seconds to soften.
Before placing the baking dish in the oven, slide a baking pan underneath to catch any spills.

(You'll Also Love: 4 Creative, Crustless Pizza Recipe)