These eggplant lasagna roll-ups are the perfect answer for dinnertime with a dose of protein and healthy fat rolled into each serving. This recipe is a hybrid of lasagna and eggplant Parmesan with a Paleo makeover.
The Paleo diet often enlists the help of veggies to take over in recipes where traditional noodles are ditched. This recipe is no different.
Roasted eggplant serves as the perfect vessel for rolling up ground meat and a cashew cheese filling with herbs for a lasagna-style dish that is light and filling – perfect for dinner year-round. Since the eggplant is thinly sliced, this recipe is great for picky eaters who may not like eggplant because of its spongy texture.
Trying to figure out exactly what to eat on Paleo? Look no further than our FREE 21 Day Paleo Meal Plan.
Grab Our FREE Paleo Meal Plan By Clicking Here!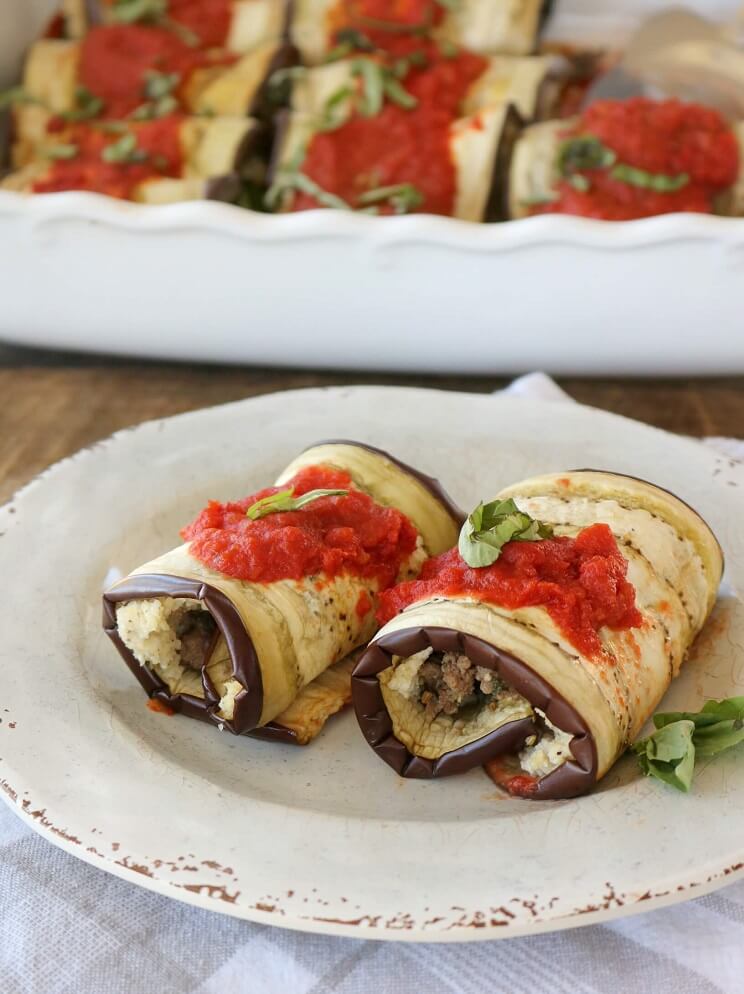 Cashew cheese and savory grass-fed ground beef fill this eggplant lasagna. Grass-fed ground beef, rich in omega-3's and CLA, gets lightly browned with fennel seed for a flavor and aroma similar to Italian sausage. You can also use ground turkey or bison for equally great flavor. In order to achieve the creamy texture of ricotta cheese, the cashews are soaked overnight and pulsed in a blender along with herbs and a little bit of water.
You can use this cashew cheese as a stand-in for any recipe that calls for ricotta cheese. Simple swaps like this make cooking Paleo that much more fun, and open many possibilities for transforming non-Paleo recipes into something you can enjoy on a regular basis.
Start by thinly slicing eggplant to no larger than ¼-inch, leaving the skin on to reap the benefits of its phytonutrients. Roast the eggplant slices for 15 minutes to make them pliable and easy to roll. Spoon cashew cheese onto each slice of eggplant, leaving a little bit of room at both ends. Top with the browned ground beef and lightly press into the cashew cheese. Roll the slice from one end to the other, then place into a casserole dish lightly coated with crushed tomatoes. Spoon additional sauce over the top of rolled eggplant and bake 20 minutes. Serve your roll-ups alongside a big salad for a complete meal.
Jennafer Ashley
Pasta-Less Eggplant Lasagna Roll-Ups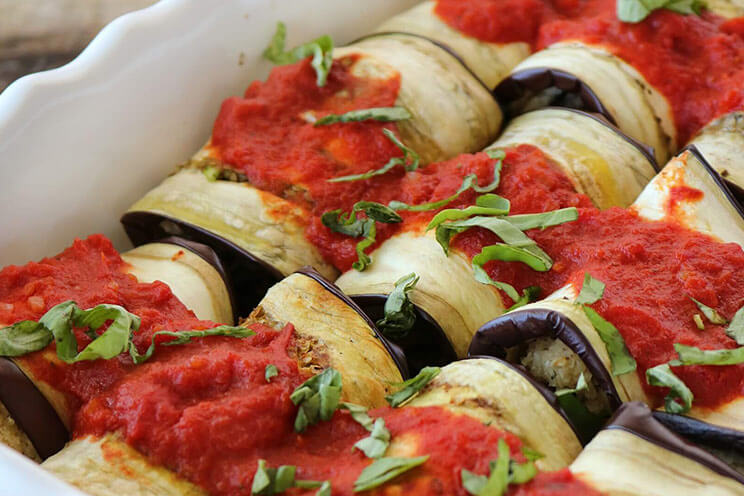 Cook Time:
35 mins
35 minutes
Prep Time:
20 mins
20 minutes
Pasta-Less Eggplant Lasagna Roll-Ups
These roll-ups are a hybrid of lasagna and eggplant Parmesan with a Paleo makeover.
Tools
2 baking sheets

Parchment paper

Blender

Skillet

Casserole dish
Ingredients
2 large eggplants

1 cup cashews, soaked overnight and drained

1.5 cups crushed tomato (no sugar added)

1/2 lb. grass-fed ground beef

3 T water

1/2 t cracked fennel seed

1 t minced garlic

1/2 t dried basil

1/2 t dried oregano

1/2 t sea salt, divided

1/4 t red pepper flakes (optional)

2 T fresh chopped basil
Instructions
Preheat oven to 350°F; line 2 baking sheets with parchment paper. Slice off ends of eggplants. Slice eggplant lengthwise to ¼- inch slices using a mandoline or sharp knife. Lay slices on baking sheet. Bake eggplant slices for 15 minutes.

While eggplant bakes, heat a skillet over medium heat and add ground beef, using a spatula to crumble. Add fennel seed, oregano, garlic, red pepper flakes and 1/4 teaspoon sea salt. Continue to cook until beef has lightly browned, stirring regularly.

Remove eggplant from oven and set aside. Combine drained cashews, water, dried basil, and remaining sea salt in a blender. Pulse until creamy, like ricotta cheese.

Spoon a thin layer of crushed tomatoes on the bottom of a casserole dish with raised edges.

Spread 2 tablespoons cashew cheese over each eggplant slice, followed by 1/4 cup of ground beef. Gently press ground beef mixture to stick to cashew cheese.

Carefully roll each eggplant and set into dish, with the end facing down. Spoon crushed tomato over each roll-up. Bake for 20 minutes. Serve hot with fresh chopped basil.

(You'll Also Love: Noodle-Less Butternut Squash Lasagna)