Dig into this delicious plate of zucchini noodles topped with a meatless mushroom marinara!
The base of this flavorful marinara is made with eggplant and mushrooms. The veggies get finely minced to mimic the rich texture of ground beef. I used shiitake mushrooms as its meaty texture and umami taste works really well in savory dishes, but you can also use portobello or white button mushrooms instead.
To take this sauce up a notch, we'll be adding some homemade cashew Parmesan. This "cheese" is super easy to make, and you only need four ingredients, five minutes and a food processor to put it together.
Love pasta? Grab your spiralizer and crank out these amazing veggie noodle recipes!
Click Here to Get Your FREE recipe book of 20 Easy Ways to Use Your Spiralizer.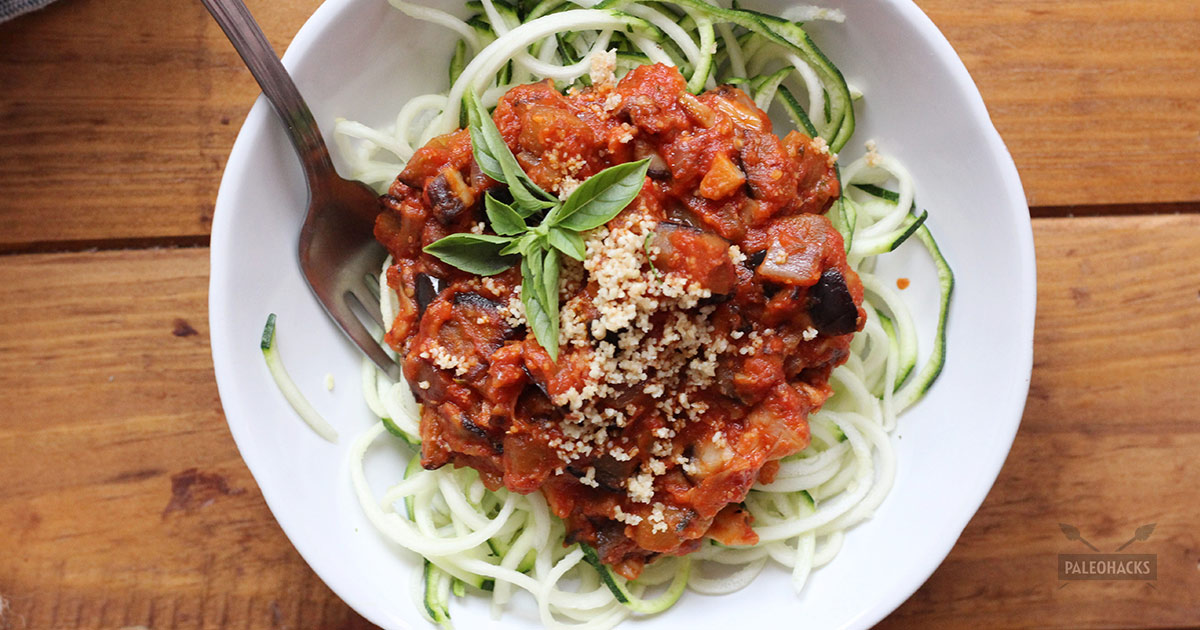 This meat sauce is served over fresh zucchini noodles for an added boost of vitamin C. Italian basil makes for the best garnish, but other herbs like parsley or chopped scallions will work too.
The next time a pasta craving strikes, start dicing up your veggies for this marinara! It's really easy to put together, and the sauce will taste even better the next day (since all the flavors will melt together). Bon appétit!
Consuelo Morcillo
Zucchini Noodles with Meatless Mushroom Sauce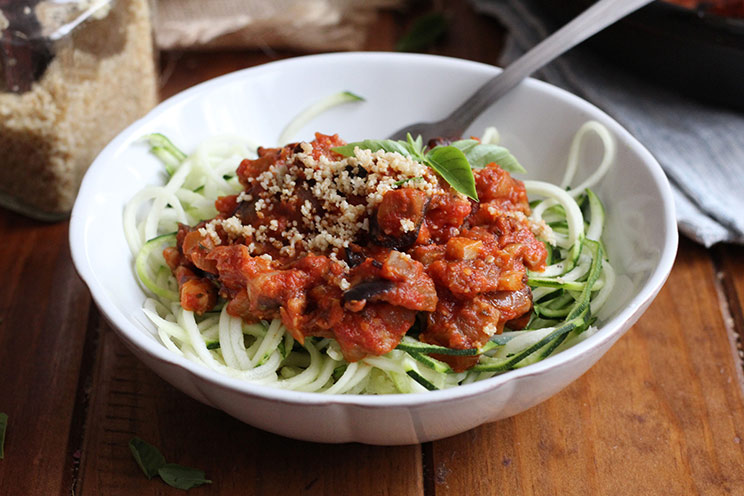 Cook Time:
20 mins
20 minutes
Prep Time:
20 mins
20 minutes
Zucchini Noodles with Meatless Mushroom Sauce
Dig into this delicious plate of zucchini noodles topped with a meatless mushroom marinara!
Tools
Food processor

Spiralizer

Saucepan
Ingredients
1/4 cup raw cashews

1 T nutritional yeast

¼ t garlic powder

1-2 t himalayan salt

1 T coconut oil

½ onion, chopped

2 garlic cloves, minced

2 cups shiitake mushrooms, finely chopped

1 small eggplant, finely chopped

1 ¼ cup organic tomato paste

1 T ground oregano

1 medium zucchini, spiralized

A handful of fresh Italian basil
Instructions
For the Parmesan "cheese": Add cashews to your food processor and pulse until reduced to small crumbs. Add in nutritional yeast, garlic powder and salt; pulse again until combined. Set aside.
For the Meatless Sauce: Heat the coconut oil in a saucepan over medium heat. Add the onion and garlic, and sautée for 2-3 minutes, stirring often so they don't burn.

Add the mushrooms and eggplant, and sautée for 10 minutes, continuing to stir.

Add the tomato paste, oregano, "cheese" and salt to taste.

Reduce the heat to medium-low and sautée for 10-12 minutes, until the sauce has thickened.

Plate the zucchini noodles and top with the sauce. Garnish with fresh basil and enjoy!
Looking for Paleo ingredients? Here's what we recommend:
Cold pressed coconut oil (Viva Naturals)

(You'll Also Love: One-Pan Zucchini Pasta Puttanesca Recipe)
Lose weight, fight inflammation, and soothe your digestion with delicious meals like juicy skirt steak with cucumber & radish salad, succulent pulled pork, and more!
FREE Cookbook:
80 Gourmet Paleo Recipes from
a Professional Chef trained at Le
Cordon Bleu in Paris
FREE Cookbook:
80 Gourmet Paleo Recipes
from a Professional Chef
trained at Le Cordon Bleu
in Paris