Creamy coconut adds sweetness to the decadent sun-dried tomato sauce smothered over chicken in this quick and easy one-pan dinner.
This is one of my favorite chicken recipes. The sun-dried tomatoes add a depth of flavor, while the coconut brings a light sweetness to the dish and also keeps the chicken juicy while it cooks. Whether you're looking for a quick weeknight meal or an elegant dinner, this dish is perfect. As a bonus, all the cooking happens in one skillet, making cleanup fuss-free.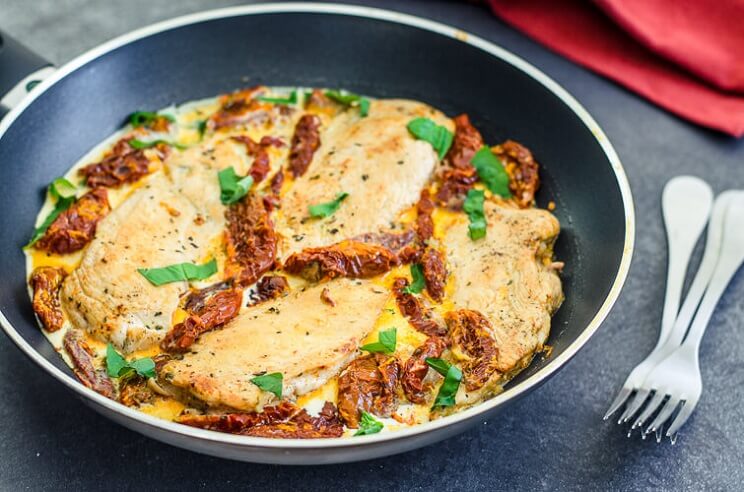 You can make your own sun-dried tomatoes easily in a dehydrator, baking them at low heat in the oven, or by drying them in the sun under a cheesecloth for a few days until all the moisture is gone. Otherwise, they can be found easily in grocery stores. Just make sure they are packed only with herbs and extra virgin olive oil.
Love slow cooker recipes?
Click here to get your FREE copy of our delicious Slow-Cooker Recipes!
Start by making the base of the sun-dried tomato sauce, sautéing the tomatoes and garlic. Once cooked, remove them from the skillet and set aside (you'll be adding them back in later). Next, place the chicken breasts in the same skillet, searing each side until golden. This time, set the chicken aside to rest and to let the juices redistribute. Then, using the same skillet again, heat the coconut milk until it starts to boil. Once boiling, turn off the heat and add all the other ingredients back in. This allows the flavors to marry, creating a rich, flavorful sun-dried tomato sauce. Finally, garnish with fresh basil and enjoy!
Dina Hassan
Chicken with Creamy Coconut Sun-Dried Tomato Sauce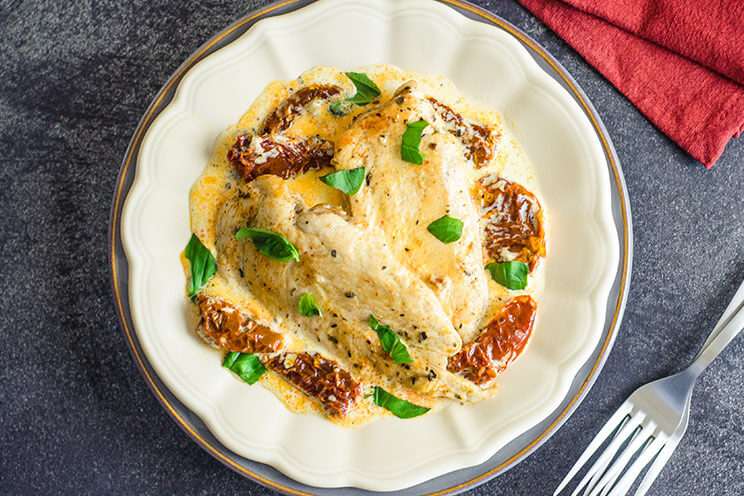 Cook Time:
15 mins
15 minutes
Prep Time:
10 mins
10 minutes
Chicken with Creamy Coconut Sun-Dried Tomato Sauce
Creamy coconut and sun-dried tomatoes come together in a decadent sauce smothered over chicken.
Ingredients
5 oz sun-dried tomatoes

1 T extra virgin olive oil

2 large garlic cloves, minced

4 chicken breasts

1 t paprika

1 can coconut milk

1 t dried basil

Salt and pepper, to taste

Fresh basil, to garnish
Instructions
Drain sun-dried tomatoes and cut into halves.

In a skillet on medium heat, add extra virgin olive oil and sauté garlic and sun-dried tomatoes for 2-3 minutes, until the garlic is soft and fragrant. Remove the garlic and sun-dried tomatoes from the pan and set aside, leaving the oil.

Cut chicken breasts horizontally in half; season with salt and paprika.

Reduce heat to medium-low. Add the chicken to the skillet, cooking 5 minutes per side until they are no longer pink in the center. Remove from skillet and set chicken aside to rest.

Remove any excess juices from the pan. Add the coconut milk, bringing it to a boil, then remove from heat. Add garlic, sun-dried tomatoes, dried basil and chicken breasts; season with salt and pepper to taste. Garnish with fresh basil and serve.


(You'll Also Love: One-Pan Maple Dijon Chicken & Brussels Sprouts)