Say goodbye to store-bought pasta sauce and whip up this roasted, antioxidant-rich marinara sauce instead. Ideal for topping everything from veggie noodles to Paleo pizza crust.
If you have never taken a stab at making your own homemade marinara sauce, this is the ideal recipe to get you started. It is foolproof, and the oven does all of the work to create a rich, rustic sauce that is better than any store-bought version.
Ripe tomatoes are the key to creating this pasta sauce. They provide the best flavor and are even better if they happen to be in season. You will need 2 pounds of ripe Roma tomatoes to get started. These will not only be the bulk of the marinara recipe, but also where most of the nutrients will come from. Tomatoes are full of antioxidant-rich lycopene and beta-carotene, which help fight free-radical damage in the body. Extra virgin olive oil adds healthy fats and also helps increase the absorption of the antioxidants in the tomatoes. Fresh and dried herbs add depth of flavor and brightness, complementing the tangy-sweet flavor of the sauce.
Want to go Paleo? Not sure where to start?
Start with this FREE Paleo For Beginners Guide Today!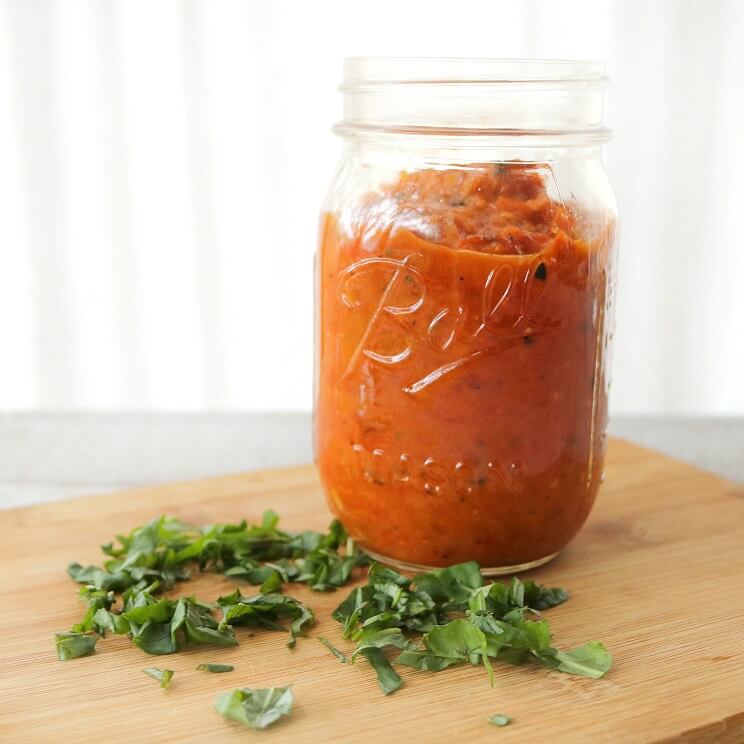 Start by tossing tomato halves and chopped onion with seasonings, extra virgin olive oil and coconut sugar in a large mixing bowl. Coconut sugar balances the acidity of the marinara sauce and caramelizes the tomatoes and onions as they roast. However, if you'd like your sauce less sweet, leave out the coconut sugar. Pour the mixture onto a lined baking sheet and bake for 2 hours. Note: Don't skip this step. Roasting the tomatoes is the secret to getting that rich, savory flavor and aroma that blending in a food processor alone could never do.
Finish the roasting by cranking up the heat to 400°F for 20 minutes or until tomatoes are lightly charred and wrinkled. Remove from oven and allow tomatoes to cool at room temperature. Pour roasted tomatoes and any drippings left on the pan into a food processor and pulse to the consistency of your preference. I like a slightly chunky sauce where you can still see some of the bits of tomato and onion. Pour it all into a jar and refrigerate until ready to use.
Show off your homemade marinara sauce by serving it over these Paleo Italian favorites:
Jennafer Ashley
How to Make Marinara Sauce with Fresh, Healthy Ingredients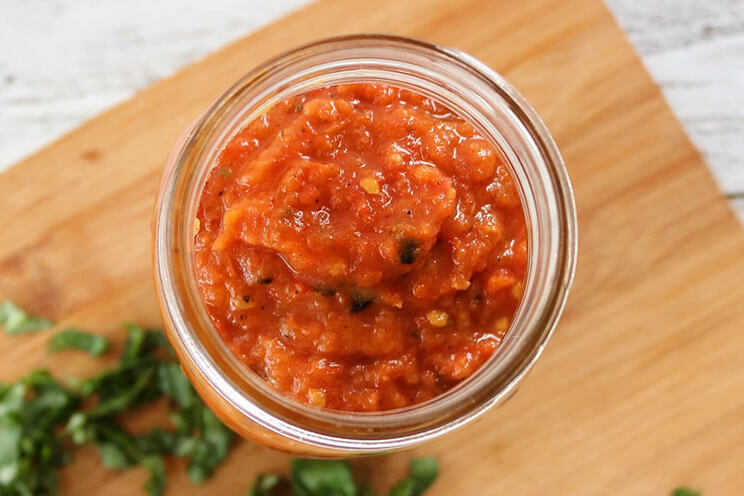 Cook Time:
2 hrs 20 mins
2 hours 20 minutes
Prep Time:
5 mins
5 minutes
How to Make Marinara Sauce with Fresh, Healthy Ingredients
Say goodbye to store-bought pasta sauce and whip up this roasted, antioxidant-rich sauce instead.
Tools
Baking sheet

Parchment paper

Large mixing bowl

Food processor
Ingredients
2 lb Roma tomatoes, halved

1/2 cup sweet white onion, coarsely chopped

1/4 cup extra virgin olive oil

4 garlic cloves

1/2 t oregano

4-5 fresh basil leaves, chopped

1 t coconut sugar (optional)

1/2 t sea salt

1/4 t red pepper flakes (optional)
Instructions
Preheat oven to 300°F; line a baking sheet with parchment paper. In a large mixing bowl, combine extra virgin olive oil, coconut sugar (optional), sea salt, oregano, garlic cloves and red pepper flakes. Add in tomatoes and onions. Use hands to toss and coat.

Pour mixture onto baking sheet and roast for 2 hours. Increase heat to 400oF and continue to roast for an additional 20 minutes.

Remove pan from oven and cool for 20 minutes.

Add everything from the pan to a food processor along with fresh basil. Pulse until sauce reaches desired consistency. Store in an airtight container and refrigerate until ready to use.


(You'll Also Love: One-Pan Zucchini Pasta Puttanesca Recipe)