Now you can have your candy and eat it too! These Mr. Goodbar-inspired Chocolate Bars are made for a Paleo sweet tooth.
These three-ingredient chocolate bars are inspired by the classic Mr. Goodbar chocolate bar. Made with just dark chocolate, coconut oil, vanilla extract and sliced almonds, these bars are made without refined sugar, dairy or peanuts. A Paleo chocolate lover's dream!
To start, you'll need a good dark chocolate. Look for one that's 85% or higher in cacao as it will be higher in antioxidants. Slivered almonds work well in these Mr. Goodbars as they're not too big, but you can substitute any nut in the recipe. Just be sure to chop larger nuts into smaller bits before adding them to the chocolate.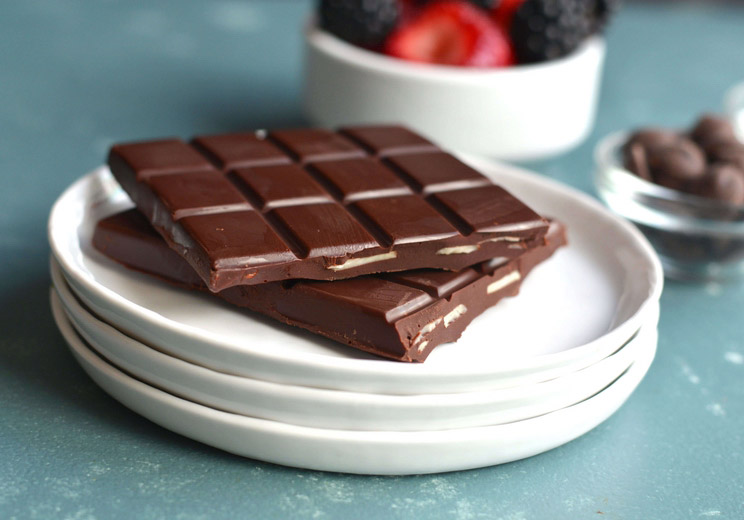 Using a chocolate mold is the best way to make this recipe. It's simple to layer the chocolate ingredients into it, and they easily pop out when set. If you don't have a mold, line parchment paper over a small baking sheet. Coat it with a thin layer of chocolate first, then add the almonds and another layer of chocolate before freezing. After they're frozen, cut them with a serrated knife to break off into pieces. It's messier doing it this way, but just as delicious.
Love Paleo Desserts? Then you'll love our FREE Paleo Dessert Cookbook.
Click here to get it!
Store these chocolate bars in the freezer or fridge to maintain their form as they will melt in warmer temperatures. Enjoy them anytime you have a craving for a sweet treat!
Megan Olson
Paleo Mr. Goodbar Recipe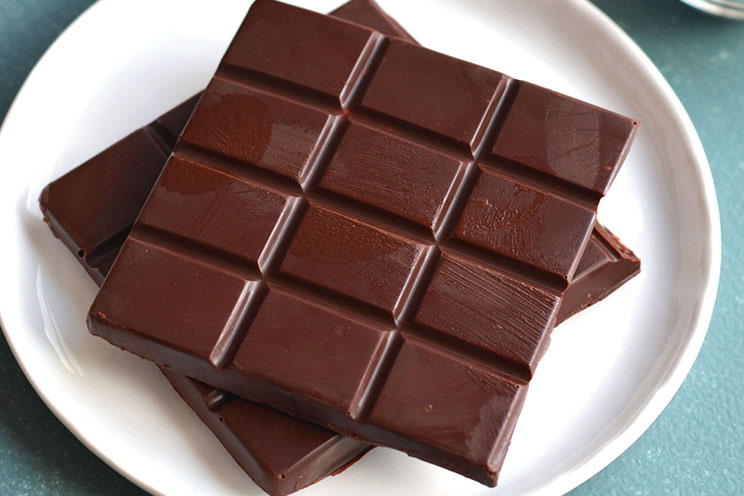 Cook Time:
5 mins
5 minutes
Prep Time:
10 mins
10 minutes
Paleo Mr. Goodbar Recipe
Now you can have your candy and eat it too! These Mr. Goodbar-inspired chocolate bars are made for a paleo sweet tooth.
Tools
Saucepan

Glass mixing bowl

Spatula

Chocolate Mold
Ingredients
1 cup dark chocolate

½ t vanilla extract

1 T coconut oil

½ cup slivered almonds
Instructions
Fill a saucepan with water and bring it to a boil.

Place the glass bowl over the pot of boiling water and add the chocolate, coconut oil and vanilla extract to the bowl. Stir the chocolate continuously as it melts to a smooth consistency.

Spread a thin, even layer of chocolate in the mold with a spatula.

Place the sliced almonds over the chocolate.

Spread another layer of chocolate over the almonds, filling the mold to the top.

Place in the freezer for 20 minutes or until hardened.

Remove from the freezer, pop the chocolate out of the mold, and enjoy!
Looking for Paleo ingredients? Here are a few we'd recommend:
Cold pressed coconut oil (Viva Naturals)

(You'll Also Love: Paleo Snickers Bars)