Transform crispy strips of bacon into woven sandwich slices for a decadent meal that's low in carbs and high in protein!
Bacon is the star of the show in this easy-to-make breakfast sandwich. It skips the bread in favor of smoky bacon and houses all your favorite toppings and fillings! Best of all, your oven does all the work and creates a crispy sandwich that's perfect for hand-held munching.
Pasture-raised bacon and eggs are a great way to incorporate high-quality protein into your daily diet. When it comes to bacon, avoid any brands containing nitrates (a common preservative) or added sugars. Instead, opt for uncured bacon that's free of additives, steroids, and hormones.
Looking for low carb keto recipes to burn fat and lose weight?
Click here to get your FREE Keto Breakfast Recipes Cookbook!
Heart-healthy avocados add a boost of antioxidants. This fruit is mild in flavor and gives the sandwich a creamy texture that balances the crunchy bacon.
Tomato and lettuce bring a BLT-inspired flavor and up the veggie content for additional vitamins and antioxidants. Other great veggies include sliced onion, Paleo cheese, and sautéed mushrooms. You can even switch up the proteins and swap out the egg for ground turkey or beef to make a Paleo-friendly hamburger.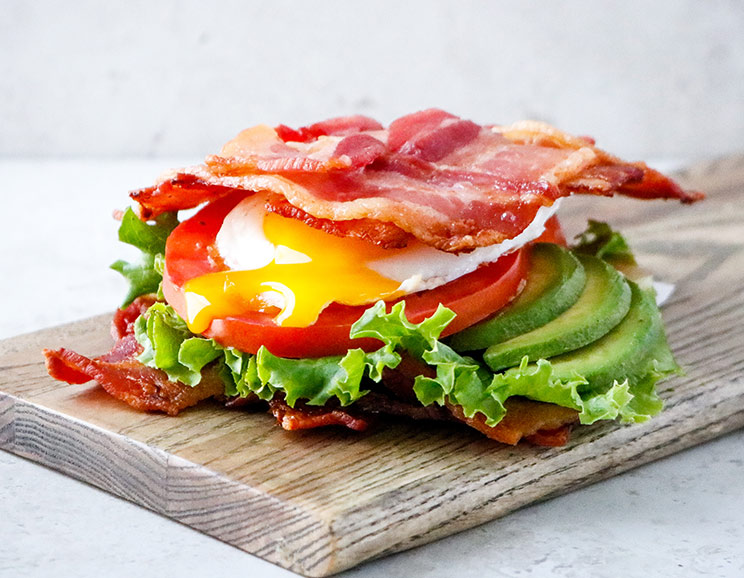 To get started, trim each strip of bacon into 6-inch long pieces and reserve the scraps for another recipe. Tip: You can cook and crumble these pieces to use as toppings for salads, cauliflower pizza, and Paleo pasta. The thick-cut bacon will create a sturdier result when finished, which means it'll be less prone to crumbling when you pick it up.
Next, vertically lay three strips of bacon onto a baking sheet lined with parchment paper. Weave three more strips in the opposite direction to create a basket weave design. Note: The bacon slices may seem large at first, but will shrink in size once they're cooked. Repeat with the remaining six strips for the second sandwich slice, then bake for 35 minutes.
When finished, set the bacon on a plate lined with paper towels to allow them to crisp up. Cook the egg to your preference and set onto one of the bacon weave slices. Pile on the lettuce, tomato, and avocado, and then top with remaining bacon weave slice. Serve immediately and enjoy!
Jennafer Ashley
The Bacon Weave BLTA Sandwich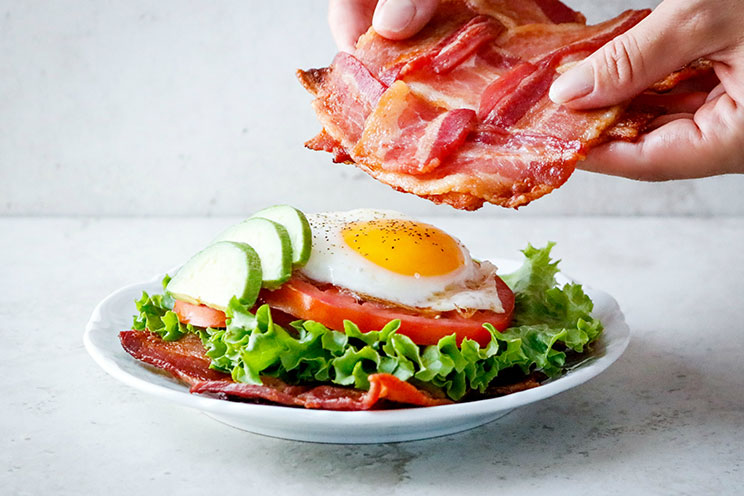 Cook Time:
35 mins
35 minutes
Prep Time:
5 mins
5 minutes
The Bacon Weave BLTA Sandwich
Turn pasture-raised strips of bacon into woven sandwich slices for a crispy meal that's low in carbs and high in protein.
Tools
Baking sheet

Parchment paper
Ingredients
12 strips thick-cut bacon

1 large pasture-raised egg

1 slice Bibb lettuce

1-2 tomato slices

1/2 small avocado, sliced
Instructions
Preheat the oven to 375ºF and line a large baking sheet with parchment paper. Trim each bacon slice into 6-inch long strips and reserve the rest for another recipe. Weave 3 vertical bacon slices with 3 horizontal bacon slices to create 1 "sandwich" slice. Repeat with remaining bacon strips and place onto prepared baking sheet.

Set in the oven to bake for 30-35 minutes, or until bacon is fully cooked.

Transfer cooked bacon to a plate lined with paper towels and allow to crisp for 5 minutes.

While the bacon crisps, cook the egg to your preference and set aside.

Assemble 1 bacon weave slice and top with lettuce, tomato, egg, and avocado. Top with remaining bacon weave and enjoy!
You'll Also Love: 29 Bacon Recipes That Will Knock Your Socks Off