From on-the-go smoothies to handy ice cubes, here are 11 clever ways to use pumpkin purée!
Pumpkin purée isn't just for pie anymore. Try blending it up into a pasta sauce, use it to make a festive chia pudding, or freeze it in ice cubes to add to a seasonal smoothie. We've got all the hacks to ensure you never have to throw away any "leftover from the pie" pumpkin purée again!
So go ahead and bring pumpkin goodness to breakfast, dinner and dessert with these 11 surprising ways to use your favorite seasonal mash.
Want to learn more about Paleo and how it can help you?
Grab our FREE "What Is Paleo?" Guide by Clicking Here!
1. Stir into Pasta Sauce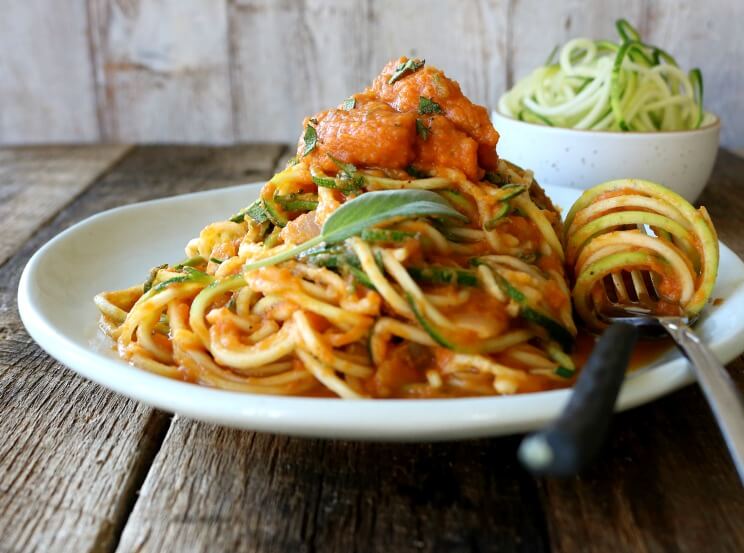 Add autumn festiveness to your favorite tomato sauce by stirring in a little pumpkin purée. It'll create a rich and flavorful pumpkin pasta sauce you can serve over your favorite veggie noodles!
2. Blend into a Smoothie
Have dessert for breakfast by adding pumpkin to your smoothie rotation! Try this creamy pumpkin pie smoothie made with a frozen banana – no ice necessary! Add a scoop of grass-fed protein powder for post-workout fuel, then blend, top with coconut whipped cream, and enjoy!
3. Transform into Butter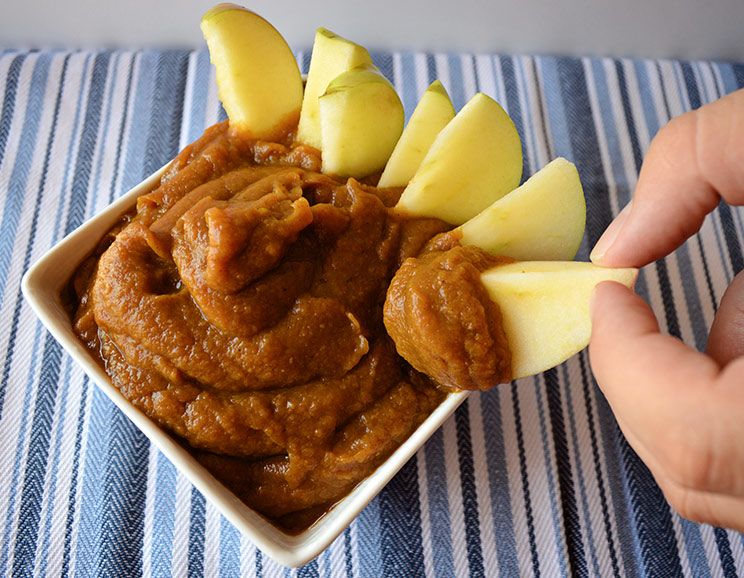 If you have never tried pumpkin butter, you are in for a treat. Simply add pumpkin purée, apple cider, coconut sugar and a cozy spices to a slow cooker to create a rich pumpkin butter. Slather this festive butter on Paleo bread or use as a sweet dessert dip for sliced apples.
4. Create a Dairy-free Mac and Cheese
Jennafer Ashley
Cauliflower Pumpkin Mac N Cheese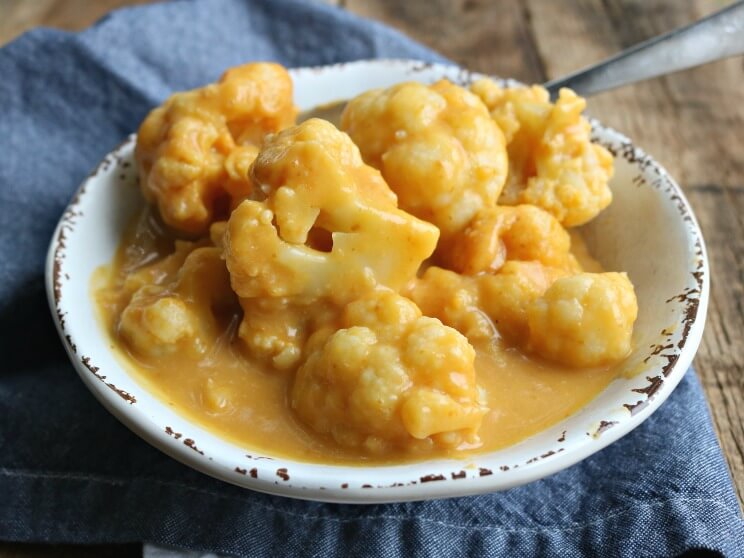 Cook Time:
20 mins
20 minutes
Prep Time:
15 mins
15 minutes
Cauliflower Pumpkin Mac N Cheese
In a saucepan over low heat, combine pumpkin purée, unsweetened almond milk, nutritional yeast and sea salt. Stir well to fully incorporate ingredients. Add cauliflower and stir to coat. Serve hot.
Tools
Steamer

Medium pot or saucepan
Ingredients
4 cups cauliflower florets

1/2 pumpkin purée

1/2 cup unsweetened almond milk

2 T nutritional yeast

1/2 t sea salt
Instructions
Steam cauliflower florets until fork tender. Set aside.

In a saucepan over low heat, combine pumpkin purée, unsweetened almond milk, nutritional yeast and sea salt. Stir well to fully incorporate ingredients. Add cauliflower and stir to coat. Serve hot.
5. Add to Curry
A dollop of canned pumpkin blends seamlessly into Thai and Indian curry recipes. The smooth and silky texture sends this pumpkin chicken curry over the edge with a warm, delicious aroma.
6. Stir into Chili
Pumpkin seamlessly blends into chili for a thick and hearty meal. A few tablespoons of pumpkin purée will add new dimensions to your nutrient-filled Paleo chili – perfect for enjoying on a crisp fall night.
7. Mix into Chia "Oats"
Jennafer Ashley
Pumpkin Chia Oats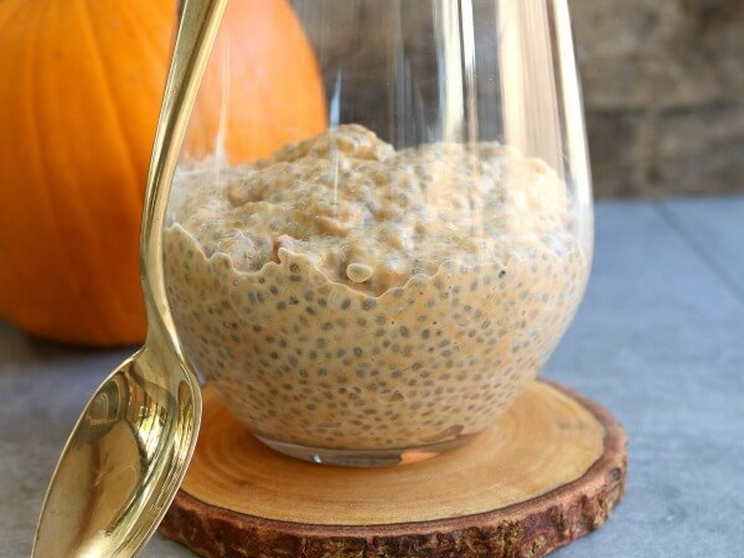 Cook Time:
30 mins
30 minutes
Prep Time:
10 mins
10 minutes
Pumpkin Chia Oats
Pumpkin purée adds a decadent fall twist to your typical chia pudding. Just a touch of pumpkin spice makes this a seasonal feast for the senses!
Ingredients
1 cup unsweetened almond or coconut milk

2 T pumpkin puree

3 T chia seeds

1 T maple syrup

1/4 t cinnamon

1/8 t nutmeg
Instructions
Combine ingredients in a jar and stir to combine. Refrigerate at least 30 minutes.
8. Sneak into Baked Treats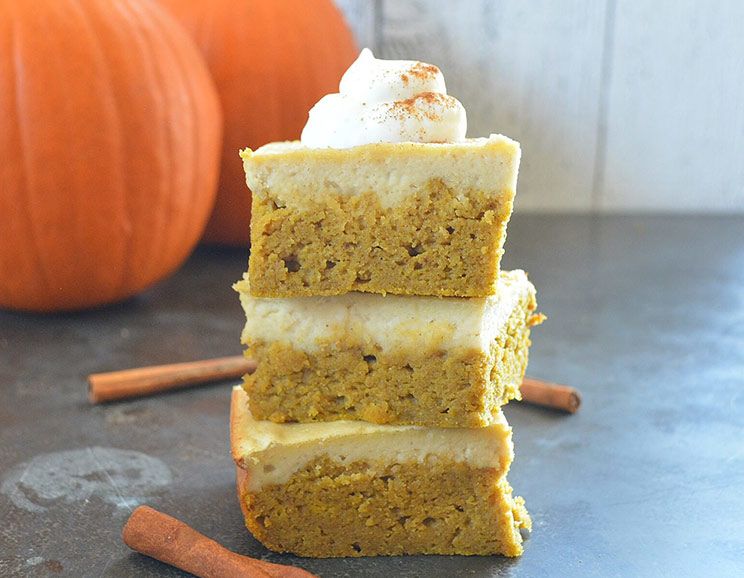 Pumpkin purée is a great fat-free replacement for oils and butter in baked recipes like brownies or these pumpkin cheesecake bars. The purée adds enough moisture to ensure your cookies, cakes and brownies are never dry. Plus, pumpkin adds a light flavor that complements chocolate, cinnamon and bananas.
9. Add to Pancakes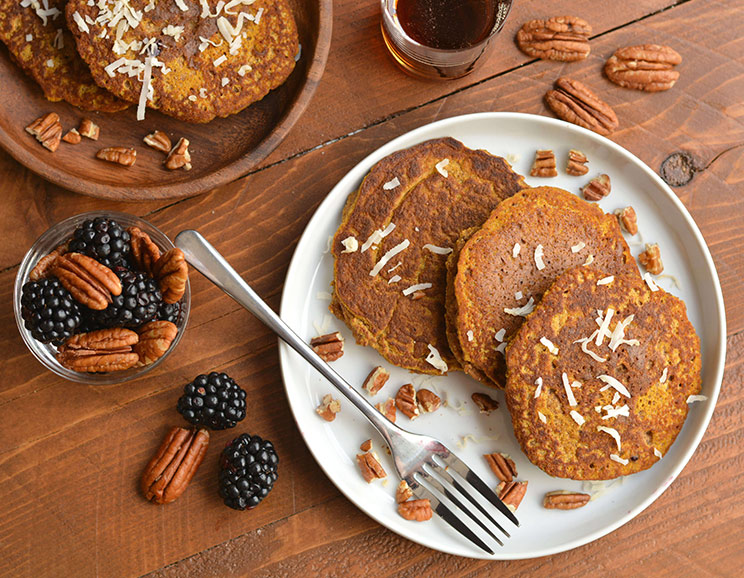 If your morning pancakes need a little pick-me-up, add a spoonful of pumpkin to amp up the vitamins while keeping the flapjacks fluffy. Your whole house will smell like autumn when you top your pumpkin pancakes with cinnamon and maple syrup.
10. Make a DIY Pumpkin Spice Latte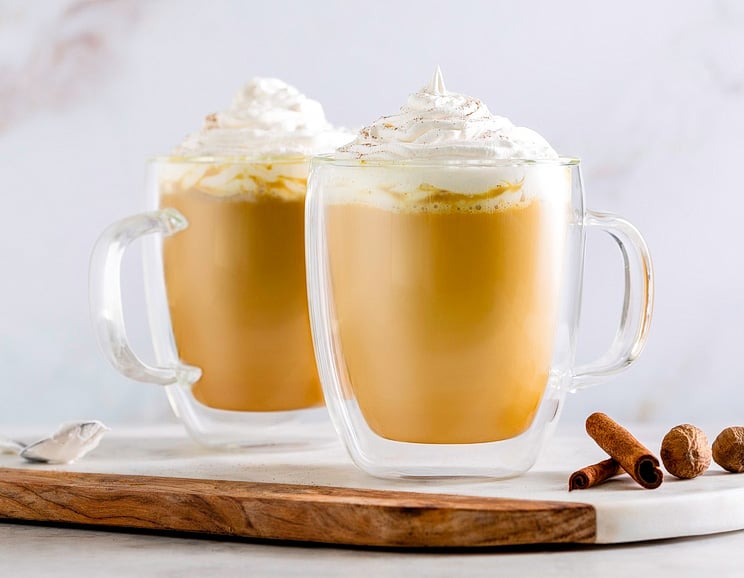 Chilly fall weather calls for a warm drink to sip on. For a healthier alternative to the store-bought version, make your own pumpkin spice at home! This pumpkin spice latte delivers a hefty dose of antioxidant-rich turmeric with the comforting flavor of pumpkin.
11. Freeze into Ice Cubes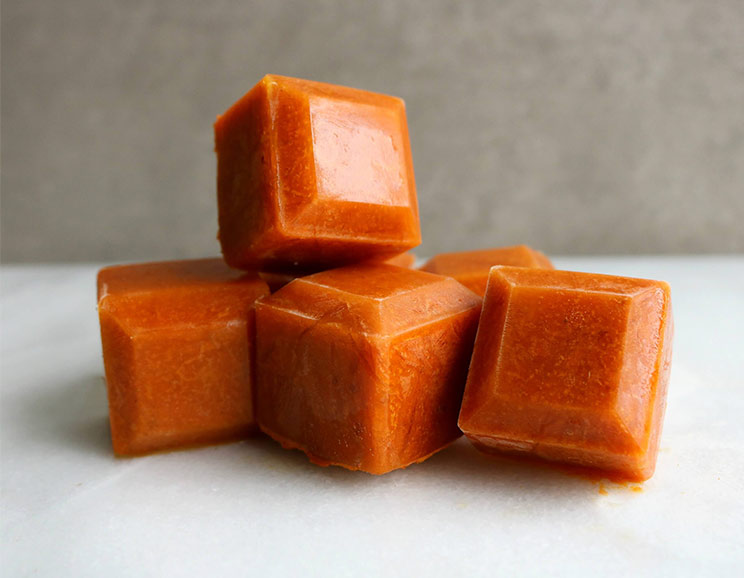 Here's a fun pumpkin hack: add leftover purée to ice cube molds and freeze. Then blend these pumpkin ice cubes into smoothies and shakes for a boost of nutrition. You can even stir them into stews, soups and sauces (hello, pumpkin curry) as a quick way to thicken them up!

(You'll Also Love: 8 Genius Ways to Use Nutritional Yeast)