Made with pumpkin, banana, and a hint of cinnamon, this nutritious bread marries natural sweetness with a nutty almond flour.
For a twist on classic banana bread, pumpkin purée elevates the natural sweetness of crushed bananas while cinnamon and pumpkin spice offer a fall-inspired ensemble. Serve it with your favorite coffee or hot chocolate for a fresh, homemade snack.
To get started, mix the dry ingredients in a large bowl and combine the wet ingredients in a separate bowl. Pour the two mixtures together and mix until fully combined. Then, transfer the mixture into the loaf pan and use a spatula to smooth it into a single layer.
Love Coconut Flour Recipes? Then you'll love our FREE Coconut Flour Recipes.
Click here to get your FREE copy of our delicious Coconut Flour Recipes!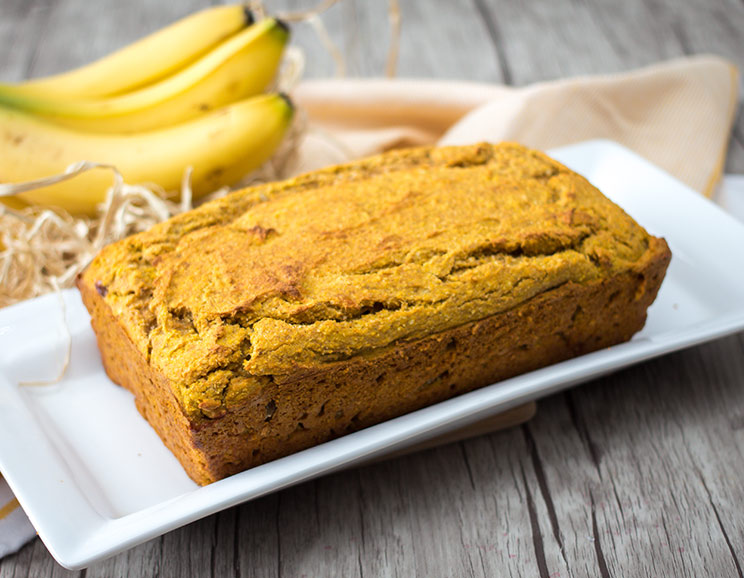 When ready, place in the oven and bake for 45 minutes. Check for readiness by inserting a toothpick into the center of the bread. If it comes out clean, it's ready to remove from the oven. Serve warm and enjoy immediately or store leftovers in the fridge for up to four days.
Tip: Sprinkle dark chocolate chips into the batter for a dessert-y touch or add chopped walnuts for a crunchy texture.
Sophie Viau
Pumpkin Banana Bread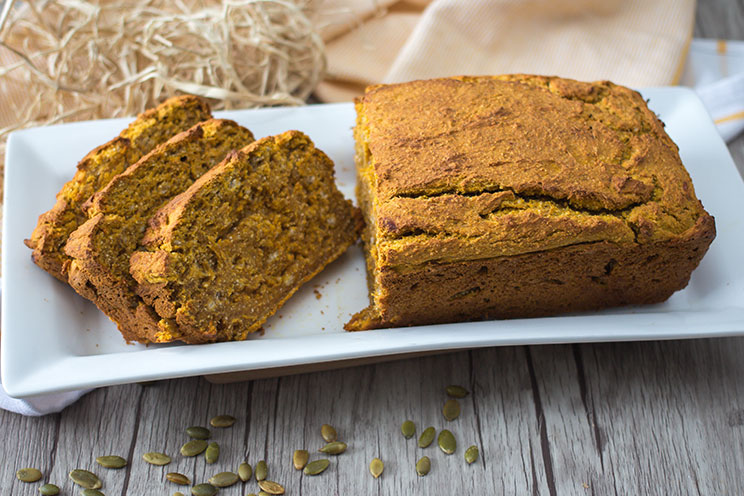 Cook Time:
45 mins
45 minutes
Prep Time:
15 mins
15 minutes
Pumpkin Banana Bread
Upgrade classic banana bread with pumpkin purée, warm spices, and natural sweeteners.
Tools
10" x 4" Loaf pan

1 Large bowls

1 Medium bowl
Ingredients
1 t coconut oil

2 cups almond flour

1 t ground cinnamon

1 t pumpkin spice

1 t baking soda

2 eggs

¾ cup of water

1/2 cup maple syrup

1 cup mashed bananas

½ cup pumpkin purée

1 t vanilla extract
Instructions
Preheat the oven to 350°F and grease a loaf pan with coconut oil.

In a large bowl, combine the almond flour, cinnamon, pumpkin spice, and baking soda.

Beat the eggs in a bowl and add the water, maple syrup, mashed bananas, pumpkin purée, and vanilla extract. Stir in the flour mixture and mix well. Pour the batter into the pan and smooth into an even layer with a spatula.

Bake for 45 minutes, or until a toothpick inserted in the center comes out clean. Let it cool for at least 15 minutes, then serve warm and enjoy!
Looking for Paleo ingredients? Here are a few we'd recommend:
Cold pressed coconut oil (Viva Naturals)
Almond flour (Hodgson Mill)
Ground cinnamon (Simply Organic)
Baking soda (Bob's Red Mill)
Vanilla extract (Frontier)

(You'll Also Love: Sweet Potato Banana Bread Recipe
)