Indulge in a sweet and savory pumpkin ravioli topped with maple butter and crunchy walnuts!
Pasta night gets a Paleo makeover with this grain-free recipe. Offering a similar texture to traditional pasta, this version subs in tapioca and almond flour in place of wheat and grains.
How To Make Low-Hassle Pasta
No need for a fancy pasta maker here! Achieve restaurant-worthy ravioli with kitchen tools you already have on-hand.
Love Almond Flour Recipes? Then you'll love our FREE Almond Flour Recipes.
Click here to get your FREE copy of our delicious Almond Flour Recipes!
For this recipe, we use a fork to mix the dough first, then a rolling pin to spread the dough into a single layer. Don't worry if it takes a few minutes to mix the dough into the right consistency. It's normal for the ingredients to take some time to bind together.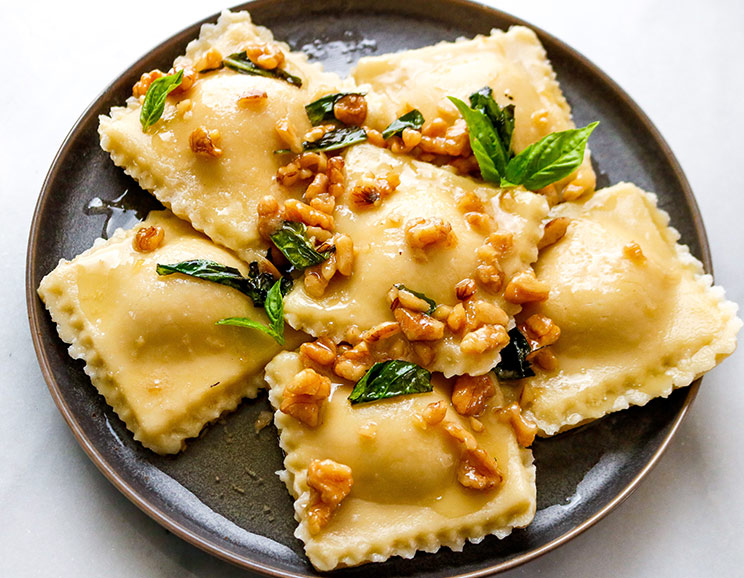 Handling Your Dough Like A Pro
When rolling the dough, you'll want to dust your rolling pin and parchment paper with a bit of tapioca flour first. This will make it easier to roll out, while also preventing it from getting too sticky.
Once the dough is rolled out, you'll then transfer it to a freezer and let it chill for ten minutes. This step is crucial and allows the dough to firm up, so you can easily cut it into perfect squares.
Helpful Tips To Get You Started:
Sub what you have on hand. Easily sub in arrowroot powder instead of tapioca starch, if needed.
No ravioli stamp, no problem. You can use a square 3-inch cookie cutter in place of a ravioli stamp. Just use a fork to seal the perimeter of the ravioli.
Serving sizes may vary. The thinner you roll out your dough, the more pieces of ravioli you can create. Thicker dough yields a denser ravioli, while thinner dough creates a lighter consistency.
Jennafer Ashley
Paleo Pumpkin Ravioli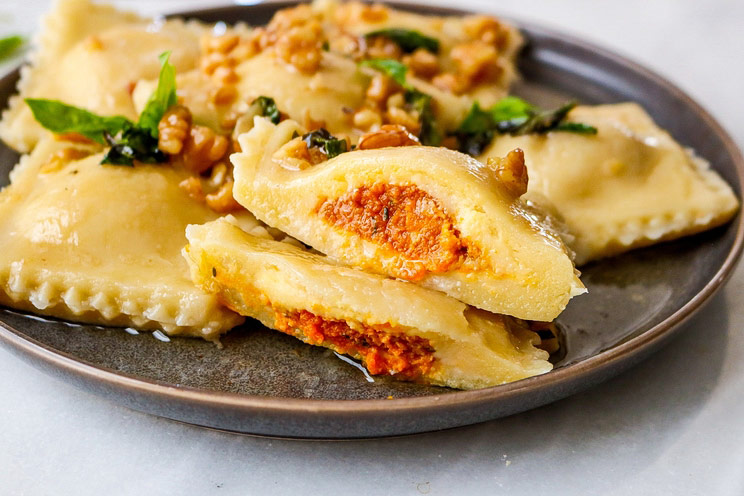 Inactive Time:
20 mins
20 minutes
Cook Time:
14 mins
14 minutes
Prep Time:
15 mins
15 minutes
Nutrition facts:
31 grams of protein
76 grams of carbohydrates
97 grams of fat
Paleo Pumpkin Ravioli
Indulge in a sweet and savory pumpkin ravioli topped with maple butter and crunchy walnuts.
Tools
Medium mixing bowl

Parchment paper

2 14-inch baking sheets

3-inch ravioli stamp

Small mixing bowl

Pastry brush

Large stock pot

Medium skillet
Ingredients
For the Ravioli:
1½ cups blanched almond flour

3 cups tapioca flour, plus more for dusting

3 large pasture-raised eggs, divided

2 T avocado oil

½ cup warm water

¼ t sea salt
For the Filling:
½ cup pumpkin purée

1 t dried thyme

¼ t garlic powder

¼ t sea salt
For the Sauce:
¼ cup grass-fed butter

1 T maple syrup

⅓ cup chopped raw walnuts

¼ cup chopped fresh basil
Instructions
To Make the Ravioli: Combine the almond flour, tapioca flour, 2 eggs, avocado oil, water, and sea salt in a medium mixing bowl. Mix with a fork to combine, then shape the dough into a ball. Beat the remaining egg in a small bowl and set aside.

Lightly dust a rolling pin and 14-inch piece of parchment paper with tapioca flour. Set the dough onto the parchment paper and roll it into a long sheet, measuring about a quarter-inch thick.

Place the parchment paper with the dough onto a baking sheet and freeze for 10 minutes.

When ready, cut the dough into 12 squares using a ravioli stamp. Place the squares onto a separate baking sheet lined with parchment paper. Use a pastry brush to coat half of the squares with reserved egg wash.

To Make the Filling: In a small bowl, stir together the pumpkin, thyme, garlic powder, and sea salt. Place 1 heaping teaspoon of filling on only the egg-washed squares.

Top the pumpkin-filled pieces with the remaining dough squares to complete the ravioli. Use your fingers to gently seal the edges, then transfer to the freezer for 10 minutes.

When ready, bring 8 cups of water to a boil in a large stock pot and add 4 ravioli at a time. Cook for 7 minutes, or until the ravioli float to the top. Remove with a slotted spoon and set aside.

To Make the Sauce: Melt the butter in a skillet over medium heat. Add the maple syrup and walnuts, then cook for 3 minutes. Turn the heat off and stir in the basil last.

Place the ravioli onto a serving plate and pour the sauce on top to coat.

Serve hot and enjoy!
Looking for Paleo ingredients? Here are a few we'd recommend:
Almond flour (Hodgson Mill)
Tapioca flour (Authentic Foods)
Avocado oil (Bella Vado)
Sea salt (REDMOND)
Garlic powder (Frontier)
Raw walnuts (NOW Foods)
If you enjoyed this recipe, you'll love the simple and gourmet meals in our Paleo Eats cookbook! recipes! Enjoy healthy snacks like Bacon Bars, dinners like Mongolian Red Pepper Beef, and over 75 more ridiculously tasty recipes. Get the book shipped to your door for FREE – just pay for shipping!