Smother this creamy pumpkin pasta sauce over zucchini noodles for an autumn-inspired meal.
If you haven't made fresh pasta sauce because you worry it will take all day, don't fret, this sauce is ready in under 20 minutes! Made from pumpkin purée and just a hint of maple syrup, this creamy sauce brings a sweet-savory flavor to any pasta dish.
Make sure to use organic canned pumpkin in this recipe to get the most nutritional benefits. Real pumpkin contains beta-carotene, which helps protect cells throughout the body from free-radical damage.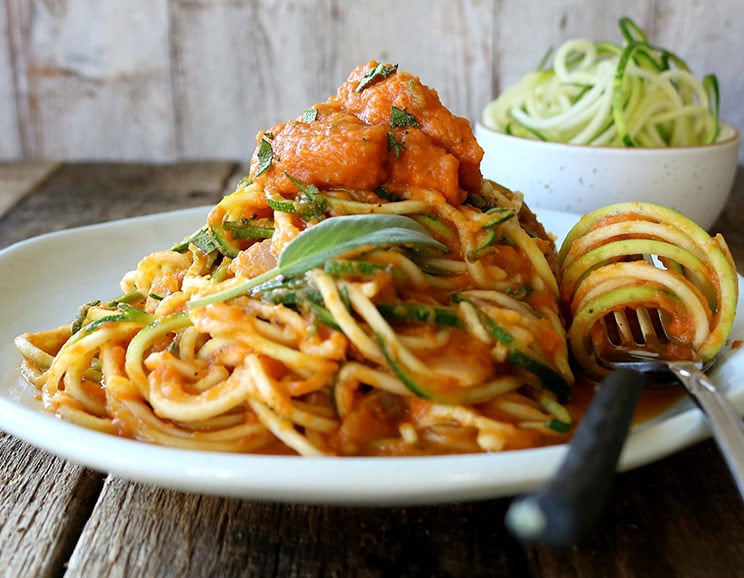 A squeeze of tomato paste helps make this sauce truly pasta-worthy, and a dash of maple syrup and nutmeg add a touch of cozy sweetness. Unsweetened almond milk thins the sauce and adds a light texture.
Tip: Freeze leftover canned pumpkin in ice cube trays, then pop out to flavor and thicken smoothies, curries and stews!
Grab your spiralizer and crank out these amazing veggie noodle recipes!
Get our FREE Recipe Book of 20 easy ways to use your Spiralizer here!
Start by sautéing the onions and garlic in olive oil to soften. This step brings out the aroma of the onions. Stir in the remaining ingredients and bring to a low boil, stirring occasionally. I used sage and basil in this recipe, but oregano, thyme and rosemary would also work well.
Serve over zucchini or spaghetti squash noodles. Add grilled chicken or Paleo meatballs for a complete pasta dinner!
Jennafer Ashley
Easy, Healthy Pumpkin Pasta Sauce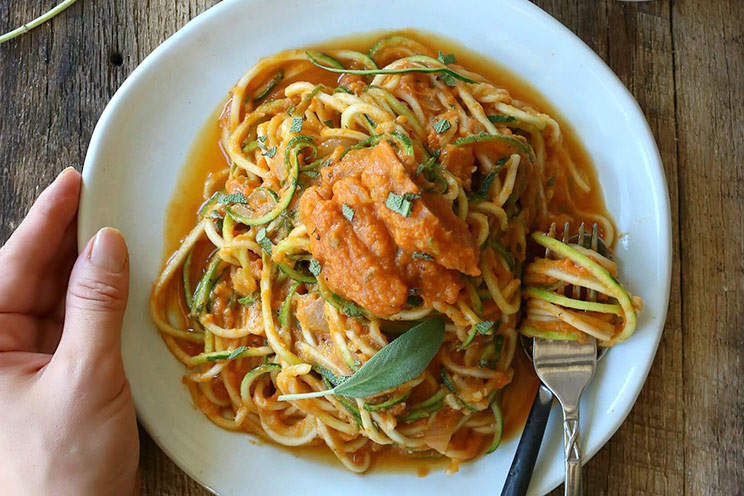 Cook Time:
15 mins
15 minutes
Prep Time:
5 mins
5 minutes
Easy, Healthy Pumpkin Pasta Sauce
Smother this creamy pumpkin pasta sauce over zucchini noodles for an autumn-inspired meal.
Ingredients
1 T extra virgin olive oil

1/2 cup sweet white onion, chopped

1/2 t minced garlic

1 cup 100% pumpkin purée

1/2 cup unsweetened almond milk

2 T tomato paste

1 T pure maple syrup

1/8 t nutmeg

1/4 t dried basil

1 t sage, minced + extra for garnishing

1/4 t sea salt
Instructions
Heat the olive oil over medium heat in a saucepan and add the onion. Sauté for about 7 minutes, or until the onions have softened.

Add garlic and cook an additional 2 minutes.

Stir in the pumpkin, almond milk, tomato paste, maple syrup, nutmeg, basil and sage. Bring to a low boil.

Reduce the heat to low and simmer for 5 minutes. Remove from heat and serve over veggie noodles garnished with fresh sage.

For more recipes with a pumpkin twist, try these Paleo dishes…