Ever since the invention of the spiral slicer, curly rainbow-colored veggie noodles have been making their way onto plates everywhere, delighting meat eaters and vegans alike.
It is clear to see why these spiral strands are becoming a staple cooking method: gluten-free veggie noodles not only taste incredible, but are super nutritious and require minimal cooking.
Grainless veggie noodles let you enjoy the texture of pasta without the gut-wrecking grains. Gluten-free veggie noodles can be served raw or cooked depending on the type of produce you choose. Let's take a closer look at a few of the many options for going grainless.
Love pasta? Grab your spiralizer and crank out these amazing veggie noodle recipes!
Click Here to Get Your FREE recipe book of 20 Easy Ways to Use Your Spiralizer.
Zucchini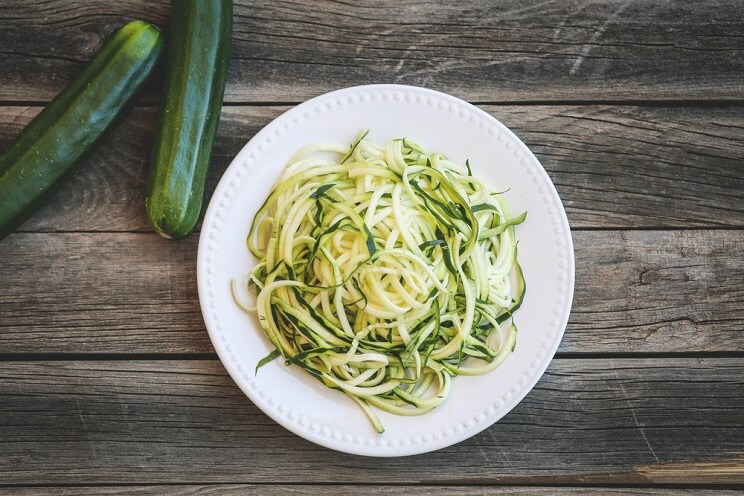 How to slice: Zucchini can be sliced into thin or thick pasta-like strands, or use a flat blade to make ribbons.
Raw or cooked? Both! Zucchini noodles add crunch to salad recipes in place of lettuce, or they can be added at the end of cooking, just long enough to heat through. Zucchini has a very plain flavor, making it a cooking chameleon that takes on the flavors in any recipe it is added to.
Health benefits: Zucchini is a great source of vitamin C, potassium, fiber, and magnesium. Be sure to leave the peel on to reap all of the nutritional benefits.
Pairing: 1 zucchini + 1 mashed avocado + 1 garlic clove, minced + 1 cup basil leaves, finely chopped + 2 T lemon juice + 4 oz grilled chicken
Sweet Potato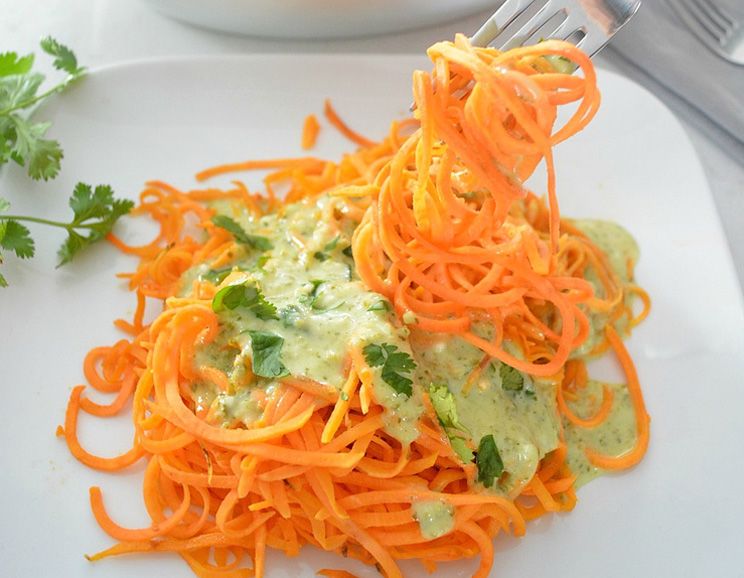 How to slice: Remove peel and use a 3-mm blade to slice into curly strands.
Raw or cooked? Definitely cooked. About 5-8 minutes does the trick to soften the sweet potato to al-dente when sautéing. Spiral sweet potatoes can also be tossed in olive oil and baked for about 10 minutes at 425°F for a crispy texture. Sweet potato noodles are surprisingly delicious in both sweet and savory dishes.
Health benefits: Sweet potatoes are full of beta-carotene, vitamin C and fiber.
Pairing: 1 sweet potato + 1/2 cup coconut milk + 1 T curry powder + 1 cup cooked shrimp + 1 t sesame seeds + fresh Thai basil
Beets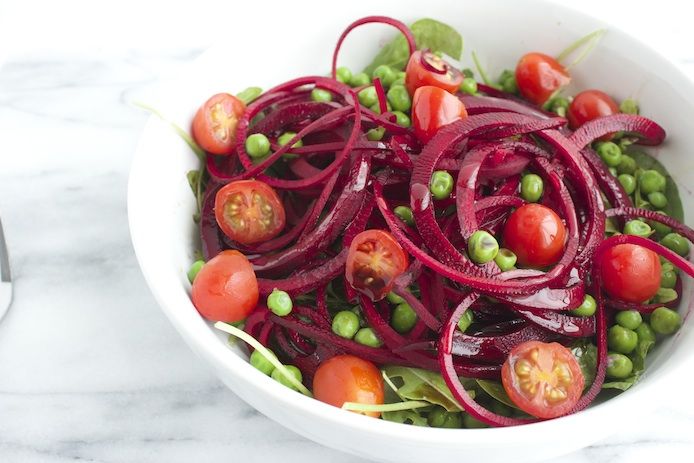 How to slice: Using a 6-mm blade for thinner strands, remove ends and peel.
Raw or cooked? Cooked. Turn oven to 400°F, spiral slice beets and toss in olive oil, lay out "noodles" onto parchment lined baking sheet, bake for 6-7 minutes to soften. Chill or serve warm.
Health benefits: Rich in folate and manganese, beets also contain a unique type of phytonutrient called betalains, which have antioxidant, anti-inflammatory and detoxifying properties.
Pairing: 1 beet (served warm) + 1 T extra virgin olive oil + 1 t red pepper + 1 fried egg
Carrots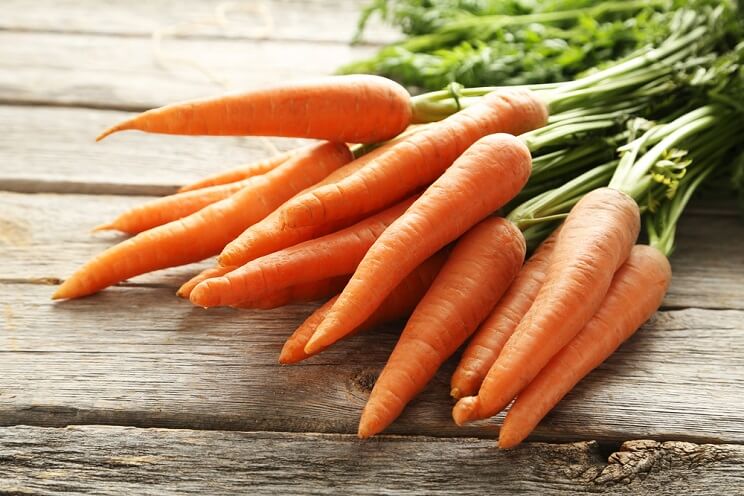 How to slice: Use a 3-mm or 6-mm blade to slice into strands. Use the largest carrots you can find for easier spiraling. You can also use a julienne peeler to shred carrots into short matchsticks (great for salads).
Raw or cooked? Both. Carrots are versatile enough for chilled recipes and can withstand a quick sauté while holding their crunch.
Health benefits: Carrots are known for their high levels of beta-carotene, but they also provide a dose of vitamin C, vitamin K, and potassium.
Pairing: 2 cups shredded carrot + ½ almond butter + ⅓ sesame oil + 1 T apple cider vinegar + 1 T honey + 1 t ginger + 4 oz grilled chicken
Butternut Squash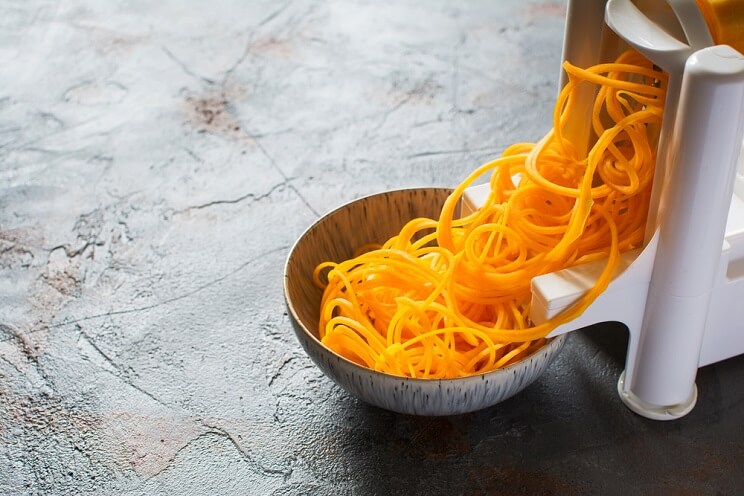 How to slice: Cut off the fatter bulbous end (where the seeds are) and discard, reserving the thinner tubular half. Cut the top off the thinner tubular piece, peel off skin with vegetable peeler, and spiralize as usual. Butternut squash is perfect for achieving curly strands using a 3-mm blade or making pappardelle-style gluten-free veggie noodles using a flat blade.
Raw or cooked? Cooked. Butternut squash has a lightly sweet flavor, delicious paired with bacon and creamy sauces or spicy dishes. Sauté for 5-7 minutes to tenderize.
Health benefits: 1 cup of butternut squash provides a heaping dose of vitamin A and more than half the daily recommendation of vitamin C.
Pairing: 1 spiral-sliced butternut squash + 3 T grass-fed butter + 1 t coconut sugar + crumbled bacon + chopped sage
Spaghetti Squash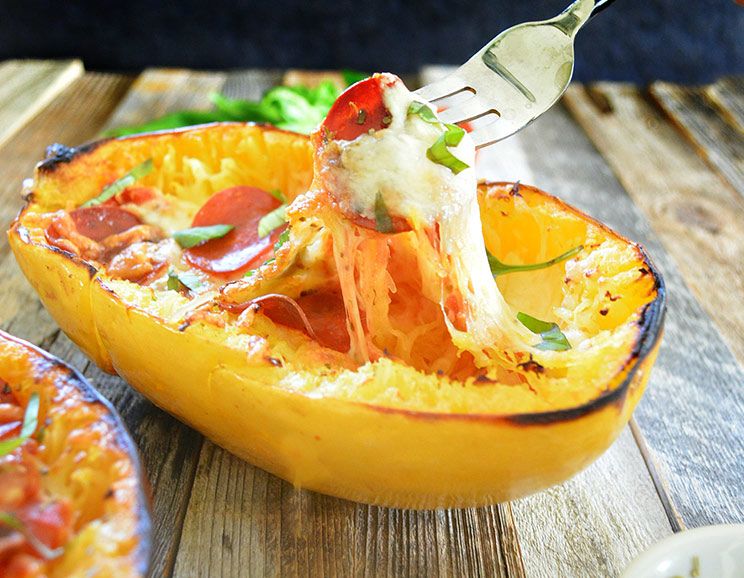 How to slice: Spaghetti squash is nature's angel hair pasta. Use a bit of elbow grease to cut in half lengthwise and scoop out the seeds.
Raw or cooked? Cooked. Once cooked, spaghetti squash has delicate, crunchy strands that add texture to dishes. Place squash cut sides down on a lined baking sheet and roast at 400°F for 30-40 minutes. Then use a fork to remove the strands from the skin.
Health benefits: Spaghetti squash provides ample amounts of blood pressure-lowering potassium and is rich in folate and beta-carotene.
Pairing: 1 spaghetti squash + 1 cup canned diced tomato + 1 T cumin + ½ t smoked paprika + 4 oz cooked ground beef + ½ cup diced avocado + chopped cilantro

(You'll Also Love: 41 Pasta-Less Spaghetti Squash Recipes)