Spice up your morning with this creamy pumpkin pie smoothie!
Nothing says fall like the flavor of pumpkin pie. This recipe takes all the best parts of this decadent dessert and blends it into a smoothie for the perfect breakfast on the go.
Adding a few spoonfuls of pure pumpkin purée to your morning smoothie ups the nutritional value by adding a boost of fiber, antioxidants and vitamin A. These nutrients help you maintain a healthy immune system, protect your vision and fight free radical damage to cells.
A frozen banana adds natural sweetness and plenty of potassium to this healthy smoothie. And because the banana is frozen, there's no need for ice. A dash of pumpkin pie spice is essential, but if you don't have any, don't worry. You can create your own blend by combining cinnamon, nutmeg, ground clove and ground ginger.
Love Paleo Breakfast Recipes?
Get our FREE Breakfast Recipe Cookbook here!
Combine the pumpkin, banana, and spices in a blender with a little almond milk until smooth and creamy. But don't add a straw to that smoothie just yet! No pie is complete without a dollop of whipped cream on top. To make it, use a hand mixer to beat one can of coconut cream (thick portion only) along with a teaspoon of stevia or coconut sugar until fluffy. Add a dollop to your smoothie, and drink up!
Jennafer Ashley
This Smoothie Tastes Like Pumpkin Pie in a Glass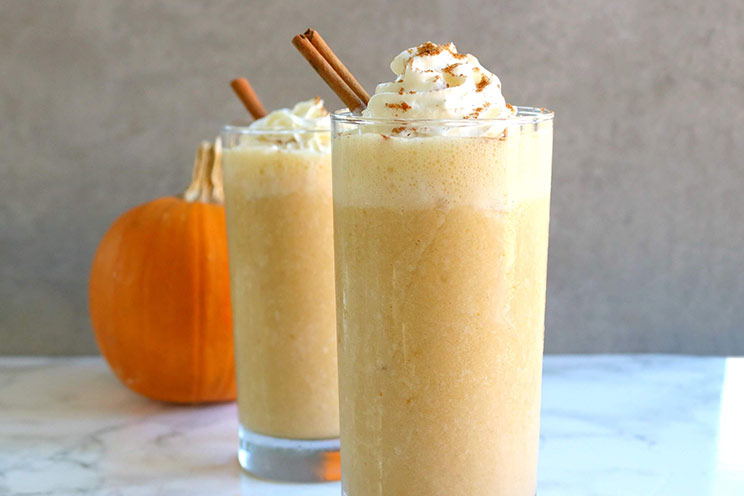 Prep Time:
2 mins
2 minutes
This Smoothie Tastes Like Pumpkin Pie in a Glass
Spice up your morning with this creamy pumpkin pie smoothie!
Ingredients
For the Smoothie:
1 cup unsweetened almond milk

2 T organic pumpkin purée

1 frozen banana

1 t pumpkin pie spice
For the Coconut Whipped Cream:
1 can coconut cream (thick portion only)

1 t stevia (or coconut sugar)
Instructions
Combine smoothie ingredients in blender and pulse until smooth. Pour into glass.

Use a hand mixer to beat coconut cream and sugar until fluffy. Top the smoothie with the whipped cream, and serve immediately.
Tip: You can also freeze your pumpkin purée in ice cube molds to add to your next batch.
Looking for Paleo ingredients? Here's what we recommend:
Coconut cream (Native Forest)

For more pumpkin goodness, check out these Paleo recipes…
Eat cinnamon apple-crusted doughnuts… zesty lemon scones… and even breakfast chili all while staying healthy with the Paleo diet!
Enjoy 101 delicious Paleo
Breakfast recipes that melt fat, fight inflammation, and keep
you healthy
Enjoy 101 delicious Paleo
Breakfast recipes that melt
fat, fight inflammation, and
keep you healthy