Meatless turmeric nuggets baked to an irresistible crispy golden brown!
Craving something to munch on? These baked veggie turmeric nuggets come to the rescue with a crispy outside and savory flavor on the inside. Great for picky eaters!
Veggies are the backbone of this nugget recipe. We use a mixture of broccoli, cauliflower and carrots as they have low water content and maintain their texture when ground up in a food processor. Plus, they bring a variety of vitamins to the party!
This recipe uses almond meal instead of breadcrumbs to help bind the veggies with egg. If you're sensitive to nuts, you could also use nutritional yeast or arrowroot powder instead. Turmeric and a pinch of pepper are added to the mix as a powerful anti-inflammatory agent. Note: Herbs like dill, basil or cumin would also make tasty additions.
Add power-packed superfood veggies to every meal with these cauliflower recipes.
Get our FREE Recipes Cookbook of 25 Delicious Ways to Eat Cauliflower here!
Start by pulsing herbs and veggies in a food processor until fine. Add in almond meal then the egg and pulse until just combined. Transfer to a large mixing bowl and scoop out the mixture by the tablespoon, forming into small discs or "Tater Tots." Place on a baking sheet and bake for 25 minutes, flipping after 15 minutes for even browning on both sides. Serve turmeric nuggets hot with cool Paleo ranch for dipping!
Jennafer Ashley
Baked Veggie Turmeric Nuggets (Freeze-Friendly)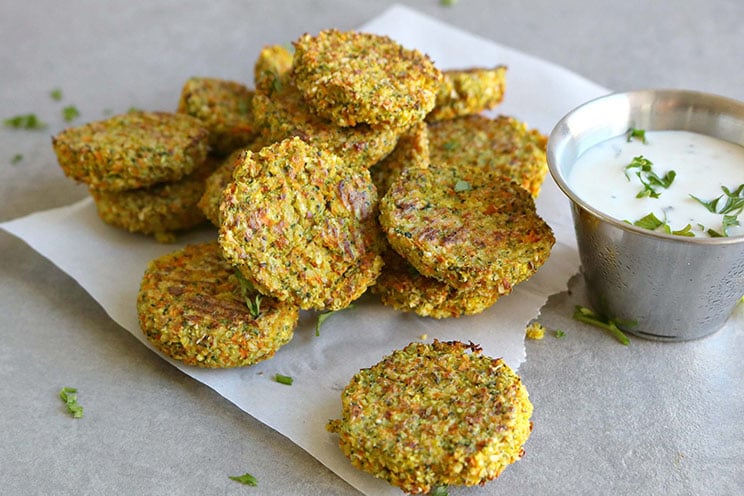 Cook Time:
25 mins
25 minutes
Prep Time:
10 mins
10 minutes
Baked Veggie Turmeric Nuggets (Freeze-Friendly)
Meatless veggie nuggets baked to an irresistible crispy golden brown!
Tools
Food processor

Baking sheet

Parchment paper

Mixing bowl
Ingredients
2 cups cauliflower florets

2 cups broccoli florets

1 cup carrots, coarsely chopped

1 t garlic, minced

1/2 t ground turmeric

1/4 t sea salt

1/4 t black pepper

1/2 cup almond meal

1 large pasture-raised egg
Instructions
Preheat the oven to 400°F and line the baking sheet with parchment paper.

Combine the broccoli, cauliflower, carrots, garlic, turmeric, sea salt and black pepper in a food processor. Pulse until fine.

Add the almond meal and egg, and pulse until just mixed in.

Transfer to a mixing bowl. Scoop out the mixture by the tablespoon and use your hands to form into circular discs. Place onto the lined baking sheet.

Bake for 25 minutes, flipping after 15 minutes. Serve with Paleo ranch sauce for dipping.
Tips:
These veggie nuggets freeze well, so make in large batches for meal prep.
You can also form the veggie mixture into large patties for a meatless burger.
Looking for Paleo ingredients? Here's what we recommend:
Almond meal (Barney)

(You'll Also Love: Ditch The Drive-Thru and Try These Honey Cauliflower Nuggets)
Lose weight, fight inflammation, and soothe your digestion with delicious meals like juicy skirt steak with cucumber & radish salad, succulent pulled pork, and more!
FREE Cookbook:
80 Gourmet Paleo Recipes from
a Professional Chef trained at Le
Cordon Bleu in Paris
FREE Cookbook:
80 Gourmet Paleo Recipes
from a Professional Chef
trained at Le Cordon Bleu
in Paris