Thick and creamy, this slow-cooker pumpkin butter screams fall. Spread it on everything this season.
Have you ever made pumpkin butter—arguably fall's best fruit (vegetable) butter offering—from scratch? With this recipe, you'll be kicking yourself for not having made it sooner. Slow-cooked pumpkin purée, spiced with apple cider, cinnamon, and pumpkin pie spice, comes together with little effort for a delicious condiment for any time of the day.
Plus, the health benefits can't be denied. Pumpkin is a sustaining, deeply nutritious squash, chock-full of fiber and not so full of calories. Pumpkin seeds are fiber-full, too. It also has anti-diabetic, antioxidant, anti-carcinogenic and anti-inflammatory properties (1).
Want to go Paleo? Not sure where to start?
Start with this FREE Paleo For Beginners Guide Today!

If you're looking for a way to enjoy pumpkin on the sweet side without the guilt, opt for pumpkin butter. It's light and made only with clean-eating, Paleo-friendly ingredients.
The low and slow approach allows the pumpkin to caramelize, giving it a rich depth of flavor and sweetness not found in plain pumpkin. Coconut sugar helps round out the sweetness (but not too much!), while a finishing touch of lemon juice balances it out.
It's imperative that you add the lemon juice at the end: fresh lemon juice adds a zing you'll miss if you skip it. The apple cider, too, adds a tangy touch that you won't want to forget.
Courtney Hamilton
Easy, Slow-Cooker Pumpkin Butter Recipe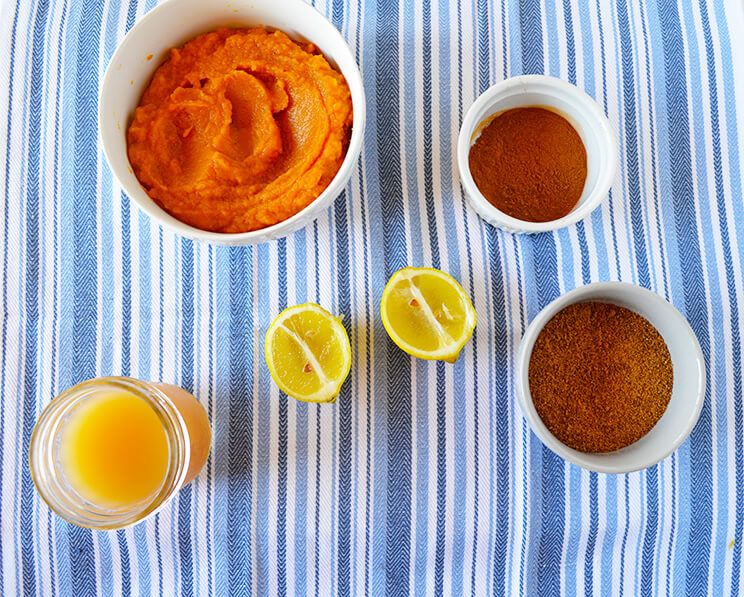 Prep Time:
5 mins
5 minutes
Easy, Slow-Cooker Pumpkin Butter Recipe
Thick and creamy, this buttery pumpkin spread screams fall. Spread it on everything this season.
Ingredients
2 15-oz cans of pumpkin

1 cup pure apple cider

½ cup coconut sugar

1 t ground cinnamon

1 t pumpkin pie spice

Pinch of salt

Juice of ½ a small lemon
Instructions
In a slow cooker, combine pumpkin, apple cider, coconut sugar, cinnamon, pumpkin pie spice and salt. Cook on high for 2 hours, then low for another 2 hours. Stir occasionally.

Stir in lemon juice as a final touch. Store in fridge for up to 2 weeks.
Tip: Enjoy it spread on some coconut flour bread or for an uber-seasonal breakfast, Paleo apple cinnamon bread. Try making a pumpkin smoothie with this as your sweetener for an extra boost of pumpkin.

(You'll Also Love: Mini Pumpkin Stuffed with Caramelized Cinnamon Apples)