Wholesome ingredients combine to create these moist and delicious pumpkin cheesecake bars.
Desserts in the form of bars make the perfect large batch treat to serve when entertaining a crowd or if you just want to have a healthy dessert on hand when a craving strikes. These bars make the cheesecake layer extra indulgent while staying true to the Paleo diet.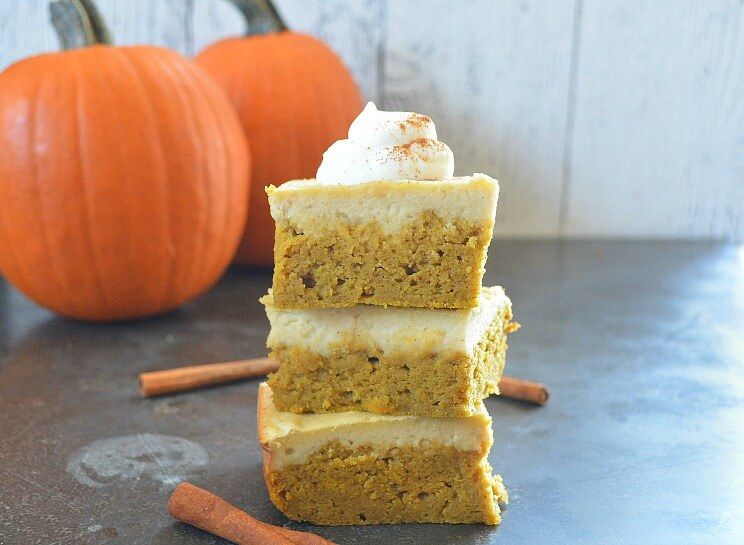 The first step is to whip up the pumpkin bar batter. Coconut and tapioca flours combine with pumpkin purée; maple syrup, pumpkin spice and coconut oil create a sturdy yet moist bar that has all of the flavors of pumpkin pie. Once beaten together with eggs, the batter is poured into a baking pan and baked for a short time.
Love Paleo Desserts? Then you'll love our FREE Paleo Dessert Cookbook. Click here to get it!
While the batter bakes, the cheesecake layer is blended together. Cashews are key when it comes to creating a cheese-like flavor and texture in Paleo recipes. Whether it's creating a ricotta cheese texture for Paleo lasagna or creating a base for "mozzarella" cheese, cashews are a go-to. Soaking the cashews overnight gives them an extra smooth and silky texture, while a bit of lemon juice adds the tanginess you'd expect from a cheesecake.
The cheesecake layer is then poured over the half-baked pumpkin bars and baked an additional 20 minutes, until the cheesecake layer is just slightly golden around the edges. It's important to let them come to room temperature for at least an hour, then transfer the bars to the refrigerator to cool another 2-3 hours.
Jennafer Ashley
Easy, Dairy-Free Pumpkin Cheesecake Bars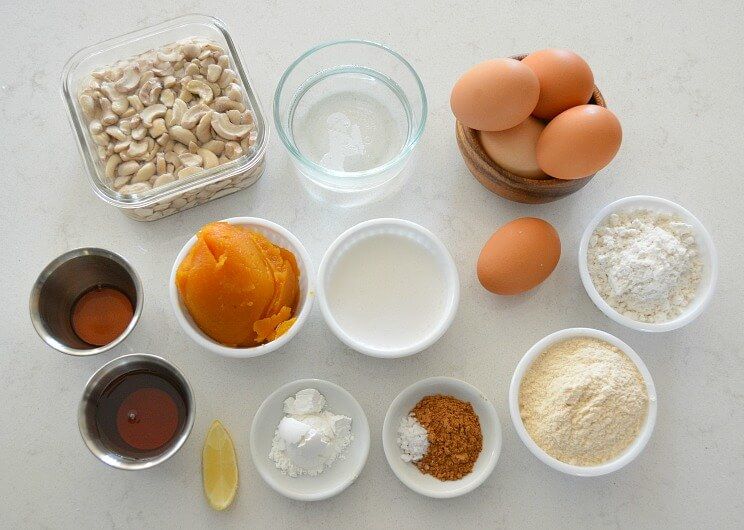 Cook Time:
45 mins
45 minutes
Prep Time:
20 mins
20 minutes
Easy, Dairy-Free Pumpkin Cheesecake Bars
Wholesome ingredients combine to create a moist and delicious pumpkin bar topped with a layer of creamy Paleo cheesecake.
Ingredients
For the Pumpkin Bars
1 cup tapioca flour

1/2 cup coconut flour

1 can pumpkin purée

4 large eggs

1/2 cup coconut oil, melted

1/2 cup pure maple syrup

1 T pumpkin pie spice

2 t baking powder

1/2 t sea salt
For the Cheesecake Layer
1½ cups cashews, soaked overnight in water

2 eggs

1/4 cup full fat coconut milk

2 T maple syrup

1 t vanilla extract

1 T lemon juice
Instructions
Preheat oven to 350°F and lightly grease a 9x13-inch baking pan. Use a hand mixer to beat together pumpkin purée, maple syrup and melted coconut oil.

Beat in eggs until just combined. Gradually add coconut and tapioca flours, pumpkin pie spice, baking powder and sea salt. Beat until smooth. Pour batter into baking pan. Bake 25 minutes.

Drain soaked cashews. In a blender, combine cashews, coconut milk, maple syrup, vanilla extract and lemon juice. Blend until silky smooth. Add egg and blend until just combined.

Remove pumpkin bars from oven. Pour cheesecake layer over the top and spread evenly. Bake for 20 minutes. Allow bars to cool 1 hour at room temperature then cover and refrigerate 3 hours before slicing into bars.
Pro Tip: For extra indulgence, finish the pumpkin cheesecake bars with a little bit of coconut whipped topping for the ultimate dessert.

(You'll Also Love: No-Bake Paleo Pumpkin Cheesecake)