For an easy bread recipe without the gluten, whip up this cozy pumpkin bread bursting with warm flavor!
Whether you enjoy it for breakfast or as a light snack, this nutritious recipe will instantly become your new go-to favorite. Made with plenty of wholesome ingredients, it's the perfect treat for anyone looking to cut down on sugars or curb mid-meal cravings.
To make this recipe deliciously Paleo, we use a grain-free coconut flour to help give this bread its signature fluffy texture. Pumpkin puree and honey add a subtle sweetness, while also offering a healthy dose of essential vitamins and minerals.
Love Coconut Flour Recipes? Then you'll love our FREE Coconut Flour Recipes.
Click here to get your FREE copy of our delicious Coconut Flour Recipes!
The final key to making this bread uber decadent is allowing it to rest for 20 minutes on a cooling rack (after it's done baking). Slicing into it too soon could result in a crumbly mess when trying to remove from the pan, so it's best to give it the time it needs to reach its dreamy potential.
To get started, begin combining the dry ingredients in one mixing bowl and the wet ingredients in a second bowl. When both are fully combined, gently fold the wet ingredients into the dry and pour into a prepared loaf pan. Allow it to bake for 45 minutes, then remove the bread from the pan and transfer it onto a cooling rack to set for twenty minutes.
When ready to enjoy, slice and pair with your favorite Pumpkin Spice Latte!
Erin Druga
Spiced Paleo Pumpkin Bread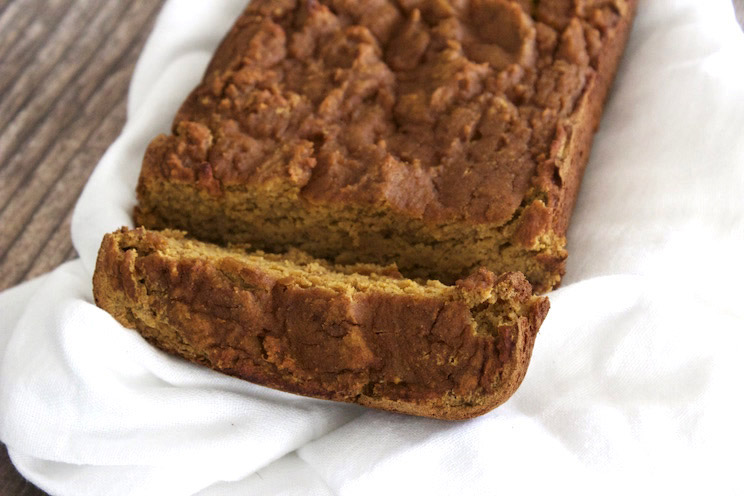 Cook Time:
45 mins
45 minutes
Prep Time:
10 mins
10 minutes
Spiced Paleo Pumpkin Bread
'Tis the season for all things pumpkin and this gluten-free bread is bursting with fall flavor.
Tools
2 Medium mixing bowls

Loaf pan

Cooling rack
Ingredients
1/2 cup coconut flour

Pinch of salt

1 T pumpkin pie spice

1 t cinnamon

1/2 t baking soda

1/4 t baking powder

1 can (15 oz) pumpkin puree

4 eggs

3 T honey

1 T coconut oil, melted

1/2 t vanilla extract
Instructions
Preheat the oven to 375°F.

Combine the flour, salt, pie spice, cinnamon, baking soda, and baking powder in a bowl and set aside.

In a separate bowl, whisk together the eggs, pumpkin puree, honey, and oil.

Fold the wet ingredients into the dry ingredients and grease a loaf pan with melted coconut oil.

Pour the batter into the pan and set in the oven to bake for approximately 45 minutes. Check for readiness by inserting a toothpick into the center of the bread. You'll know it's finished when the dough is no longer wet.

When ready, remove the bread from the pan and place it onto a cooling rack. Let it set for at least 20 minutes, then slice and enjoy!
Looking for Paleo ingredients? Here are a few we'd recommend:
Coconut flour (Nutiva)
Ground cinnamon (Simply Organic)
Baking soda (Bob's Red Mill)
Baking powder (Hain)
Raw honey (Bee Farms)
Cold pressed coconut oil (Viva Naturals)
Vanilla extract (Frontier)
For more gluten-free bread inspo, check out 51 Quick Bread Recipes That Aren't Banana Bread.