Everyone loves a good cheesecake right? What about a Paleo pumpkin cheesecake for the holidays? And, to top it all off, what if I told you this recipe requires a no-bake technique?  It's true!
Recipes that come together in a few simple steps, with easy-to-find ingredients, are the kind of desserts that are hassle-free. 
The crust for this cheesecake is made from crushed almonds, almond flour and maple syrup—that's it! After you blend them together and form the crust, it's time to make the filling which is just as quick. 
Love Paleo Desserts? Then you'll love our FREE Paleo Dessert Cookbook.
Click here to get your FREE copy of our delicious Dessert Recipes!
The best part? The sweet almond crust pairs perfectly with the creamy pumpkin filling.
Erin Druga
No-Bake Paleo Pumpkin Cheesecake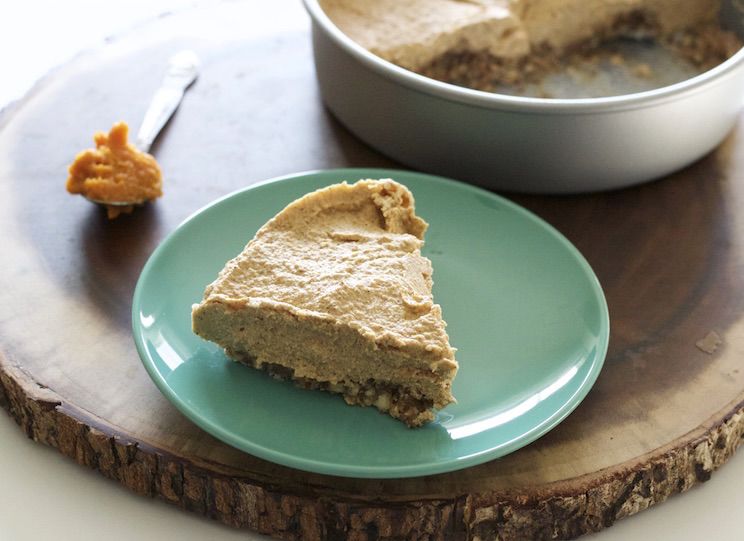 Prep Time:
20 mins
20 minutes
No-Bake Paleo Pumpkin Cheesecake
Pumpkin cheesecake with a crust made from almonds and a filling made from cashews and pumpkin puree.
Tools
Food Processor

Cake Pan

Spoon or Spatula

Blender
Ingredients
1 cup almonds

1 cup almond flour

1/2 cup maple syrup

1 1/2 cup soaked cashews

1/3 cup water

3/4 cup pumpkin puree

1/4 cup maple syrup

2 t pumpkin pie spice

1 t cinnamon

Pinch nutmeg
Instructions
Place almonds in food processor and pulse; add in almond flour and syrup and pulse until everything is combined.

Grease an 8 inch cake pan with coconut oil and then add crust; use a spoon or spatula to smooth everything out and then place pan in the freezer.

Combine cashews and water together in a blender and pulse; remove from blender and pour into a bowl; stir in pumpkin, syrup, pie spice, cinnamon, and nutmeg.

Pour filling overtop of crust and place pan back in freezer for at least 3 hours. Enjoy!
Looking for Paleo ingredients? Here's what we recommend:
Almond Flour (Bob's Red Mill)
Maple Syrup (Hidden Springs Maple)

(You'll Also Love: Spiced Pumpkin Freezer Fudge)