Spice up your coffee routine by making this turmeric pumpkin spice latte with anti-inflammatory benefits!
This healthy pumpkin spice latte is the perfect way to add a burst of natural energy to your routine. Many popular store-bought lattes are filled with unnatural syrups, additives and preservatives, delivering little to no nutrition.
With these natural, wholesome ingredients, you get nothing artificial and no refined sweeteners. Thanks to the hefty dose of turmeric, you get an extra boost of anti-inflammatory and digestion benefits.
This coffee cookbook is filled with healthy recipes and reveals the natural benefits of your morning brew.
Click here to get your FREE Coffee Book Today!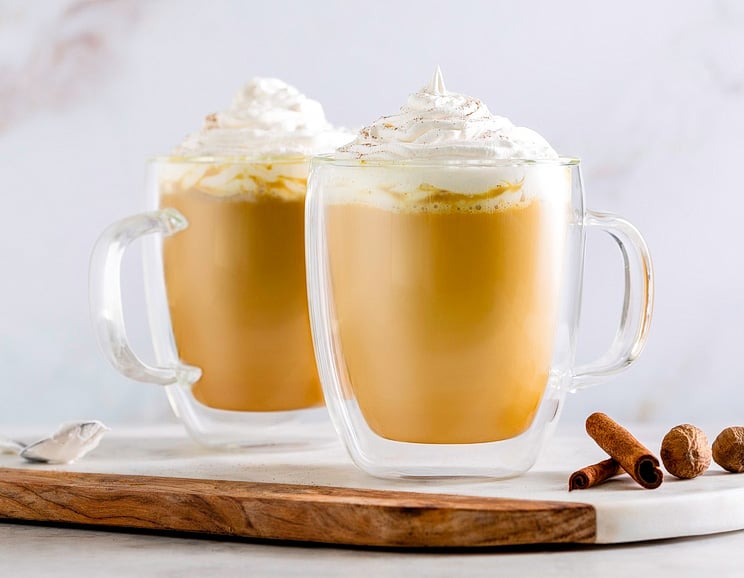 The recipe is simple: starting with the turmeric pumpkin spice syrup, heat the ingredients together in a pot on the stove and let them simmer until the spices are broken down. In just a few minutes, you get a creamy, silky mixture.
I highly recommend you make double the amount of syrup. Once you taste it, you'll want to put it on everything. It even stores well in the fridge, so you can add it to your coffee or baked goods whenever you want a little natural sweet spice.
From there, pour in your coffee, sip, and enjoy!
Pro Tips:
Since most people don't have an espresso machine at home, I recommend you make your coffee strong if you really want that distinct latte taste.
If your syrup is too grainy, transfer it to a blender and blend on high to further break it down. This also makes the syrup frothier!
Megan Olson
Turmeric Pumpkin Spice Latte with Anti-Inflammatory Benefits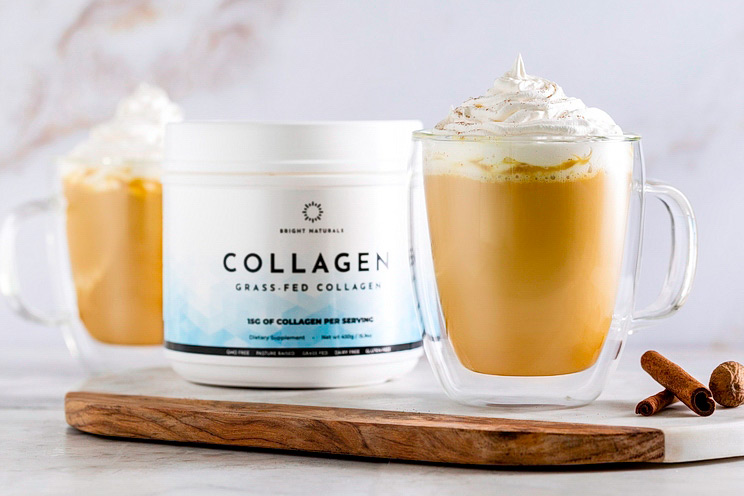 Cook Time:
10 mins
10 minutes
Prep Time:
5 mins
5 minutes
Serves:
1 latte + 5 serv of syrup
Turmeric Pumpkin Spice Latte with Anti-Inflammatory Benefits
Spice up your coffee routine by making this Turmeric Pumpkin Spice Latte with anti-inflammatory benefits!
Ingredients
For the Coffee:
8 oz espresso or brewed coffee of choice
For the Syrup:
½ cup maple syrup

1/3 cup pumpkin puree

½ cup coconut cream

1 t cinnamon

½ t nutmeg

¼ t cloves

½ t turmeric

1 T collagen powder
Instructions
Place maple syrup, pumpkin puree, coconut cream, cinnamon, nutmeg, clove and turmeric in a small pot over medium heat. Bring to a simmer.

Stir the mixture constantly for 5 minutes until thickened and fragrant. Turn off the heat and let the mixture cool to room temperature.

As the pumpkin spice syrup is cooling, stir in the collagen powder and brew coffee or espresso.

Pour hot coffee or espresso to a cup and add 3-4 tablespoons of the pumpkin spice syrup.

Transfer remaining pumpkin spice syrup to a container and store in the refrigerator.
Looking for Paleo ingredients? Here are a few we'd recommend:
Coconut cream (Native Forest)
Ground cinnamon (Simply Organic)
Ground nutmeg (Simply Organic)
Turmeric (Simply Organic)