For a platter that's perfectly Paleo, we've compiled a charcuterie spread full of our favorite original recipes. This combination of bites and nibbles is ideal for any occasion.
As anyone who's hosted a party knows, supplying guests with an array of appetizers can be a daunting task. By applying a few of the tricks you already know (by following our top Paleo recipes), you can combine them into one ultimate party platter.
Tip: To hit the salty, sweet combo within the platter, it's crucial that you tap into all the flavor points. Then you'll get loads of flavor in every bite.
Want to go Paleo? Not sure where to start?
Start with this FREE Paleo For Beginners Guide Today!
Garden Fresh
A great charcuterie board starts with fresh flavors. Adding raw fruits and vegetables (such as tomatoes, olives, and grapes) creates a sense of familiarity for guests, and it leaves room for you to flex your creative muscle with other recipes. Unexpected twists (such as using plant-based foods) help a charcuterie board stand apart from your typical veggie platter.
Try these vegetable-based recipes. They're anything but ordinary…
Cauliflower Hummus
This ultra-creamy hummus is perfect for stuffing into peppadew peppers. And it's great for dipping, so it definitely makes a large batch.
Veggie Chips
Cucumbers make an awesome Paleo alternative to grain-based crackers. And they're hearty enough to hold just about any topping. Smear cauliflower hummus over sliced cucumbers, and top with smoked salmon and a sprig of fresh dill.
If you're looking to add crunch and a vibrant color to your board, try these easy beet chips. Use them to dip, top with meat, or enjoy alone.
Oven-baked cheesy kale chips and sweet potato chips take these superfood veggies to a whole new level.
---
Naturally Sweet
Balance your charcuterie board by adding a few versatile options to a combination of fresh and prepared sweets.
Fruit
Apples are a natural palate cleanser and a great way to add crunch between bites.
Berries add tartness and a ton of antioxidants.
Rich fruit (such as dates, figs, or apricots) add deep flavor and pair well with savory meats.
Spreads
A drizzle of pure honey or maple syrup compliment the flavor of just about any fruit. They also deliciously pair with Paleo cashew cheese.
Add a fruity spread with homemade strawberry chia jam.
For chocolate lovers, this Nutella-inspired spread is great for dipping fruit in.
---
Savory and Protein-Packed
Paleo-Friendly Meat
With the demand for higher-quality deli meat, grass-fed uncured meats are readily available in most grocery stores.
Grass-Fed Jerky: Some brands (such as Chomps) are devoted to creating high-quality meat, which can be trusted.
Bacon: Choose a free-range uncured brand, free of nitrates and added sugar.
Pasture-raised pork: Deli meat (such as prosciutto) is terrific for wrapping around melon and asparagus spears. Tip: An eat-with-your-hands must is prosciutto-wrapped asparagus, which is sauteéd to crispy goodness.
Savory Bites
---
Get a Little Nutty
With healthy fats and protein, nuts and seeds round out a charcuterie platter that'll keep guests satisfied. Choose nuts and seeds that're raw and unsalted.
For a medley of crunchy goodness, combine these Paleo-friendly nuts:
Pistachios
Almonds
Walnuts
Pecans
Cashews
Hazelnuts
Sunflower seeds
Pumpkin seeds
Tip: With maple roasted walnuts, take sweet, crunchy nuttiness to the next level. The smell of these walnuts baking will fill your house with an inviting aroma.
---
Bottom Line: Have Fun!
The wonderful thing about charcuterie boards is that you can tailor them to fit any holiday or special occasion. Use chilled appetizers during the summer. And in the winter, add more spicy flavors (such as hints of nutmeg and cinnamon). The possibilities are truly endless. And no matter what you put on your platter, a glass of organic wine will always pair well with it.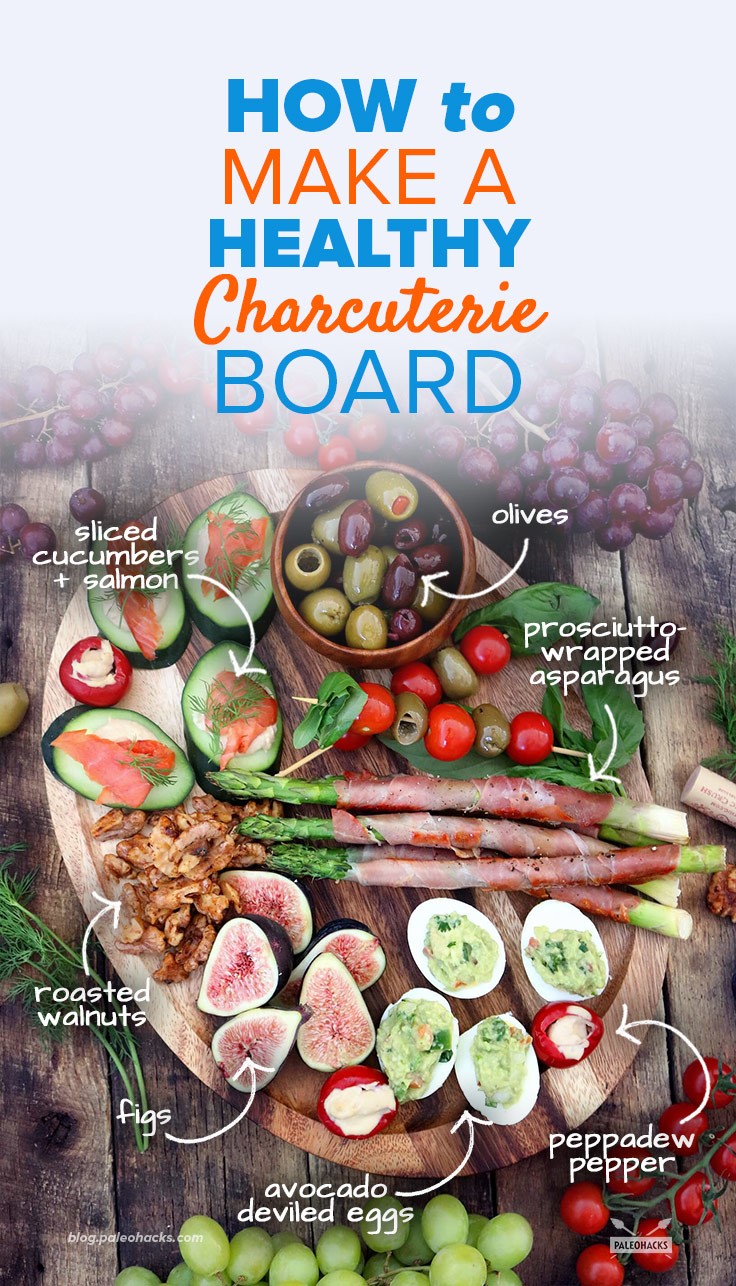 (You'll Also Love: 3 Sweet Potato Toast Recipes)