This delicious, unfried chicken gets the crispy crunch just right without any grains or deep frying!
Made with ingredients already in your pantry, this oven-fried chicken is a simple recipe that yields the texture of fried chicken without deep frying or using any grains.
Almond flour is the secret ingredient that gives the chicken its crispy, crunchy texture. Note: coconut flour does not work in this recipe.
Love slow cooker recipes?
Click here to get your FREE copy of our delicious Slow-Cooker Recipes!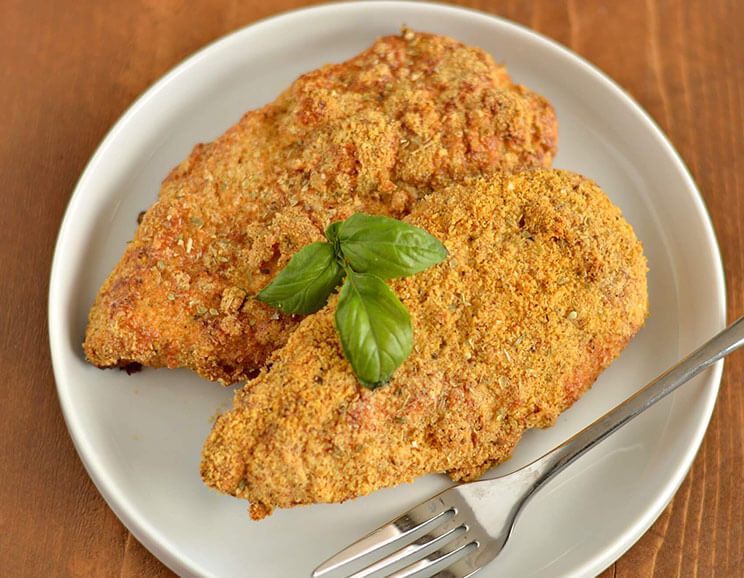 The recipe uses a spicy blend of seasonings, giving the chicken that savory, deep-fried taste and aroma. As it bakes, the chicken browns to crispy perfection on the outside while staying juicy and tender on the inside.
This protein-packed dish works well for lunch or dinner paired with roasted vegetables, and great for meal-prepping in advance!
Tip: When taking the chicken breasts out of the refrigerator, make sure they reach room temperature 20 minutes before baking. Same applies if you're defrosting.
Megan Olson
Unfried Chicken Recipe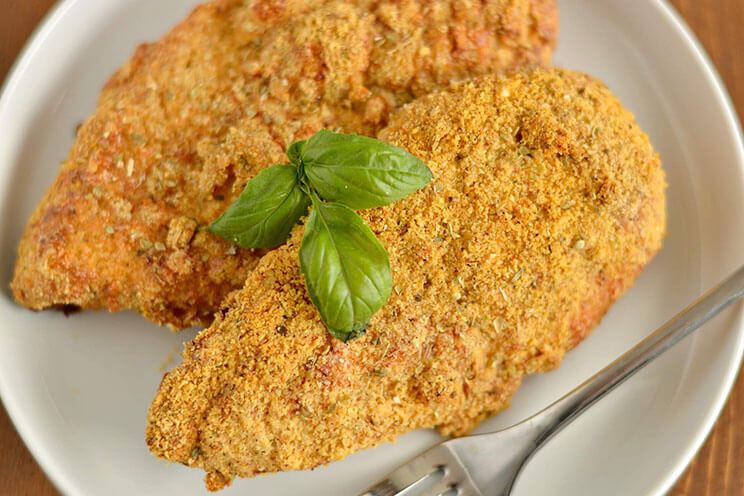 Cook Time:
30 mins
30 minutes
Prep Time:
20 mins
20 minutes
Unfried Chicken Recipe
This delicious, unfried chicken gets the crispy crunch just right without any grains or deep frying!
Ingredients
2 medium skinless chicken breasts

1 cup + 2 T almond flour

1 large egg, room temperature

½ t paprika

½ t oregano

½ t garlic powder

½ t cayenne pepper

Salt and pepper, to taste

1 T extra virgin olive oil
Instructions
Preheat oven to 375°F.

Prepare a baking sheet by sprinkling 1 tablespoon of almond flour where one chicken breast will go. Sprinkle the other tablespoon where the other chicken breast will be placed. Set aside.

In a small bowl, add the egg with 2 tablespoons water. Whisk a few minutes and set aside. This will be your egg wash.

In a separate small bowl, combine the almond flour with seasonings, salt, and pepper.

Dip each chicken breast into the egg wash and then immediately into the flour, coating it generously with the mixture.

Place each chicken breast on the baking sheet on top of the almond flour.

Drizzle each breast with the extra virgin olive oil.

Bake for 30 minutes until crispy and brown on the outside.

Serve immediately!

(You'll Also Love: Baked Popcorn Chicken)