Rich, dark and chocolatey…brownies are the easiest, most divine Paleo dessert. If you've spent any time on my recipe blog, then you know that coming up with new variations of brownies is one of my favorite things to do!
This recipe uses pureed beets to create a moist, chocolate brownie that's hiding a sweet surprise.
I love the idea of making brownies in a mini muffin pan because it's forced portion control. One little morsel is all you really need to satisfy your sweet tooth. When I have a large pan of brownies in front of me it's hard to just cut a little square and be done with it!
Another variation of this recipe is to use 1 ½ cups of shredded, raw zucchini in place of the beets. Shred it very finely and then mix well into the batter, and you'll end up with brownies that have literally zero trace of zucchini.
Love almond flour recipes? Get our free almond flour recipe cookbook here!
It's fun to serve beet or zucchini-filled brownies to kids and have them eat their veggies with gusto!
Diana Keuilian
Luscious Beet Brownie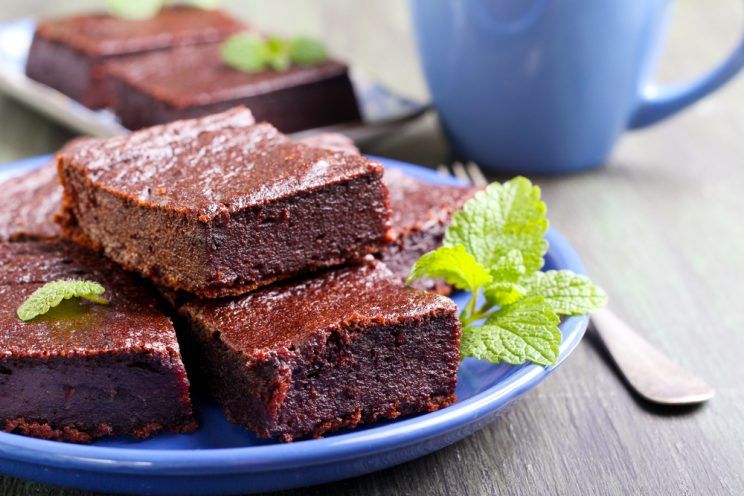 Cook Time:
45 mins
45 minutes
Prep Time:
5 mins
5 minutes
Luscious Beet Brownie
Rich dark chocolate brownies are the easiest, most divine Paleo dessert.
Ingredients
5 oz dark chocolate, 72% or higher cocoa content

1/4 cup coconut oil

1/3 cup raw honey

2 omega-3, free range eggs

2 t vanilla extract

1/4 t almond extract

1 cup blanched almond flour

2 T coconut flour

1/4 cup unsweetened cocoa powder

1 1/2 t baking soda

1/4 t salt

2 cooked beets, pureed (to save time use organic, canned beets)
Instructions
Preheat oven to 350 degrees °F. Grease an 8×8 pan with coconut oil, then dust with blanched almond flour. Set aside.

In a double boiler, gently melt the chocolate. (If you don't have a double boiler then fill a skillet with a few inches of water and set a small pot in the water, place over very low heat.) Add the coconut oil and raw honey. Mix until fully combined. Remove from heat and set aside to cool.

In small bowl combine the eggs, vanilla and almond extracts. Add the cooled chocolate mixture.

In a medium bowl combine almond flour, coconut flour, cocoa powder, baking soda and salt. Pour in the wet ingredients and mix until fully combined. Mix in the pureed beets.

Pour batter into prepared pan and bake for 25 minutes, or until fully set. Cool in the pan for at least 30 minutes before cutting. *Tip: Use a serrated, plastic knife to cut your brownies — this makes it less likely to crumble.