This easy, homemade sauerkraut packs probiotic goodness in a recipe that can be served hot or cold. No need for fancy equipment, cabbage brines in a simple solution of sea salt and caraway seeds for a kraut full of flavor.
Making sauerkraut can seem like an intimidating task, but it is quite simple and well worth the time. This small batch, artisan-style kraut can be served alongside Paleo sausages or by itself. In as quick as 3 days, your batch of sauerkraut is ready to devour. So, grab some large mason jars and let's get started.
Start with clean equipment and hands. It is important that all of the utensils and equipment are clean to avoid contaminating the sauerkraut with unwanted bacteria. Begin by finely shredding cabbage and combining in a large bowl along with Himalayan sea salt. Massage and squeeze the cabbage for about 5 minutes. This helps soften the cabbage and encourages it to release moisture, which is the beginning of the fermentation process.
Do you struggle with bloating, gas, constipation, or other digestive issues? We've created a FREE guide to healing your gut naturally.
Click here to get your FREE copy of our Digestion Guide!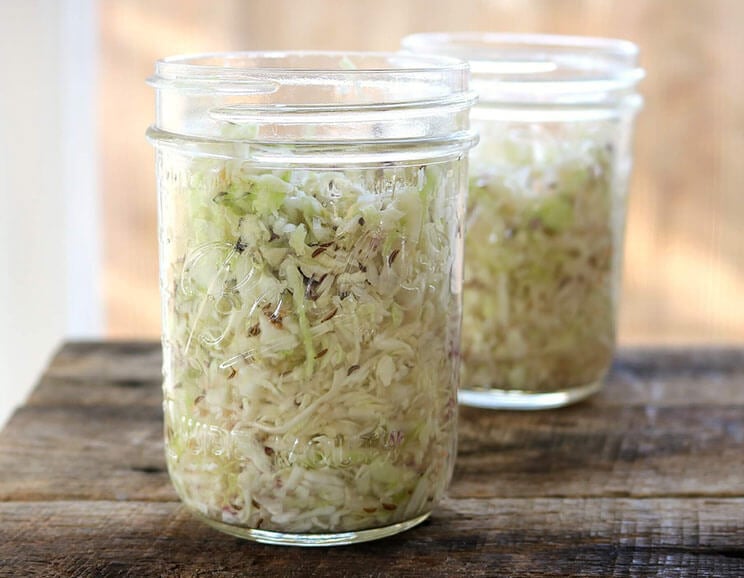 Divide mixture between two mason jars and add apple cider vinegar. Apple cider vinegar adds more strains of probiotics to the kraut and helps form the brine. Place clean stones on top to help weigh the cabbage down as brine starts to fill the jars. If you don't have stones, add a small onion half or leaves of cabbage to cover the cabbage. Cover with cheesecloth and secure with twine around the band of a mason jar lid. Set jars at room temperature in a dry spot.
Over the next few days, the sauerkraut will ferment and fill with liquid brine, and bubbles will begin to form. This is a natural part of the lactobacillus bacteria present on cabbage converting to lactic acid. This good bacteria is a natural preservative that helps stave off harmful bacteria.
Check sauerkraut and regularly push it down, keeping it submerged in the brine. If the liquid brine isn't forming after 24 hours, dissolve ½ teaspoon of sea salt in 1 cup of water and add enough to cover the cabbage. If the sauerkraut is exposed to the air, it runs the risk of growing mold. Taste the kraut after 3 days and if it is to your liking, remove the weights and store in the refrigerator. This sauerkraut is equally tasty hot or cold.
For a Bavarian-style kraut with a touch of sweetness, sauté cabbage in beef tallow along with a little bit of coconut sugar and serve alongside brats or on Paleo sandwiches.
Jennafer Ashley
Easy, Healthy Sauerkraut Recipe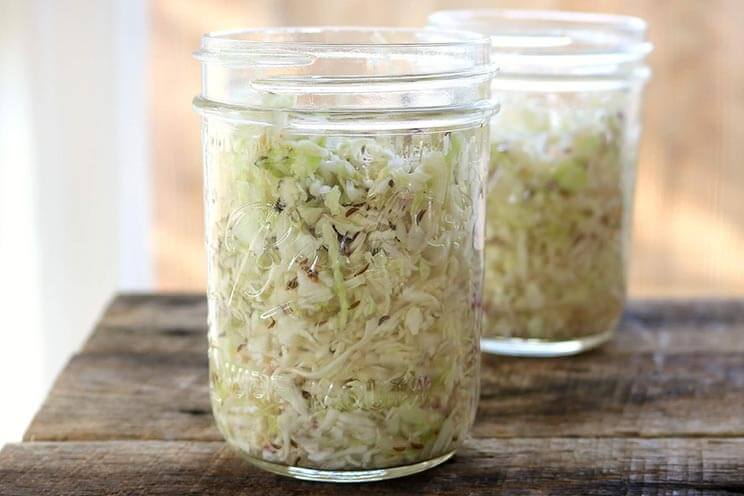 Cook Time:
13 mins
13 minutes
Prep Time:
15 mins
15 minutes
Easy, Healthy Sauerkraut Recipe
This easy, homemade sauerkraut packs probiotic goodness in a recipe that can be served hot or cold.
Tools
2 24-oz clean mason jars

Large mixing bowl

Clean stones inside of a small dish

Cheesecloth
Ingredients
6 cups green cabbage, finely shredded (1 medium head)

2 t pink Himalayan sea salt

2 t apple cider vinegar, divided

1 t caraway seeds

1 T beef tallow or ghee

2 t coconut sugar
Instructions
In a large mixing bowl, combine sea salt and shredded cabbage. Use hands to massage and squeeze cabbage to help soften and release moisture. This will take about 5 minutes. Mix in caraway seeds.

Using hands or a large spoon, stuff cabbage into each mason jar, packing as you go. Leave about 3 inches at the top for room to add the weight. Pour in any liquid from bowl along with a teaspoon of ACV into each jar.

Weigh down cabbage mixtures with clean stones inside of a small dish. Place cheesecloth on top and tie securely. Over the next few days, press cabbage down as liquid begins to release from cabbage, keeping the cabbage submerged in liquid. Skim off any scum that may form. Ferment for 3-10 days, tasting cabbage after 3 days. Once taste reaches your preference, remove stones and transfer to a smaller container or combine into one. Refrigerate up to 2 months.

To serve sauerkraut: Melt tallow over medium/low heat in a large skillet. Drain and discard any excess liquid from sauerkraut and pour sauerkraut into skillet. Stir in coconut sugar. Cook uncovered for 10 minutes or until cabbage has lightly browned, stirring occasionally. Serve hot.
Looking for Paleo ingredients? Here are a few we'd recommend:
Apple cider vinegar (Bragg)
Ghee (Pure Indian Foods)
(You'll Also Love: A Simple Guide to the Best Kombucha)