Are you ready for this? That's right, nacho cheese!
Today we're sharing a can't-miss paleo Nacho 'Cheese' Kale Chips Recipe, but without the cheese! And you'll never know the cheese is missing because they're that good.
Eating a clean paleo diet just feels great and with all of the amazing recipes out there you really don't get seduced by the hyper-palatable, over-engineered, food-like nacho chips in the snack aisle when you're eating clean and feeling great. For the most part, right? There are times though, when only a chip will do. A salty, crispy, cheesy chip.
Want to snack smarter and curb cravings? Get your FREE 25 Healthy Paleo Snacks Cookbook here.
Click here to get your FREE copy of our Snack Recipes Cookbook!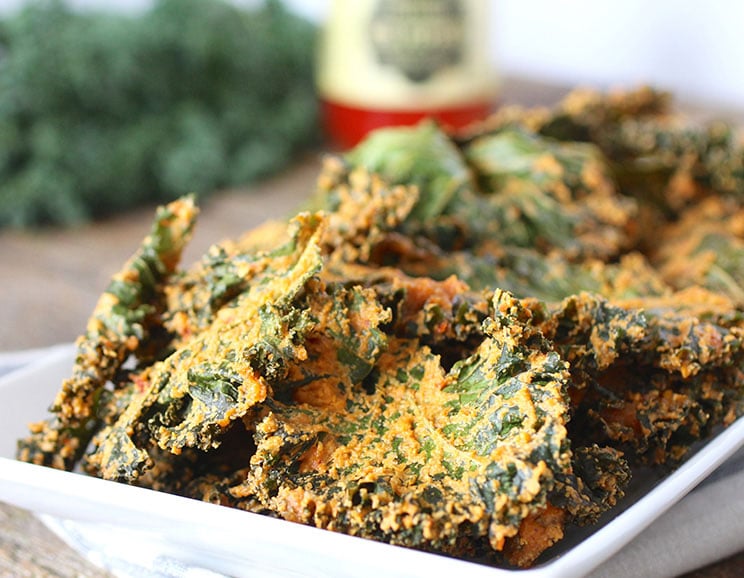 When you want the savory crunch without the junk food-hangover, these Nacho "Cheese" Kale Chips are just the ticket. Not only do these chips taste amazing, but they're packed with nutrients too!
Nutritional yeast (not to be mistaken for brewers or bakers yeast) has a nice nutty, cheesy flavor. This particular ingredient provides a host of nutritional benefits. It's a great source of vitamin B12, is high in protein (2 Tbsp. contains 9 grams of protein), is high in fiber and is a great source of folate. Add kale to the equation, and you have yourself one nutrient-packed snack!
Blending the nutritional yeast with soaked cashews and roasted peppers makes for a creamy nacho "cheese" recipe that resembles the flavor and texture of nacho cheese sauce, but much healthier. This sauce also tastes great when tossed with vegetables or one of our favorites, zucchini paleo noodles.
The Real Food Dietitians
Nacho 'Cheese' Kale Chips Recipe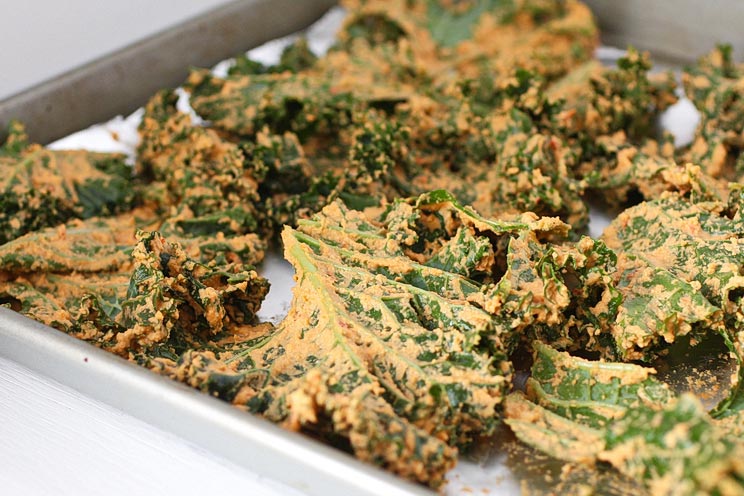 Cook Time:
1 hr 40 mins
1 hour 40 minutes
Prep Time:
10 mins
10 minutes
Nacho 'Cheese' Kale Chips Recipe
These cheesy kale chips teach you to make your own cashew cheese for a hearty snack.
Tools
Food processor or blender

Baking sheet

Mixing bowl
Ingredients
1 large bunch of kale

2 cups raw cashews, soaked overnight

2⁄3 cup jarred roasted peppers (+ 2­ to 3 T of the juice)

1⁄3 cup nutritional yeast

3 T olive oil

1 lemon, juiced

1⁄2 t garlic powder

1⁄2 t chili powder

1⁄4 t sea salt

1⁄4 t black pepper
Instructions
Preheat oven to 200ºF.

Wash the kale and pat dry. Remove the stems by tearing kale off into large, palm-sized leaves and place in a large bowl. Discard the stems (or add them to smoothies for later).

In a food processor or high­-powered blender make the cheese sauce by processing the remaining ingredients (not the kale) together until smooth. This may take a few minutes and you may need to scrape the sides of your food processor or blender during this step. Sauce will be slightly thick.

Add the sauce to the bowl of kale leaves and massage kale and sauce together until leaves are evenly coated.

Single layer the kale leaves on two large baking sheets. Bake for 1 hour. Flip and bake for another 30 to ­40 minutes or until dry and crispy.

Cool and store in an airtight container.
We've got you covered with our Grain­-free Cheese Crackers!