These Paleo Sweet Potato Chips are crispy and flavorful! They are perfect for a crunchy snack or served next to your favorite Paleo soup or sandwich!
The best part: They're ridiculously easy to make. All you need is one sweet potato (or a few if you're really hungry or want to make a bunch for friends), some olive oil, and a bit of salt and pepper. After that, it's just a matter of popping your soon-to-be chips in the oven. When they're ready, you'll have a satisfying snack you can enjoy solo or with a tasty spinach dip.
Plus, since they're so easy to make, you can always make extra to snack on throughout the week. Portion them out for lunch or enjoy them with dinner. Heck, you can even crumble them on top of breakfast bakes!
Want to snack smarter and curb cravings? Get your FREE 25 Healthy Paleo Snacks Cookbook here.
Click here to get your FREE copy of our Snack Recipes Cookbook!
So ditch those store-bought brands and enjoy making your own Paleo version instead. It'll save you on empty carbs, save you money, and you don't have to feel guilty after you're done.
Deanna Dorman
Oven-Baked Sweet Potato Chips Recipe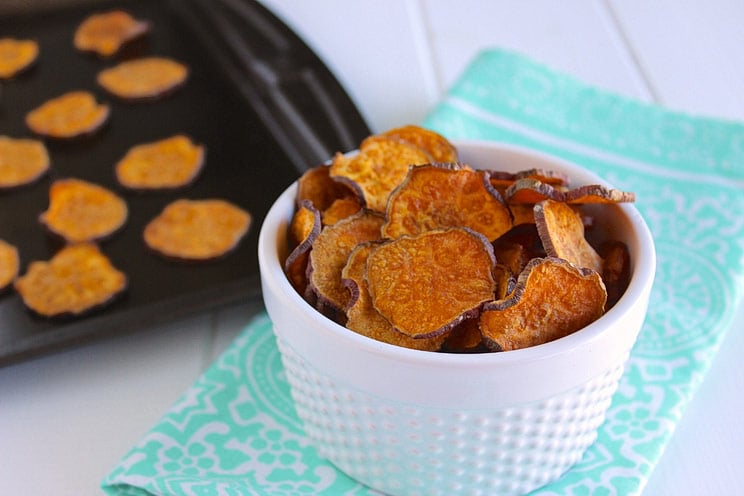 Prep Time:
10 mins
10 minutes
Oven-Baked Sweet Potato Chips Recipe
Delicious and nutritious, these chips are the ultimate snack for curbing junk food cravings.
Tools
Mandolin or sharp knife

Basting brush

2 Baking sheets
Ingredients
2-3 small sweet potatoes

1 T olive oil

Salt and pepper to taste
Instructions
Preheat oven to 275ºF.

Wash and scrub your sweet potatoes well, and them dry with a clean dish towel.

If you have a mandolin, position it to 1/16 inch thickness, and slice sweet potatoes into rounds. If you don't have a mandolin use a very sharp knife and cut rounds equally thin. It's important to make sure the rounds are equally thin so that they crisp evenly in the oven.

Using a basting brush, lightly brush each round with olive oil on each side and place on 2 baking sheets, making sure not to overlap the potatoes. Lightly sprinkle with salt and pepper.

Bake for 1 hour, flipping halfway through.

Let the chips to sit for 10 minutes to allow them to crisp up.
Watch the Recipe Video Below !
(You'll Also Love: 38 Sweet Potato Recipes That Aren't Fries)