Hard boiled eggs are the ultimate portable Paleo snack. They're cheap, easy to make and are a great source of complete protein and fat.
But hard boiled eggs can get pretty boring on their own. That's why we recommend upgrading them to deviled eggs. But not just any deviled eggs – we mean guacamole deviled eggs, made with lots of bacon!
These creamy two-bite concoctions have the right balance of lemon juice, shallots and garlic to ensure your mid-day snack is never boring again.
Want to go Paleo? Not sure where to start?
Start with this FREE Paleo For Beginners Guide Today!
If you can, nab organic free range eggs for this recipe. The premium price is really minor considering how far a dozen eggs can stretch. Skip the $5 designer coffee and get yourself eggs from happy, healthy chickens. You'll taste the difference in these guacamole deviled eggs. We promise!
Rebecca Maclary
Guacamole Deviled Eggs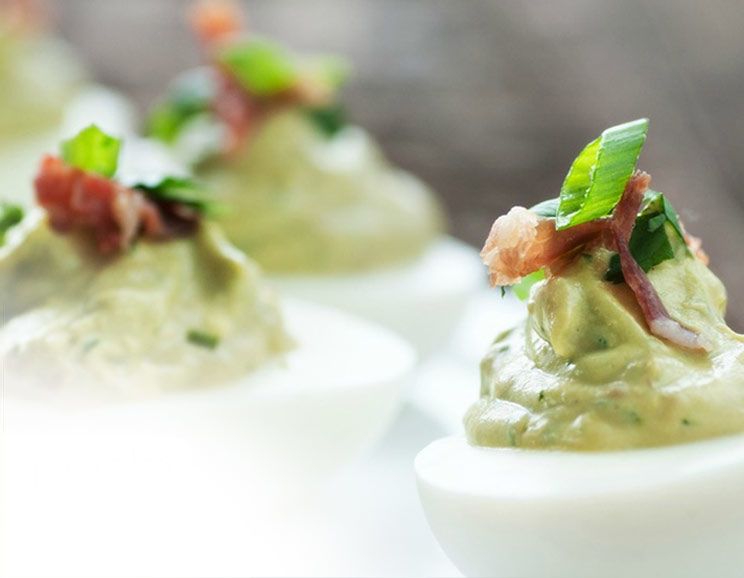 Prep Time:
10 mins
10 minutes
Guacamole Deviled Eggs
These tasty bacon and avocado deviled eggs make for the perfect portable snack.
Ingredients
6 hardboiled eggs, cooled and peeled

1 t garlic, minced

1 t shallot, minced

1 large avocado, very ripe

1 t lemon juice

3 T bacon bits

pinch or two of salt

pinch or two of pepper

1/2 t paprika
Instructions
Slice your eggs in half lengthwise and spread them out onto a baking sheet.

Carefully extract the yolks from each egg and place them a large bowl.

Add the avocado, garlic, bacon bits, shallot, and lemon juice into the bowl. Mash and then stir until thoroughly combined.

Taste your mixture and season to taste.

Using a small ice cream scoop, melon baller or a spoon, scoop out the yolk and avocado mixture into the cavity of each piece of hardboiled egg.

Dust paprika over top of each, and enjoy!
(You'll Also Love: Baked Avocado Eggs)