These flavorful stuffed mushrooms are a great Paleo take on the breadcrumb-filled original and make wonderful appetizers!
Stuffed mushrooms. They're a favorite of dinner parties, holiday parties, and tailgating parties alike. Often stuffed with sausage, cheese, or veggies, there's a million ways to make them, some healthier than others.
This recipe takes a traditional stuffed mushroom and makes it Paleo. Instead of cheese or breadcrumbs, this recipe involves meat and veggies for lots of flavor and lots of nutrition. (Think: more vegetables, more antioxidants!)
Want to go Paleo? Not sure where to start?
Start with this FREE Paleo For Beginners Guide Today!
These delicious bites are also really simple to put together. Just cook up the filling of meat and few key veggies, place in mushrooms, bake, and done! Savory and scrumptious appetizers for a crowd!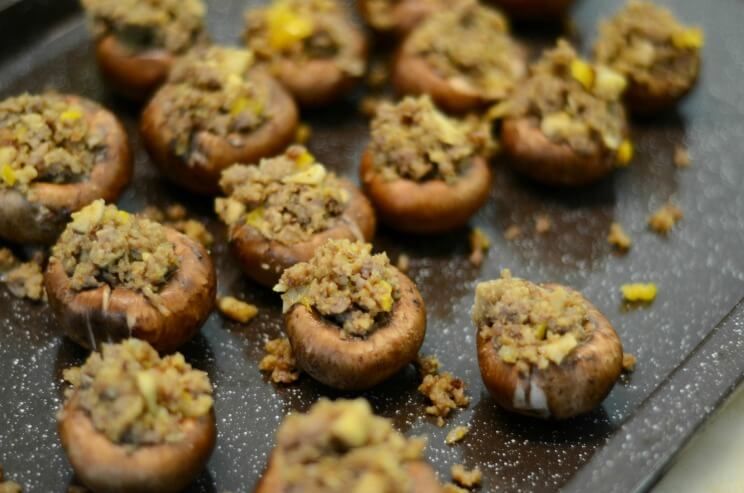 The earthy flavor of the mushrooms pairs very well the with the salty umami of the sausage. The peppers lend a few lighter flavor notes, while a touch of onion and garlic rounds everything out. And you can always add some thinly sliced greens to the sausage filling for extra flavor and color dimension!
For best results, use the freshest mushrooms you can find, and try to source locally-made, pasture-raised pork sausage. Whatever you do, don't substitute jarred garlic for the chopped cloves! The flavor of fresh garlic really is unbeatable. And if you want to make these in the summer, fresh garden yellow peppers would be amazing. Make sure to serve these a few minutes after they are done for maximum deliciousness.
Make these easy sausage-stuffed mushrooms for your next party, potluck, or game day; everyone is sure to enjoy them! You can also make these a full meal stuffing the filling in jumbo portobello mushrooms if you like; it will definitely impress your guests.
Heather Resler
Easy Sausage-Stuffed Mushrooms Recipe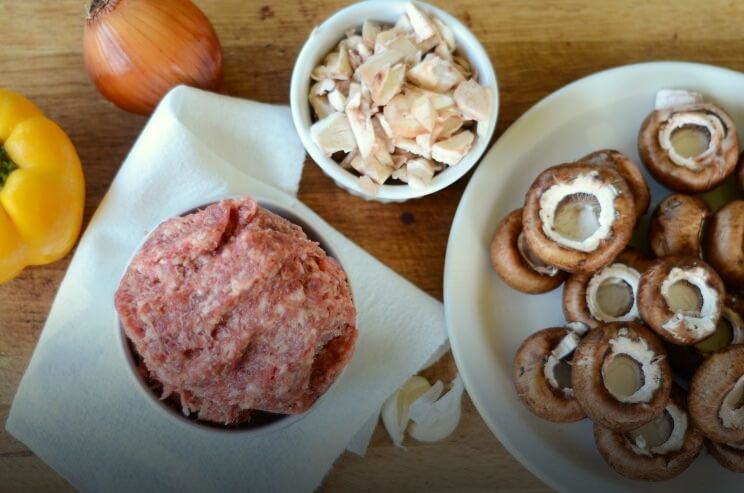 Cook Time:
20 mins
20 minutes
Prep Time:
25 mins
25 minutes
Easy Sausage-Stuffed Mushrooms Recipe
These flavorful and healthy stuffed mushrooms make wonderful appetizers!
Ingredients
1 ½ lbs baby bella mushrooms

Olive oil

1 pound pork sausage

¼ cup diced yellow peppers

3 T diced onion

2 garlic cloves, minced

1 T coconut flour

1 egg yolk
Instructions
Preheat the oven to 400°F.

Wash and dry the mushrooms; remove stems. Dice up stems.

Brush mushrooms with olive oil and arrange on a large baking sheet.

In a large skillet, brown the sausage until almost cooked.

Add the veggies and mushroom stems. Cook and stir until meat is cooked and veggies are tender.

Transfer to bowl and let cool.

Mix in the coconut flour and egg yolk.

Scoop filling evenly into the mushrooms.

Bake for 20 minutes, or until mushrooms and topping is browned and crispy. Serve immediately.

(You'll Also Love: Crispy Bacon and Baked Eggs in a Portobello Mushroom)