Let's be honest for a second, as far as taste sensations go, nothing could ever hope to come close to the greasy, salty, crispy triple threat of a good old fashioned potato chip or nacho.
Now, I'm not going to pretend to you that you can expect exactly the same level of decadent indulgence that comes with these kinds of junk food items, but I've gotta say, these Paleo kale chips come pretty close!
Kale is definitely one of my favorite Paleo superfoods. It's loaded with Vitamin A and K, both of which are fat-soluble. The extra virgin olive oil in this recipe works very well to provide a double whammy of yummy, guilt-free healthfulness!
Want to snack smarter and curb cravings? Get your FREE 25 Healthy Paleo Snacks Cookbook here.
Click here to get your FREE copy of our Snack Recipes Cookbook!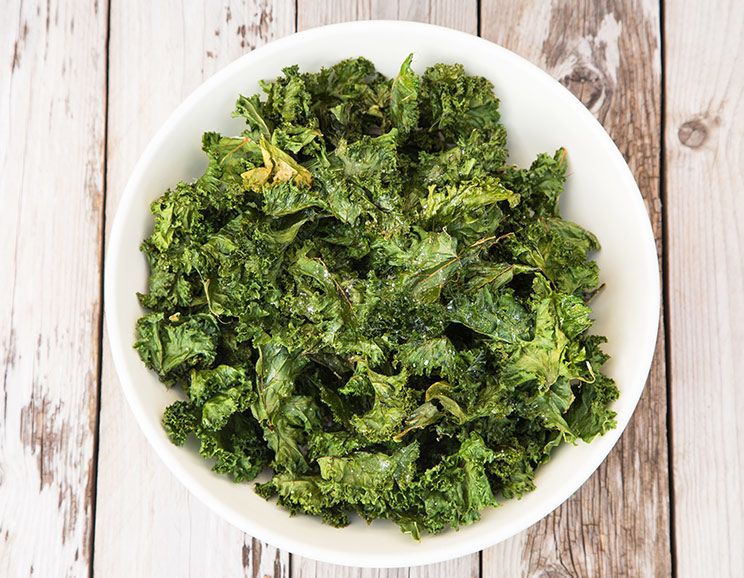 I've tried a number of different methods of preparing kale chips, with the results ranging from soggy and chewy to even ashy. I've found that the lower-and-slower method works best for the just-crunchy-enough texture.
Just remember, the devil is in the details. Give your curly kale a little extra TLC by stemming each one and drying them thoroughly before adding the olive oil. This is essential to ensuring a beautifully crisp texture! Once you've popped your kale chips in the oven, check on them at regular intervals to make sure they don't overcook. Then grab a bowl of your salty, crispy chips and relax on the couch. You've earned it.
Tips:
If you're having a couple of friends over, prep an extra large batch of kale chips. They're sure to be a huge favorite!
Kale chips are also a great way of sneaking a little extra healthy food into fussy children's diets, which has got to be better than just tossing a bag of potato chips their way!
Rebecca Maclary
Paleo Kale Chips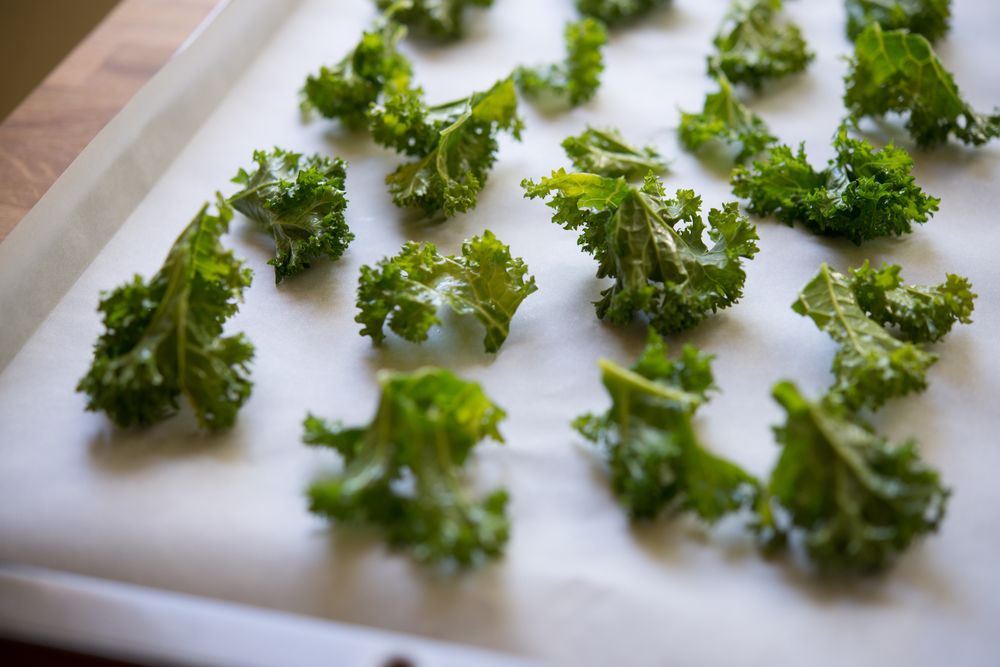 Cook Time:
15 mins
15 minutes
Prep Time:
5 mins
5 minutes
Paleo Kale Chips
Use this easy recipe to transform those fibrous little greens into delicate and salty crisps.
Ingredients
1 bunch fresh kale, curly variety

2-3 T extra virgin olive oil

1 t paprika (optional)

Generous pinch of salt
Instructions
Preheat your oven to 275-300 degrees F.

While your oven is heating up, remove any large stems from the kale, and cut or tear the leaves up into littler bite-sized pieces. Remember to dry it thoroughly.

Toss the kale, extra virgin olive oil, paprika, and salt in a salad bowl until the leaves are evenly coated and everything is nicely distributed.

Spread the leaves out on a baking tray and cook until deliciously crispy. This will usually take 10-20 minutes depending on the strength of your oven, so keep a watchful eye on your batch to prevent overcooking.
(You'll Also Love: Nacho 'Cheese' Kale Chips Recipe)