Meet the creamiest, richest mousse you've ever tasted. This dark chocolate mousse recipe is dairy-free and packed with antioxidants to keep this Paleo dessert deliciously healthy.
Whenever I want to treat myself to an extra fancy dessert, I make this easy Paleo chocolate mousse recipe. With a few simple ingredients, and in less than 10 minutes, you have the perfect treat to satisfy any sweet tooth.
Simply blend all the ingredients together, and voilà, it's ready to eat! You can serve this mousse as soon it's done whipping or let it set in the fridge for a couple of hours. The longer you leave it in the fridge, the firmer and fluffier it will get.
Love Paleo Desserts? Then you'll love our FREE Paleo Dessert Cookbook.
Click here to get your FREE copy of our delicious Dessert Recipes!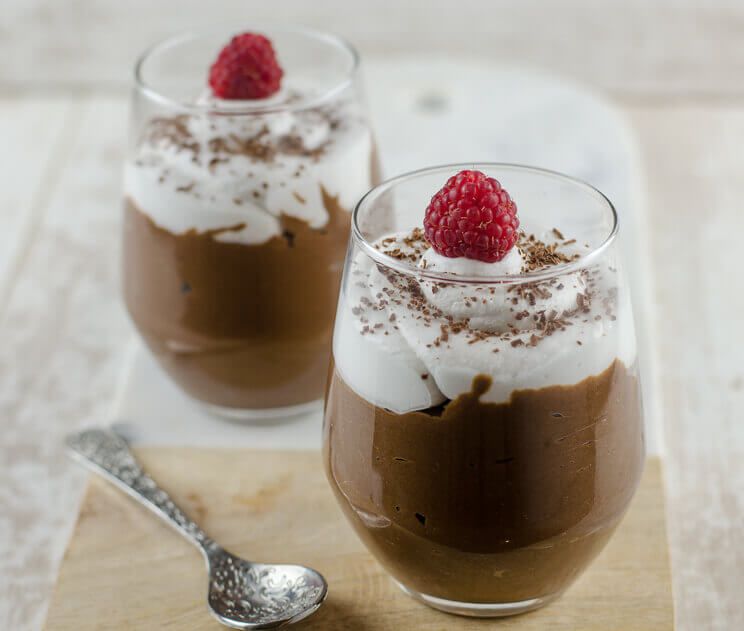 This recipe is dairy-free thanks to the coconut milk packed with healthy fats. Just remember to keep the cans in the fridge overnight without shaking them – this allows the cream to set on top.
Dina Hassan
Healthy Dark Chocolate Mousse Recipe

Prep Time:
8 mins
8 minutes
Healthy Dark Chocolate Mousse Recipe
Meet the creamiest, richest mousse you've ever tasted. Dairy-free and packed with antioxidant dark chocolate, this Paleo dessert keeps things deliciously healthy.
Ingredients
7 oz dark chocolate, roughly chopped

1 1/2 cans coconut milk, refrigerated overnight

1/4 cup raw honey

1/4 cup cocoa powder

Seeds from one fresh vanilla pod

2 squares dark chocolate, shaved, for garnish

Fresh berries, for garnish
Instructions
Place the chocolate in a heatproof bowl over a pan of gently simmering water (don't let the bowl touch the water). Stir until melted, remove bowl from the heat and set aside to cool slightly.

Take coconut milk out of the fridge and scoop out the thick cream on top.

Place the coconut cream in a medium bowl. Add honey. Using a hand mixer, beat on high for 2 minutes until thick and creamy. Reserve 4 tablespoons of the whipped cream to use as a topping to serve with the mousse. Set aside.

Fold in the melted chocolate, scraped vanilla seeds and cocoa powder. Beat on low for 1 minute, until smooth and thick.

Divide the mousse between 4 small serving glasses. Top with whipped coconut cream, shaved chocolate and berries. Enjoy!

Pro Tip: Make sure to use full-fat coconut cream, not light coconut milk, which has a higher water content and not enough cream for the recipe.
(You'll Also Love: Almond Butter Dark Chocolate Mousse)