Stuffed mushrooms make for a warm, bite-sized treat or a full-on meal (hello, portabellas!) with loads of hearty flavor.
Here's the thing: The tried-and-true stuffed-mushroom recipe needs a makeover. It's not that the grandfather of these recipes isn't delicious, but breadcrumbs are made with pesky grains. So what to do when you need some Paleo stuffed mushrooms ideas?
It's a good thing that mushrooms pair with a plethora of tasty ingredients, thus making it easy to give this classic recipe a fashionable facelift. Eat meal-sized mushrooms for breakfast, make innovative crab-stuffed caps, dress mushrooms up Italian-style with some basil and pine nuts, or pair caps with garlic zucchini noodles or veggie chips. Mushrooms rise to many challenges and create various, scrumptious meals, and you'll find there are more great stuffed mushrooms ideas than you thought possible!
Want to go Paleo? Not sure where to start?
Start with this FREE Paleo For Beginners Guide Today!
Serve them up for guests, bring them to a potluck, or reserve them for yourself. The possibilities are endless with these earthy caps!
Stuffin' Up Breakfast
1. Portobello Breakfast Bakes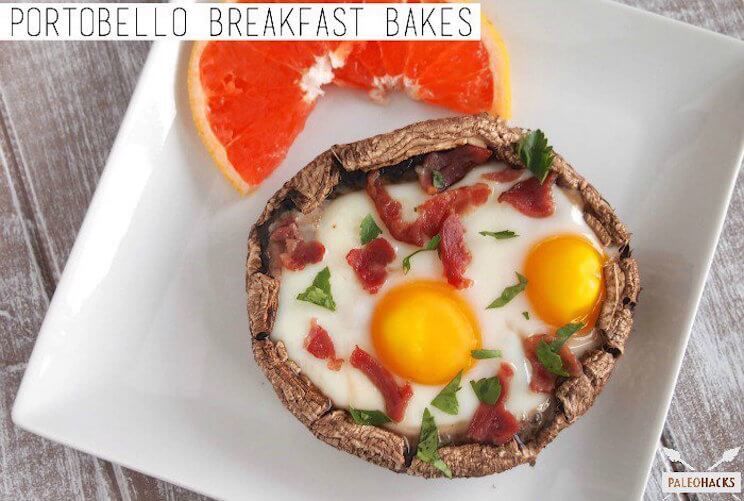 If you're looking for an easy, healthy breakfast, this Portobello, egg, and bacon meal is a great way to fill your belly. Pair it with your favorite fruit to round out the dish!
Recipe: PaleoHacks | Portobello Breakfast Bakes
2. Paleo Egg-Stuffed Portobellos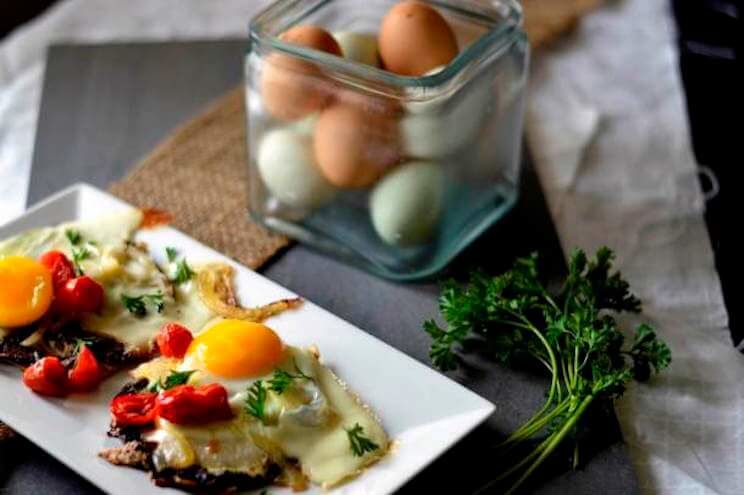 This is another great way to start the day. However, this recipe adds onions, cherry tomatoes, and a dash of garlic. If you really want to make this dish special, add some prosciutto to the mix!
Recipe: Whole Hog Paleo | Paleo Stuffed Egg Portobello Mushrooms
Meal-Sized Portabellas
3. Mushrooms Stuffed with Chicken and Roasted Peppers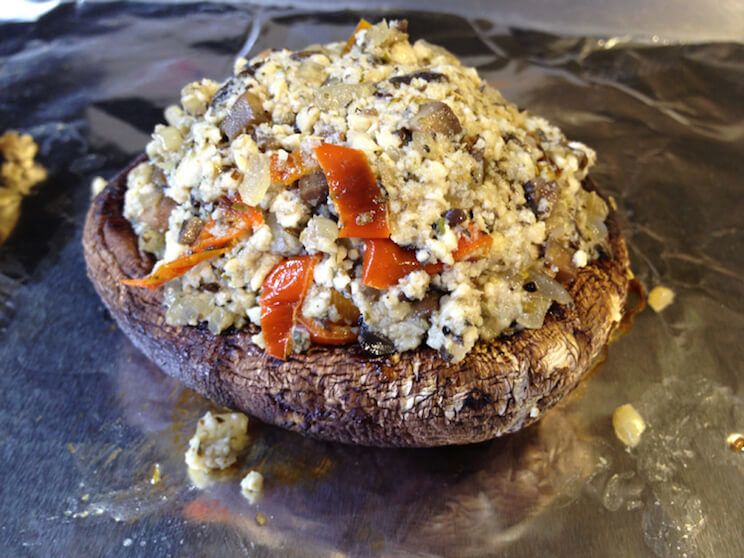 Chicken and mushrooms go together like nut butter and bananas. This meal is perfect for filling you up, while providing an extra helping of protein. Serve with some zucchini noodles, and you're good to go.
Recipe: Meatified | Chicken & Roasted Pepper Stuffed Mushroom
4. Mushrooms Stuffed with Ground Turkey and Spinach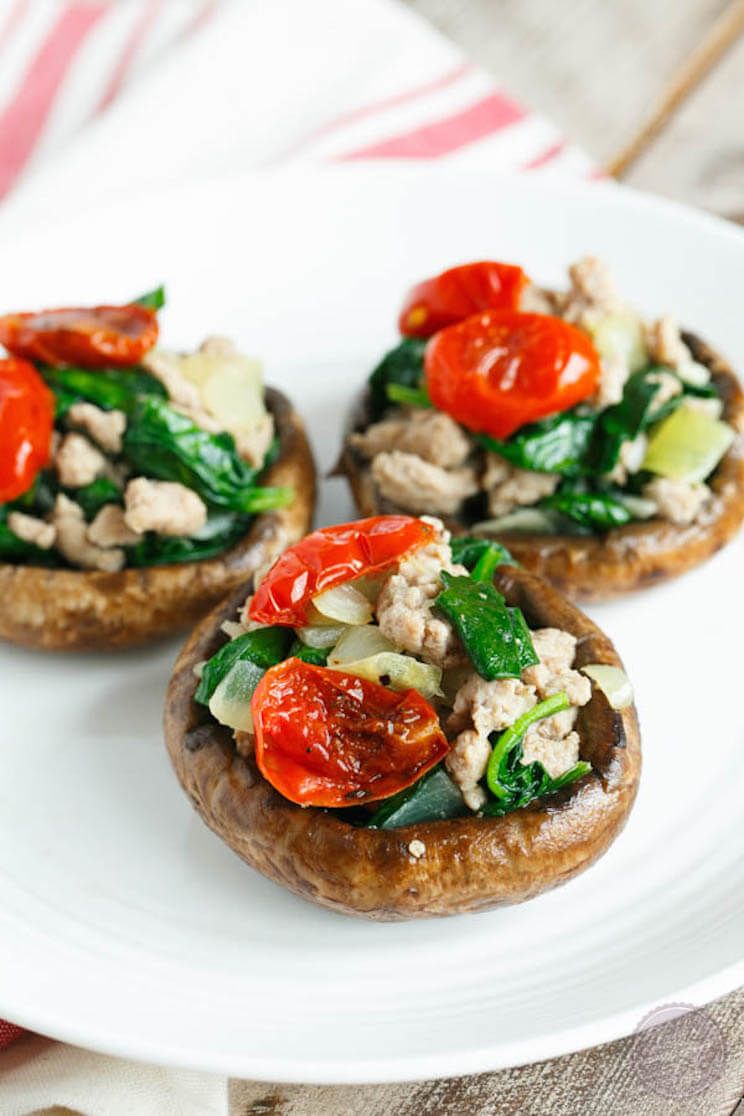 Get your greens in by stuffing these mushrooms with a handful of spinach, along with ground turkey and grape tomatoes. You can even roast the tomatoes to add an extra layer of flavor.
Recipe: Table for Two | Ground Turkey and Spinach Stuffed Mushrooms
5. Paleo Stuffed Portabellas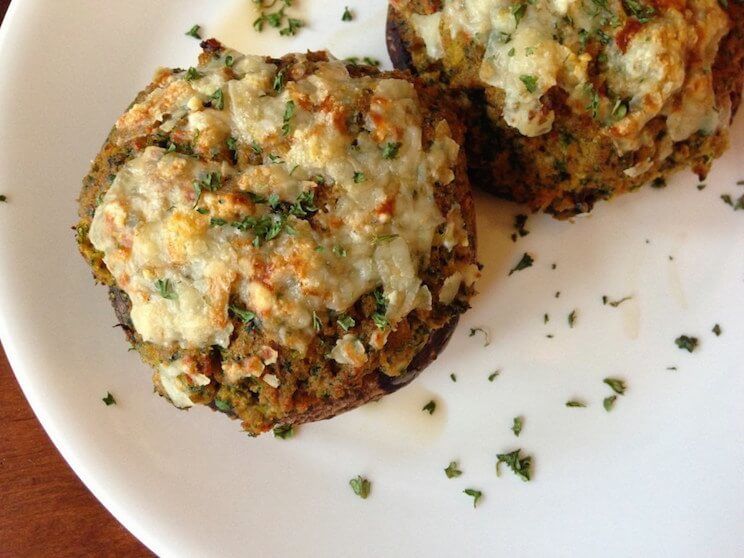 Sausage is always a great choice when stuffing vegetables or mushrooms. Add some kale to get a serving of leafy greens. Just make sure to omit the optional Parmesan cheese topping, so this recipe stays Paleo-friendly.
Recipe: Worthy Pause | Paleo Stuffed Portabella Mushrooms
Bite-Sized Treats
6. Mushrooms Stuffed with Spinach and Artichokes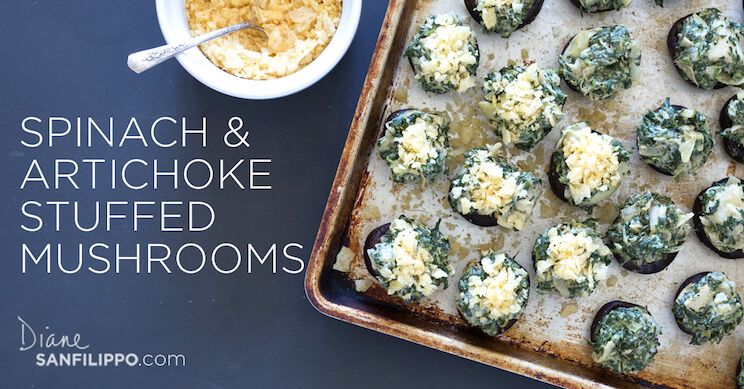 Spinach and Artichoke dip is always a favorite appetizer. But usually they're laden with cream and served with gluten-heavy chips. This dairy-free, mushroom-stuffed version is a tasty treat that everyone can enjoy!
Recipe: Balanced Bites | Spinach & Artichoke Stuffed Mushrooms
7. Mushrooms Stuffed with Crab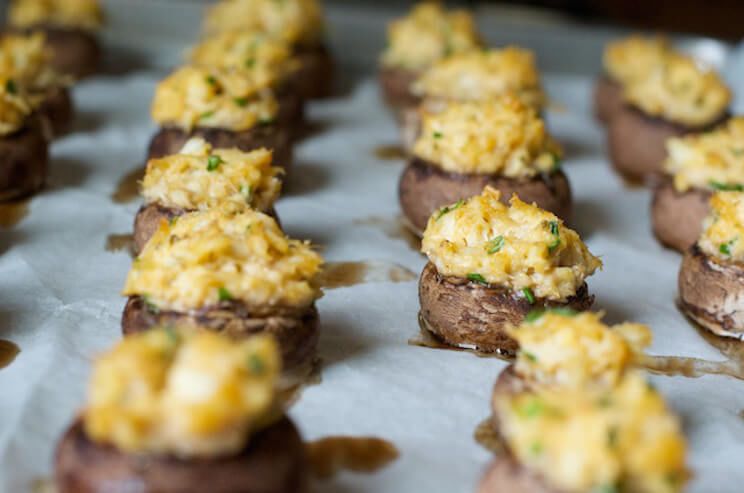 Shred some blue crab meat, make some Paleo-friendly mayo, and watch the magic happen. This recipe is great for parties, or an elegant, homemade dinner.
Recipe: Primal Palate | Crab Stuffed Mushrooms
8. Rich, Italian, Paleo Stuffed Mushrooms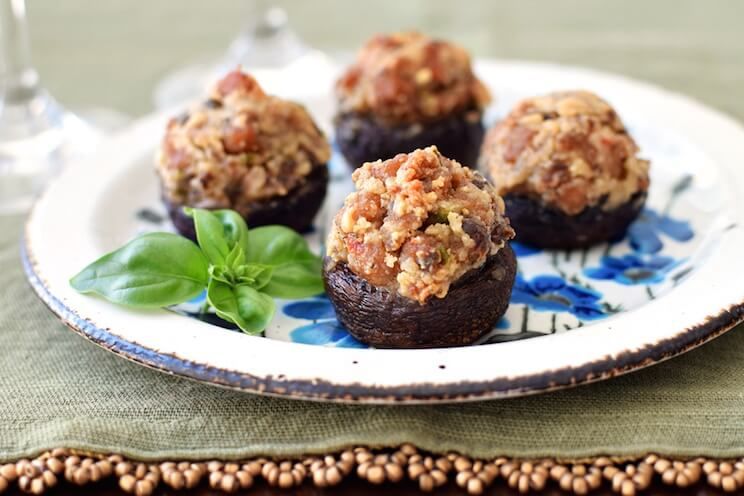 Go Italian with your stuffed mushrooms by adding fresh basil, pinenuts, and chicken sausage (or kick it up a notch with spicy sausage). If basil isn't your favorite, substitute oregano, marjoram, or tarragon.
Recipe: Go Dairy Free | Rich Italian Paleo Stuffed Mushrooms
9. Easy Sausage-Stuffed Mushrooms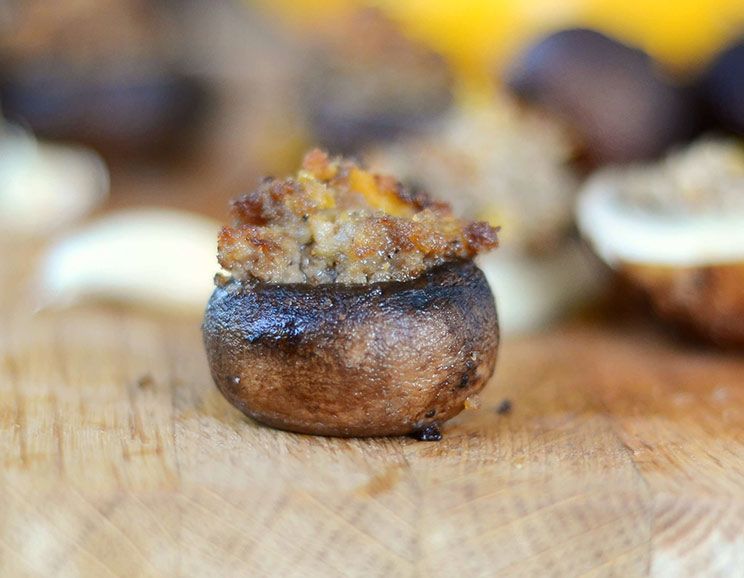 Achieve true umami flavors, thanks to the earthy pairing of mushrooms and pork sausage. Peppers add some fresh flavor, and onions and garlic round everything out. Good luck eating less than a handful!
Recipe: PaleoHacks | Easy Sausage-Stuffed Mushrooms
10. Mushrooms Stuffed with Garlic and Herbs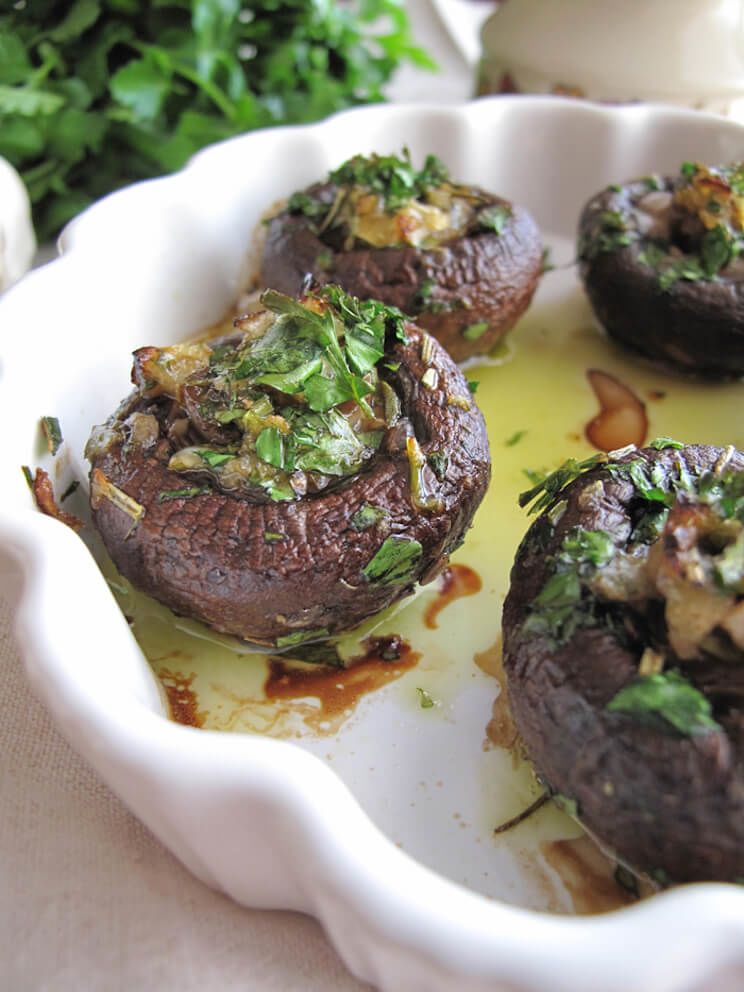 Take a trip to France, courtesy of Provence herbs. Lemon juice, olive oil, and garlic are all you need to make this appetizer really sing. Bring these mushrooms to a potluck, or make them as a weeknight side dish.
Recipe: A Squirrel in the Kitchen | Garlic and Herb Stuffed Mushrooms
11. Pesto-Stuffed Mushrooms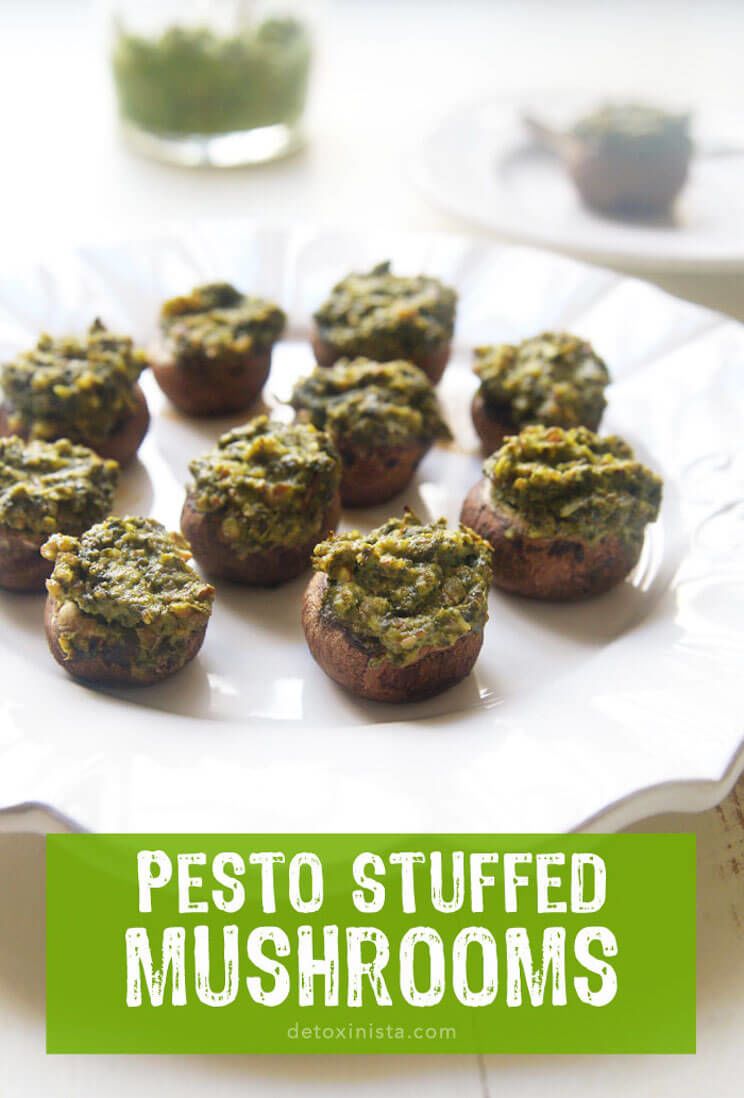 Fresh pesto (made from pecan halves, instead of pinenuts) brings a slightly different flavor to the table. If you're making vegetable noodles with tomatoes, these stuffed mushrooms will pair well. They are also very welcome during football season!
Recipe: Detoxinista | Pesto Stuffed Mushrooms
12. Sautéed, Kale-Stuffed Mushrooms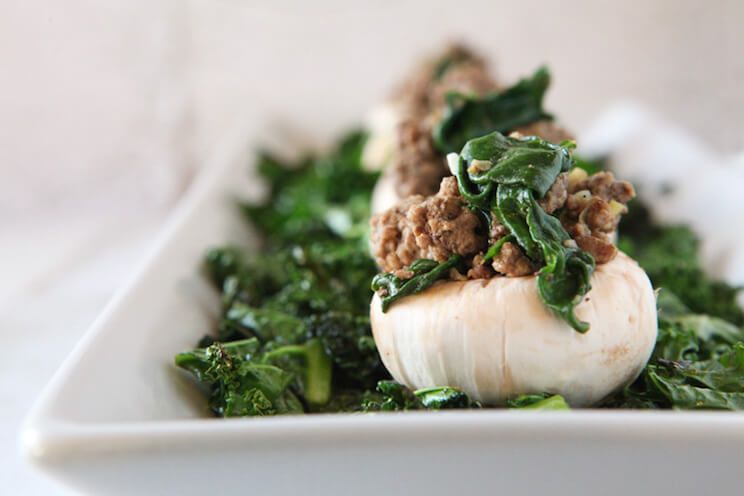 A healthy way to enjoy mushrooms is stuffing them with ground beef, spinach, and kale. This recipe also boasts anti-inflammatory turmeric to spice things up. If you're hungry for more, stuff them in a Portobello mushroom, and make a complete meal.
Recipe: Rubies and Radishes | Sautéed Kale Stuffed Mushrooms
13. Chipotle Stuffed Mushrooms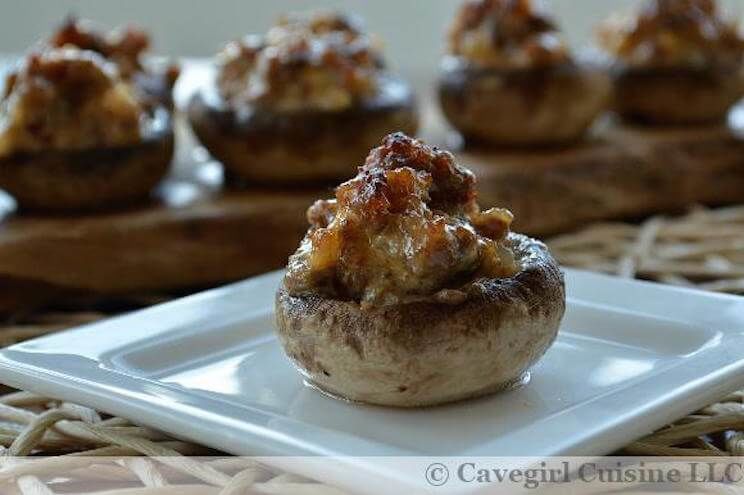 Deep flavors are at play here, as chipotle peppers in adobo sauce give this dish some richness and spice. Pair with a fresh salad to counterbalance the layers of flavor.
Recipe: Cave Girl Cuisine | Chipotle Stuffed Mushrooms
14. Mushrooms Stuffed with Avocado and Prosciutto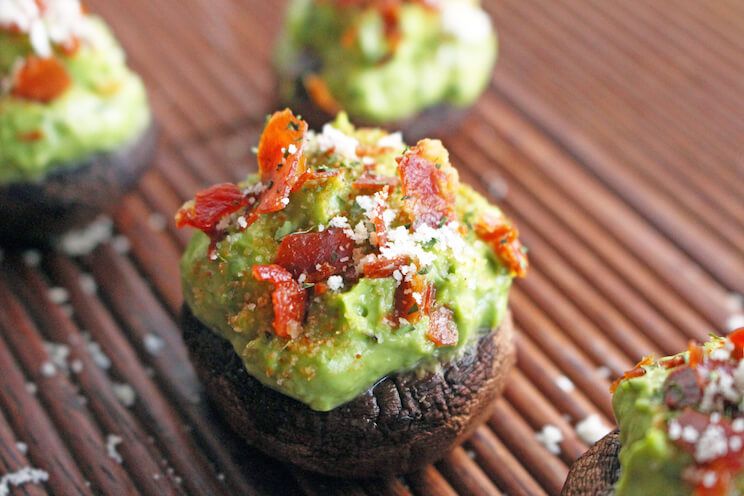 Avocado is creamy and delicious, and it offers a great amount of healthy fat. Give your tastebuds a treat by mixing in some prosciutto, basil, parsley, garlic, and onion powder. For a yummy crunch, make some kale chips on the side.
Recipe: Paleo Paparazzi | Avocado Prosciutto Stuffed Mushrooms
15. Mushrooms Stuffed with Olive-and-Roasted-Garlic Tapenade

Olive tapenade on its own is a flavorful appetizer. But when you stuff and bake it in a mushroom, it takes on a whole new level of flavor. Did I mention that this recipe calls for sun-dried tomatoes? Oh, yum.
Recipe: Running to the Kitchen | Olive and Roasted Garlic Tapenade Stuffed Mushrooms
16. Mushrooms Stuffed with Basil, Bacon, and Caramelized Onions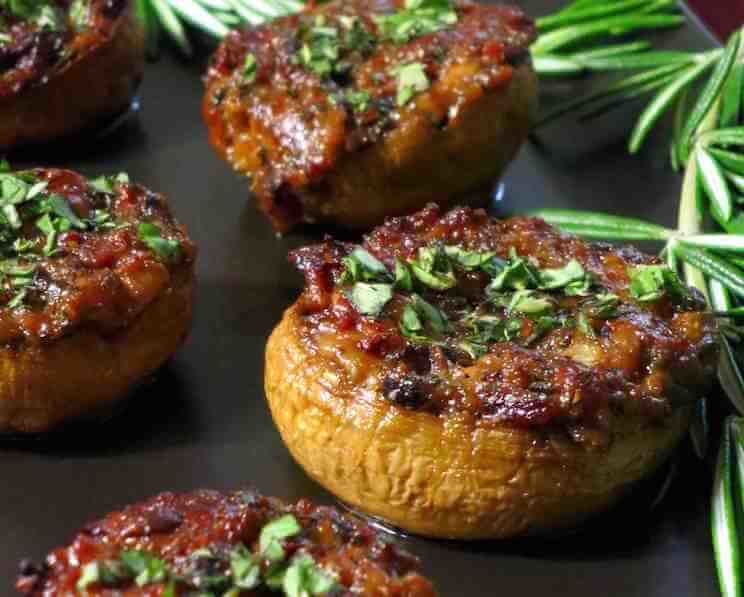 Bacon makes everything taste better. In this recipe, bacon and rutabagas make a perfect pairing. Add some fresh herbs, and dig in! Your guests won't be able to get enough of them.
Recipe: Urban Paleo Chef | Basil Bacon Caramelized Onion Stuffed Mushrooms


(You'll Also Love: 31 Adorable Paleo Meals You Can Make in a Muffin Tin)