Sautéed mushrooms cook in rich bacon drippings for a hearty dish that's ready in 20 minutes! 
Meaty sautéed mushrooms add hearty texture to any dish, and this recipe combines two delicious varieties sautéed in bacon fat for maximum flavor!
Combining mushrooms in a single dish also amps up the nutritional value considerably. Shiitake mushrooms are rich in vitamin D, and baby portobellos (also known as cremini mushrooms) are full of powerful B-vitamins that support cognitive functioning. You can also use white button mushrooms or experiment with more exotic varieties your local market has to offer.
Love slow cooker recipes?
Click here to get your FREE copy of our delicious Slow-Cooker Recipes!
Start by cutting thick-cut bacon into 1-inch pieces using a sharp knife or kitchen scissors. Heat a large skillet over medium heat and add the bacon bits. After a few minutes, the bacon will release its aromatic fat, creating just the perfect amount of drippings to cook the mushrooms in. Add both varieties of sliced mushrooms, garlic and thyme, then stir well to coat. Rosemary, basil and oregano would also be wonderful in this dish.
Let the mushrooms cook down for 10-12 minutes, stirring occasionally. No need to add salt before serving – the bacon keeps this side dish plenty flavorful!
Sneaky ways to add more mushrooms to your diet…
Finely chop mushrooms and add to meatballs to add flavor and moisture
Blend mushrooms into gravy and soup
Finely chop mushrooms and cook with ground meat to make tacos
Chop and simmer in pasta sauce
PaleoHacks Team
Sautéed Bacon, Mushrooms, and Herbs Recipe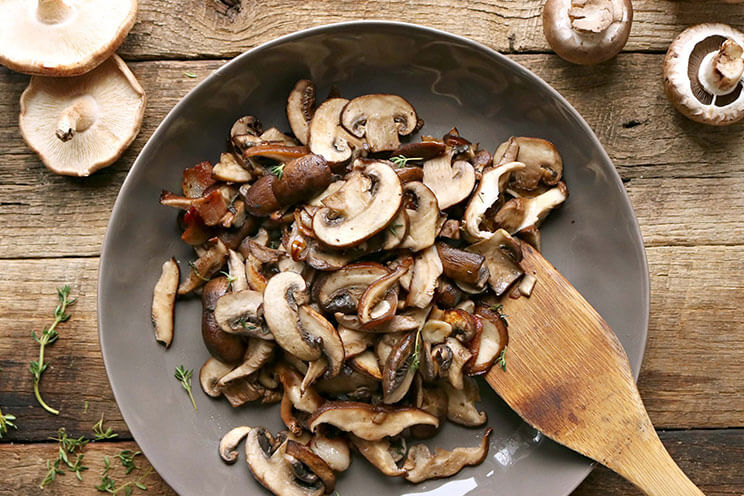 Cook Time:
15 mins
15 minutes
Prep Time:
5 mins
5 minutes
Sautéed Bacon, Mushrooms, and Herbs Recipe
This sautéed bacon, mushrooms and herbs recipe is your ultimate go-to side dish for any Paleo-inspired meal.
Ingredients
1 sprig fresh thyme, leaves only

2 cups shiitake mushrooms, sliced

2 cups baby portobello mushrooms

1 garlic clove, thinly sliced

2 strips pasture-raised bacon, cut into 1-inch pieces
Instructions
Heat the skillet to medium heat. Brown bacon for 4-5 minutes, stirring regularly.

Add mushrooms, garlic and thyme. Continue to cook 10 minutes longer or until mushrooms are tender; continue stirring. Serve immediately.
You'll Also Love: Mushroom Risotto with Cauliflower Rice