Move over kale chips, there's a new snack in town!
These Brussels Sprouts Chips will challenge everything you thought you knew about this cruciferous veggie.
These crispy little morsels are the perfect addition to any Paleo lunch, sandwich, or wrap. They even make a great appetizer for party guests or friends. Try them as a low-calorie, vitamin-rich snack to fit your Paleo lifestyle. They are so simple to make and the hardest part is literally peeling the brussels sprouts.
Want to snack smarter and curb cravings? Get your FREE 25 Healthy Paleo Snacks Cookbook here.
Click here to get your FREE copy of our Snack Recipes Cookbook!
Once you peel all the brussels sprouts, toss them with a little bit of olive oil (or try adding some garlic for a more savory chip!), and sprinkle with sea salt.
Enjoy these crispy veggie chips with a hearty Paleo burger or enjoy solo as a healthy snack!
Deanna Dorman
Baked Brussels Sprouts Chips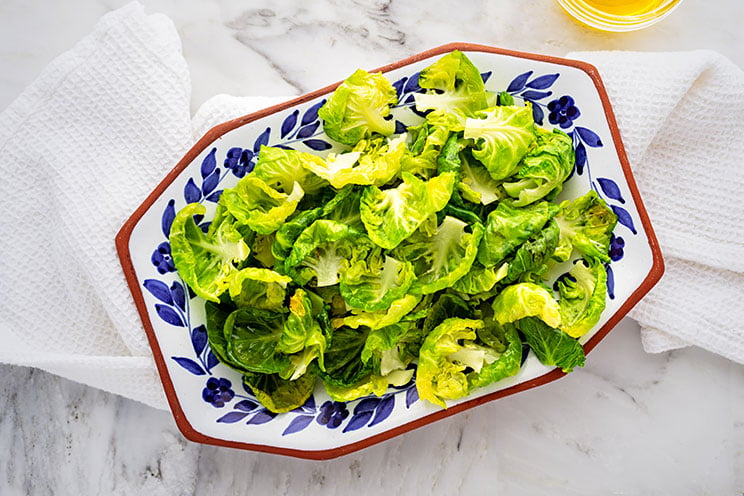 Cook Time:
5 mins
5 minutes
Prep Time:
10 mins
10 minutes
Nutrition facts:
4 grams of protein
6 grams of carbohydrates
3 grams of fat
Baked Brussels Sprouts Chips
Move over kale chips, these baked Brussels sprouts are sure to take over as everyone's new snack champion.
Ingredients
1 lb Brussels sprouts

2 t olive oil

Sea salt, to taste
Instructions
Preheat oven to 350°F.

Using a small knife, cut the bottom of a Brussels sprout off so that a few of the outer leaves fall off. Place the separated leaves into a medium bowl. Repeat until all the Brussels sprouts have been cut and leaves have been removed.

Once you peel all the Brussels sprouts, toss the leaves with a small drizzle of olive oil and sea salt and layer them on a baking sheet in a single layer.

Bake the Brussels sprout leaves for 4-6 minutes or until the tips are lightly browned and the leaves are crispy. Watch them carefully so they don't burn!
Looking for Paleo ingredients? Here are a few we'd recommend:
Sea salt (REDMOND)
Olive oil (Kirkland Signature)
(You'll Also Love: Brussels Sprouts Caesar Salad Recipe
)