Garlic Mushrooms soaked in a rich buttery sauce. A decadent side dish that's easy to whip up for any entree!
To make this quick garlic mushrooms recipe, simply wash and dry your cremini before tossing them into the slow cooker. Next, add vegetable stock along with minced garlic, grass-fed butter and fresh thyme. If you are unable to find fresh thyme, a sprig of rosemary or oregano will work, too. The mixture cooks down and melds all of the savory flavors into a rich, effortless sauce that'll have you licking your bowl.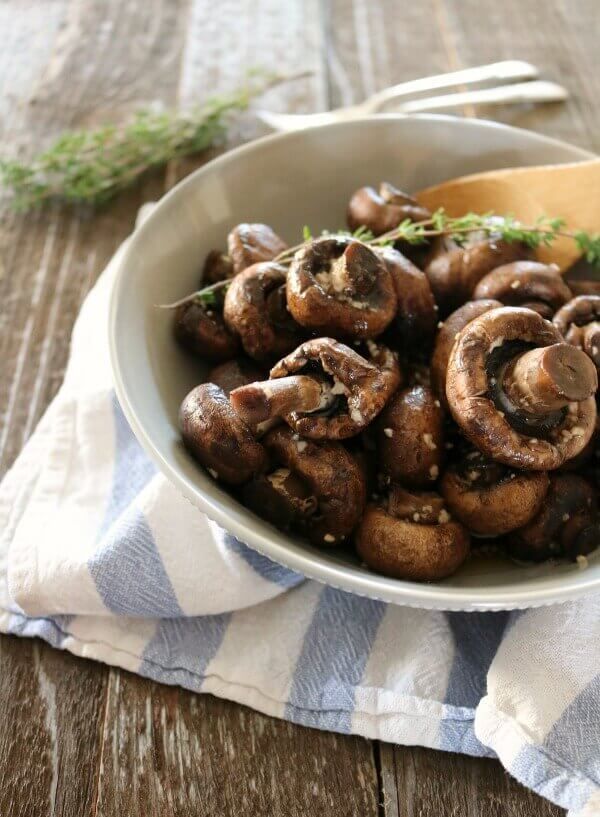 Note: one pound of mushrooms will serve two people, so if you're making this recipe for a large group, use 2-3 pounds and increase the remaining ingredients accordingly. Slow cooker temperatures vary, but I found the low setting worked perfectly and cooked the mushrooms in 2 hours.
Love slow cooker recipes?
Click here to get your FREE copy of our delicious Slow-Cooker Recipes!
The sauce's deep flavor reminds me of a French onion soup broth. This is a timeless recipe that can be served year round, but is particularly comforting during the holiday season and cooler months.
Jennafer Ashley
Easy Slow Cooker Garlic Mushrooms

Prep Time:
5 mins
5 minutes
Easy Slow Cooker Garlic Mushrooms
Mushrooms soaked with rich garlic in a buttery sauce make for the perfect side dish!
Ingredients
1 lb cremini mushrooms

2/3 cup vegetable stock

2 T grass-fed butter, unsalted

2 T garlic, minced

2 sprigs thyme

1/2 t sea salt

1/4 t black pepper
Instructions
Set slow cooker to low. Rinse and dry mushrooms. Add mushrooms, vegetable broth, grass-fed butter, garlic, thyme, sea salt and black pepper. Stir. Cover with lid and cook for 1 hour.

Stir mushrooms and cook an additional hour or until mushrooms are tender. Remove thyme and serve hot.
Tips:
Need a quick gravy? This recipe sauce can also be used for a vegetarian-friendly gravy. Just heat in a saucepan over low heat and thicken with a few tablespoons of tapioca starch.
Save any leftovers and add them to vegetable soup to add extra flavor and heartiness.


(You'll Also Love: Easy Sausage-Stuffed Mushrooms Recipe)