No need for utensils, this recipe is full of eat-with-your-hands goodness. Stuffed artichokes are filled with almond meal and herbs for a breadcrumb-like texture without the grain.
If you've ever had stuffed artichokes, you know how much fun they are to eat. They can be a bit tricky to prepare, but after you have one under your belt, it will be less intimidating in the future. When picking out an artichoke, look for artichokes that feel a bit heavy for their size, as that usually means it's full of meat.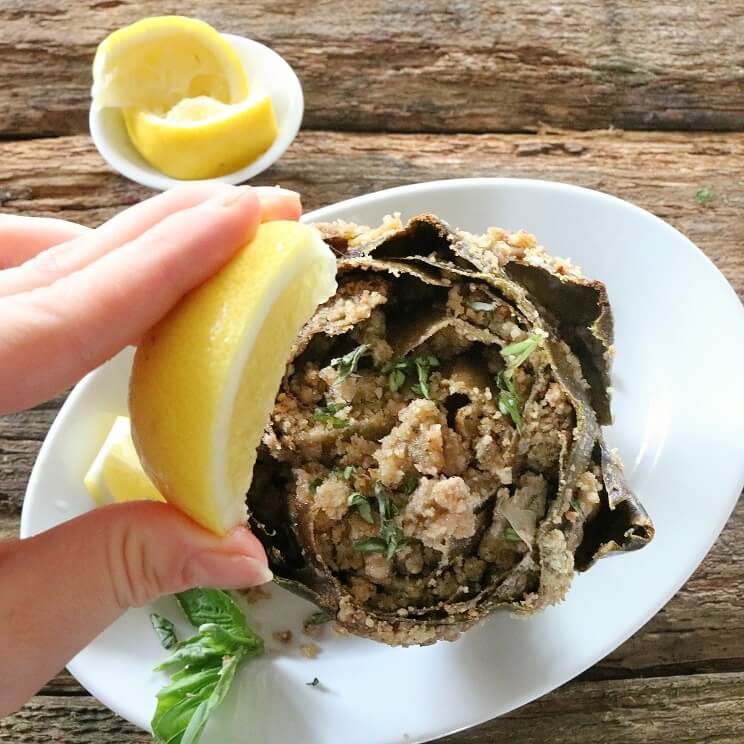 Start by cutting off the top and bottom of the artichoke, removing the stem and about two inches off of the top. This requires a bit of elbow grease, and I recommend using a serrated knife to make cutting easier. You want the bottom to be able to sit flat. Next, remove the outer leaves, as these are typically too tough to eat when cooked. Spread the leaves open using your hands, and use a paring knife to remove the heart and scoop out the fuzzy center. Note: Don't use your hands to remove the heart, it is prickly! Removing the center leaves tons of space for the delicious filling.
Love almond flour recipes? Get our free almond flour recipe cookbook here!
Mix the filling together until slightly moistened and scoop into the center of each artichoke, stuffing it in between as many of the leaves as possible. Place the stuffed artichokes into a small baking dish, fill with water, and tent with aluminum foil. This will steam the artichokes while they bake. Artichokes will be ready when you can easily remove a leaf without tugging. It is important not to overcook the stuffed artichokes, as they can dry out and be hard to eat. So try not to open the foil and check them too often. Once ready, serve hot with a wedge of lemon.
The lightly toasted filling, full of herbs, garlic and lemon, makes these stuffed artichokes a terrific appetizer to serve with steak, chicken and fish dishes. This recipe is versatile enough to enjoy year-round, but best when artichokes are in season during the spring. Beware of hybrid artichokes that can often have a disappointing amount of meat. These are grown so that artichokes can be available throughout the year, but like most vegetables, aren't as impressive as when in season.
Jennafer Ashley
Baked Stuffed Artichokes Recipe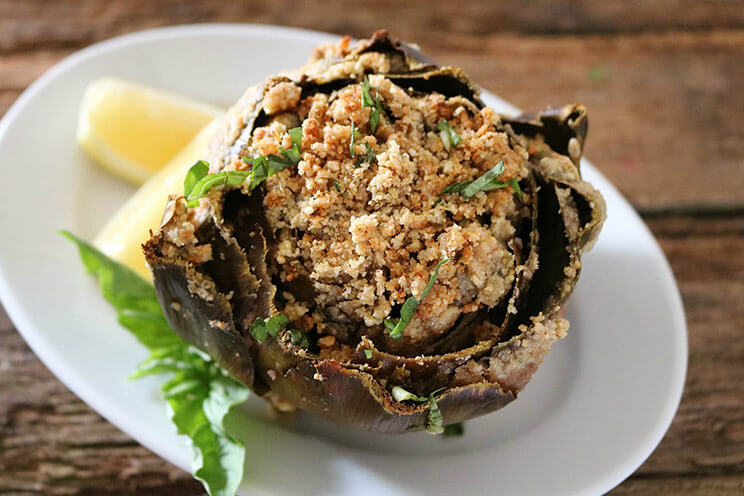 Cook Time:
1 hr 15 mins
1 hour 15 minutes
Prep Time:
15 mins
15 minutes
Baked Stuffed Artichokes Recipe
Artichokes get stuffed with almond meal and herbs for a breadcrumb-like texture without the grain.
Tools
Serrated knife

Spoon

Medium bowl

Aluminum foil

Baking pan with raised edges
Ingredients
2 large artichokes

3-4 lemon wedges

2 cups almond meal

1/2 cup olive oil, divided

1/4 cup fresh basil, minced

2 T garlic, minced

1 T nutritional yeast

1 T lemon juice

1 t dried oregano

1 t sea salt

1/4 t black pepper
Instructions
Preheat oven to 375°F. Trim artichoke stems so bottom is flat, and slice about two inches off the top of the artichoke. Remove outer leaves and snip the tips of leaves so the artichoke will be easier to fill and not be pointy when cooked.

Spread leaves to expose the heart and use a paring knife to cut around the heart. Use a spoon to scoop out the heart and fuzzy center.

Rub 1 lemon wedge all over the artichokes to help prevent browning.

Prepare filling in a medium bowl by combining almond meal, half of the olive oil, nutritional yeast, garlic, oregano, basil, lemon juice, sea salt and black pepper. Mix well.

Use a spoon to fill artichokes with mixture, paying special attention to getting plenty in between the leaves.

Set artichokes into a baking pan with raised edges. Fill pan with water 1 inch high. Drizzle with olive oil and tent with aluminum foil.

Bake 1 hour. Remove foil and bake an additional 15 minutes. Serve hot with lemon wedges.


(You'll Also Love: Easy Sausage-Stuffed Mushrooms)