Bell peppers are stuffed with spicy ground beef and topped with avocado in these unique Mexican stuffed peppers recipe!
Mexican may not be what comes to mind when you think Paleo, but these Mexican Stuffed Peppers are full of authentic flavor without all the beans, cheese and rice that are associated with a traditional Mexican dish.
To make them, simply stuff bell pepper halves with a sauteed combination of ground beef, tomato paste, diced green chiles and spices.
Want to go Paleo? Not sure where to start?
Start with this FREE Paleo For Beginners Guide Today!
Bake in the oven until the peppers have softened, and serve with cilantro, pico de gallo and your favorite guacamole!
Deanna Dorman
Mexican Stuffed Peppers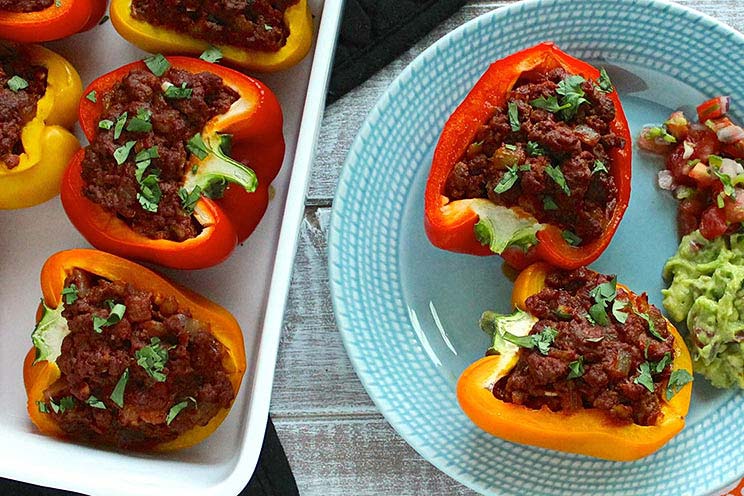 Cook Time:
25 mins
25 minutes
Prep Time:
5 mins
5 minutes
Mexican Stuffed Peppers
Ingredients
4 bell peppers, halved & seeded

1 tablespoon olive oil or coconut oil

½ yellow onion, diced

3 cloves garlic, minced

1 lb ground beef

6 oz can of tomato paste

6 oz can diced of green chiles

2 T hot sauce

½ T garlic powder

¼ t ground red pepper

⅛ t paprika

Salt & pepper to taste

3 T cilantro, chopped

Pico de gallo & guacamole
Instructions
Preheat oven to 350ºF.

Heat olive oil in a large skillet over a medium-high heat.

Sauté onion 3-5 minutes until translucent. Add garlic and cook another minute.

Add ground beef and cook, breaking up with the back of a spoon, 10-12 minutes until no longer pink.

Add tomato paste, chiles, and spices, and cook another 2-3 minutes for flavors to meld.

Spoon meat into the pepper halves and place in a 13×9 baking dish and cover with aluminum foil.

Bake for 20 minutes, uncover and bake an additional 10 minutes, or until peppers begin to soften.

Sprinkle with cilantro and serve with pico de gallo & guacamole.

(You'll Also Love: Paleo Enchiladas)