This sweet potato pasta is tossed with tomato and basil for a quick and easy one-pot dish that's ready in under 30 minutes!
The possibilities are endless when it comes to Paleo-friendly veggie pasta. In this colorful one-pot recipe, sweet potato noodles are paired with tomato, herbs and garlic for a comforting meal that satisfies.
Start by sautéing fresh sliced garlic and red onion in olive oil over medium low heat until the garlic starts to soften and becomes fragrant. As the garlic and onion cook, spiralize one large sweet potato.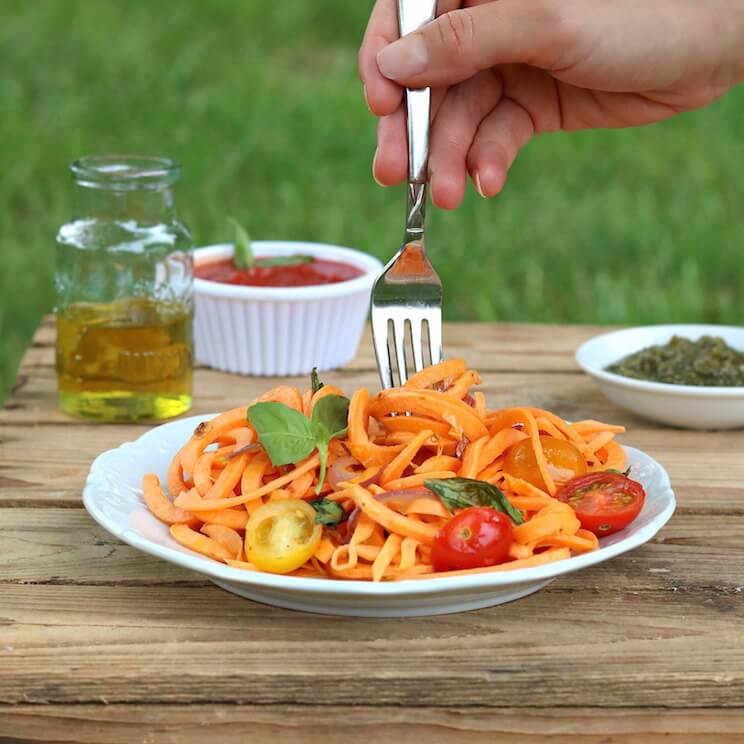 I recommend using the 6-millimeter blade of a spiral slicer for a heartier noodle, but feel free to use any setting you like. Add the sweet potato noodles to the pot along with basil, cherry tomatoes, sea salt and chili flakes. Use tongs to gently toss the vegetables together and cook for only about five minutes more, then serve!
Trying to figure out exactly what to eat on Paleo?
Look no further than our FREE 21 Day Paleo Meal Plan
This recipe is vegan, but for a little extra protein, grilled chicken or steak would be an excellent finish to this pasta. And just in case you want to add a few spoonfuls of sauce, we have these perfectly Paleo marinara and pesto recipes at the ready for your convenience.
Jennafer Ashley
One Pot Sweet Potato Pasta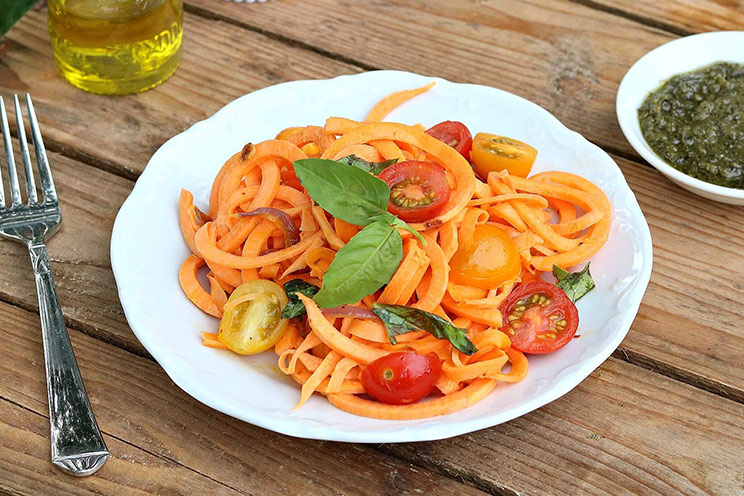 Cook Time:
15 mins
15 minutes
Prep Time:
10 mins
10 minutes
One Pot Sweet Potato Pasta
This sweet potato pasta is tossed with tomato and basil for a quick and easy one-pot dish that's ready in under 30 minutes!
Tools
Large pot

Spiral slicer

Tongs
Ingredients
2 T extra virgin olive oil

2 garlic cloves, thinly sliced

1/2 cup red onion, thinly sliced

1 large sweet potato, peeled

1 cup cherry tomatoes, halved

1/2 t sea salt

1/4 t chili flakes

8-10 basil leaves, torn

Optional sauces: Paleo marinara or Paleo pesto
Instructions
Heat olive oil in a large pot over medium-low heat. Add garlic and onion and sauté until garlic begins to soften and become fragrant, about 5 minutes.

Meanwhile, spiral slice sweet potato using a 6-mm blade.

Add sweet potato noodles along with tomatoes, sea salt, chili flakes and basil to the pot. Cook 5 minutes, using tongs to gently toss every minute.

If using a sauce, add it to the pot and cook 4 minutes longer. Serve hot.

Be sure to check out these other great Paleo veggie noodle dishes…
Chow Mein Made with Zucchini Noodles
Sweet Potato Noodles with Creamy Poblano Sauce
Pad See Ew with Light Zucchini Noodles
Enjoy amazing walnut muffins… savory omelets… banana cookies… and even chocolate! Eat your favorite foods and stay fit and healthy at the same time.
Get started on your Paleo
weight-loss journey today
with our beginner-friendly PaleoHacks Cookbook
Get started on your
Paleo weight-loss
journey today with
our beginner-friendly
PaleoHacks Cookbook