Sweet potatoes are so much more than fries or a tasty side dish. They also make a delicious sweet potato soufflé!
A show-stopping dessert that's grain-free, gluten-free, dairy-free and guaranteed to be loved by all.
Soufflés have a reputation for being temperamental, but they're actually quite simple. The secret is in the egg whites. They need to be as fluffy as clouds, or "stiff peaked", to make a soufflé puff on the outside and become thick and dense on the inside while it bakes. Getting the egg whites just right guarantees you will get the perfect soufflé every time.
Love Paleo Desserts? Then you'll love our FREE Paleo Dessert Cookbook.
Click here to get your FREE copy of our delicious Dessert Recipes!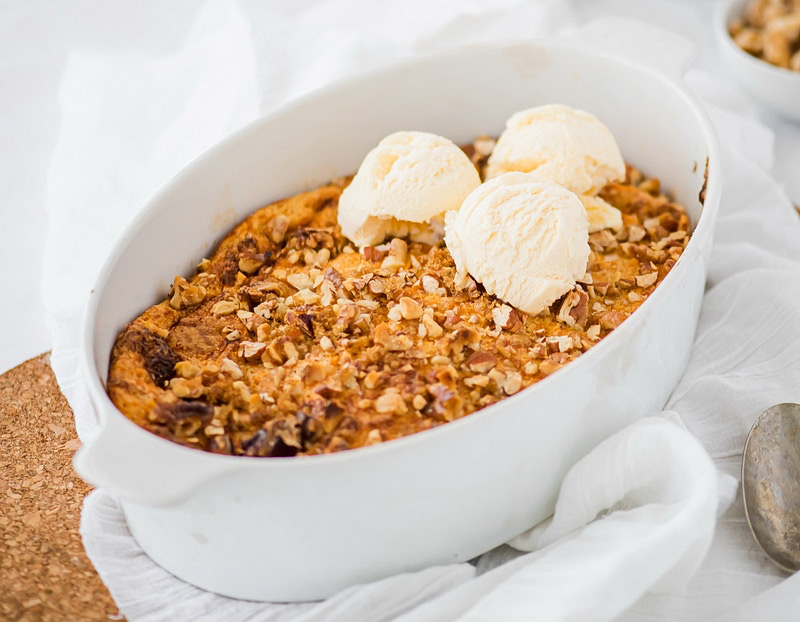 Believe me, you want to test your soufflé-making skills because this Sweet Potato Soufflé is like no other. It's lightly sweetened with maple syrup, nutmeg and cinnamon, and has a decadent egg, coconut flour, coconut milk and sweet potato base that makes the creamiest center. It literally melts-in-your-mouth.
Then there's the nutty topping of finely chopped pecans and walnuts giving this sweet potato soufflé the right amount of crunch in every bite. That crunch is the perfect complement to that sweet and creamy inside. I also dusted the top with coconut sugar to make the crust a bit sweet, but feel free to experiment with different toppings (like shredded coconut)!
To eat your decadent soufflé, top with a generous portion of blended coconut cream or dairy-free ice cream for a dessert you can't say no to. Also, eating this for breakfast is completely acceptable, if not highly recommended!
Megan Olson
Sweet Potato Soufflé Recipe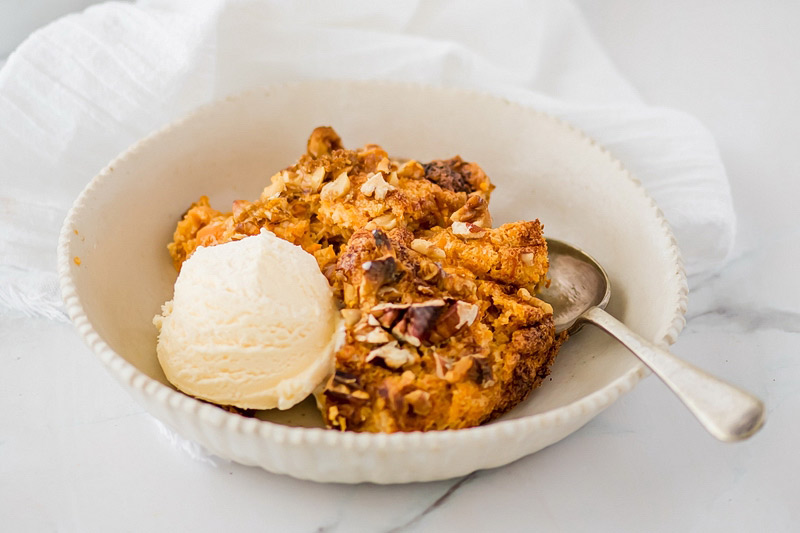 Cook Time:
30 mins
30 minutes
Prep Time:
15 mins
15 minutes
Nutrition facts:
4 grams of protein
15 grams of carbohydrates
7 grams of fat
132 calories
Sweet Potato Soufflé Recipe
This show-stopping dessert is lightly sweetened with maple syrup and topped with chopped nuts.
Tools
Baking dish

Medium saucepan

Medium mixing bowl

Electric mixer
Ingredients
1 medium sweet potato, peeled, cooked, and mashed

1 T butter or coconut oil

½ cup unsweetened coconut milk

3 large eggs, separated

¼ cup maple syrup

2 T coconut flour

½ t nutmeg

½ t cinnamon

¼ t salt

1 T finely chopped pecans

1 T finely chopped walnuts

Coconut oil for greasing

Coconut sugar for dusting
Instructions
Preheat the oven to 375ºF. Grease a 1½ quart soufflé baking dish with coconut oil. Set aside.

Heat a medium saucepan to medium-low heat. Add butter and coconut flour to the pan, whisking until combined. Slowly add the coconut milk while continuing to whisk until the mixture thickens, about 5 minutes.

Remove the mixture from the heat and stir in the mashed maple syrup, nutmeg, cinnamon, salt, sweet potatoes and egg yolks into the mixture. Set aside.

In a medium mixing bowl, add egg whites and mix with an electric mixer until stiff peaks form.

Carefully fold eggs whites into the sweet potato mixture. Do not over mix.

Transfer the batter to the prepared baking dish. Add finely chopped pecans and walnuts evenly on top of the soufflé. Sprinkle a bit of coconut sugar on top.

Bake 30 minutes until the top is lightly browned and puffed.

Serve immediately with coconut cream or dairy-free ice cream.
Looking for Paleo ingredients? Here are a few we'd recommend:
Cold pressed coconut oil (Viva Naturals)
Coconut milk (Native Forest)
Coconut flour (Anthony's)
Ground nutmeg (Simply Organic)
Ground cinnamon (Simply Organic)
Raw pecans (NOW Foods)
Raw walnuts (NOW Foods)
You'll Also Love: Japanese-Style Soufflé Pancakes (Gluten Free, Paleo)