These oven-baked Cajun Sweet Potato Fries are naturally sweet and spiced with an antioxidant kick!
Good news: This recipe uses simple ingredients that are probably already in your pantry. With just a handful of spices, you can transform sweet potatoes into delicious oven-baked fries!
Powerful turmeric makes their antioxidant benefits extra-healthy without sacrificing flavor. And sweet potatoes pack a nutritious punch that's filled with vitamins and fiber.
Want to go Paleo? Not sure where to start?
Start with this FREE Paleo For Beginners Guide Today!
Start by thinly slicing the sweet potatoes into the size of matchsticks. Then place the slices in a bowl, and drizzle with melted coconut oil and delicious, savory seasonings. Before baking, toss them around with your fingers for a few minutes. In less than 20 minutes, they'll be crispy, crunchy, and ready to eat! Serve these sweet potato fries as a side dish, appetizer, or snack.
Tip: Enjoy this dish with Paleo ketchup and other homemade condiments!
Megan Olson
Cajun Sweet Potato Fries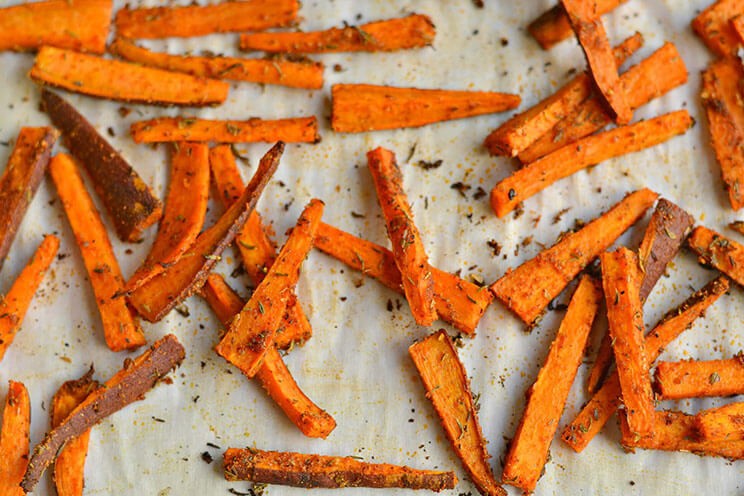 Cook Time:
20 mins
20 minutes
Prep Time:
10 mins
10 minutes
Cajun Sweet Potato Fries
These oven-baked Cajun Sweet Potato Fries are naturally sweet and spiced. And they have an antioxidant kick.
Tools
Baking sheet

Parchment paper

Bowl

Spatula
Ingredients
2 medium sweet potatoes (with the skins on and washed well)

1 T melted coconut oil

¼ t cayenne pepper

½ t paprika

½ t garlic powder

¼ t turmeric

½ t oregano

½ t thyme

Salt & pepper to taste
Instructions
Preheat oven to 400°F.

Prepare a baking sheet with parchment paper, then set aside.

Slice the sweet potatoes into matchstick-sized pieces. First slice the ends off. Then slice the potato in half, and thinly slice lengthwise. Take those slices, and cut them again lengthwise into several matchsticks.

Place the sliced sweet potatoes in a bowl with melted coconut oil, salt, pepper, and other seasonings.

Toss the ingredients together with your hands several times, until all the seasonings are evenly dispersed.

Transfer the seasoned sweet potatoes into the prepared baking sheet.

Bake for 10 minutes, then flip with a spatula. Bake another 8-10 minutes until crispy and brown on the edges.

Remove from the oven and serve immediately!

(You'll Also Love: Coconut-Crusted Avocado Fries)