Creamy, comforting and delicious! This Paleo noodle recipe ticks all the comfort food checkboxes: Sweet potato noodles bring beautiful color, texture and a healthy dose of fiber to this meal, while poblano and jalapeño add a bit of spice.
In the Paleo diet, pasta is strictly prohibited; but that doesn't mean you can't enjoy delicious noodle-type dishes using fresh vegetables.
If you don't already own a spiral slicer, I highly recommend purchasing one. They are a super convenient way to make noodle dishes and they are also very cost-effective. A spiral slicer opens up a whole new world of dishes you can create. Most slicers come with multiple sized blades to achieve different noodle sizes, from thin to thick and even ribbons.
Love slow cooker recipes?
Click here to get your FREE copy of our delicious Slow-Cooker Recipes!
Vegetable noodles add great texture, make the perfect vessel for sauces, and are high in nutrients. They are also super easy to use – with little to no elbow grease required – making for a fun tool to have kids help operate.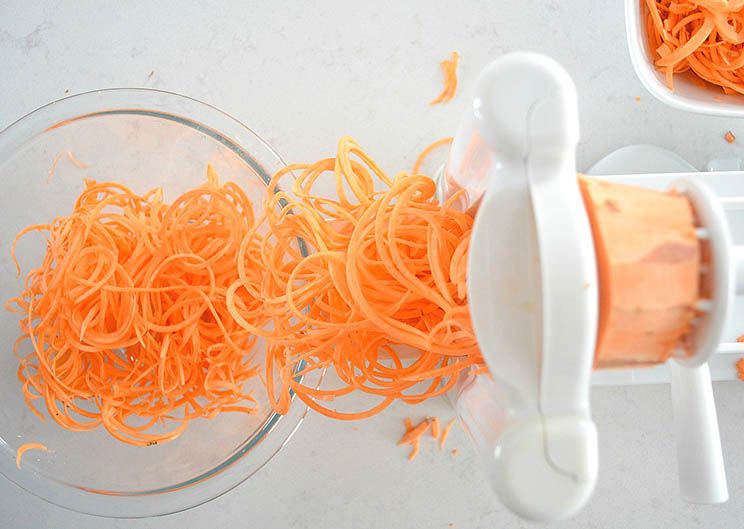 In today's recipe, we are turning sweet potatoes into noodles. This high fiber root vegetable is one of the richest sources of beta-carotene, which converts to vitamin A in the body. Vitamin A contains compounds that play important roles in keeping our eyes healthy and fighting free radicals that can damage skin. Since vitamin A is a fat soluble vitamin, we will increase the absorption by adding olive oil during the cooking process.
These delicious sweet potato noodles will be topped with a creamy poblano sauce. Coconut milk is a great Paleo alternative to achieve a creamy texture in sauces. Be sure to use unsweetened full-fat coconut milk. To thicken the sauce I used tapioca starch, which is a somewhat controversial ingredient in Paleo cooking. While tapioca starch is not a nutrient dense ingredient, it is hypoallergenic and a very functional binder and thickening agent in Paleo recipes.
This dish would be terrific served with grilled chicken or beef. You can also impress your non-meat eating friends by making them this recipe. Paleo and Vegan eaters can be friends, right?
Jennnafer Ashley
Sweet Potato Noodles with Creamy Poblano Sauce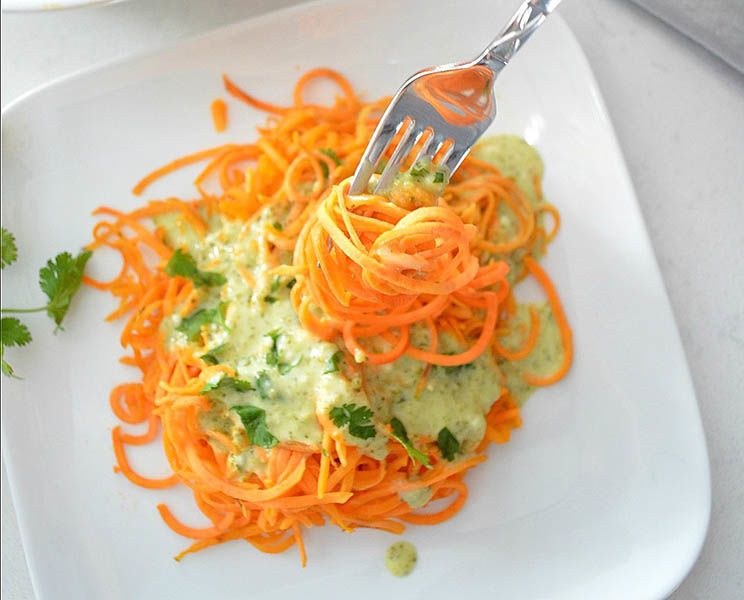 Cook Time:
45 mins
45 minutes
Prep Time:
5 mins
5 minutes
Sweet Potato Noodles with Creamy Poblano Sauce
Sweet potato noodles join forces with spicy green poblano sauce to create a simple dish that's both nutritious and delicious.
Tools
Baking Sheet

Ziplock Bag

Spiralizer

Blender or Food Processor

Saucepan

Skillet
Ingredients
2 large sweet potatoes, peeled

1 can unsweetened full-fat coconut milk

1 medium poblano pepper

1 t garlic, minced

1 handful of cilantro, divided

1 small jalapeño pepper, stem removed

1 T lime juice

1/2 t sea salt

2 T tapioca starch

2 T olive oil
Instructions
Turn oven to broil at 550°F. Place poblano pepper in oven on baking sheet. Broil until skin bubbles and is charred, about 15 minutes.

Place poblano pepper in ziplock bag for 10 minutes.

While poblano rests, remove ends of sweet potato so they are flat. Spiral slice sweet potato using 3mm blade.

Remove poblano from bag, peel off skin and remove the stem.

Combine poblano, jalapeño, garlic, lime juice and half of cilantro in a food processor. Blend until just combined.

Add coconut milk and blend until smooth.

Transfer mixture to a saucepan over low heat and bring to a simmer. Add sea salt and stir.

Remove 1/2 cup of sauce and pour into a measuring cup or bowl. whisk In tapioca starch until smooth and thick.

Pour mixture back into saucepan and stir to incorporate until sauce is thickened. Allow sauce to simmer on low heat for 10 minutes longer.

In a separate large pan, heat olive oil over medium heat. Add spiralized sweet potatoes and cook until just tender stirring occasionally, about 10 minutes.

Serve sauce over sweet potato "noodles." Garnish with extra cilantro.


(You'll Also Love: Spicy Sesame Almond Zucchini Noodles)