Whip up moist, chocolate chip-studded sweet potato muffins for the perfect on-the-go treat or afternoon snack.
During the work week, I don't have much time to spend cooking up an elaborate breakfast. For those days, I like having Paleo-friendly muffins on hand for a quick boost of energy that I can eat on my way out the door.
These muffins are made with a base of sweet potato purée that sweetens them naturally and provides moisture. The coconut flour in the batter absorbs some of the moisture and keeps things gluten-free.
Love Coconut Flour Recipes? Then you'll love our FREE Coconut Flour Recipes.
Click here to get your FREE copy of our delicious Coconut Flour Recipes!
Naturally gluten-free and Paleo-friendly, these muffins are chock-full of dark chocolate chips for extra oomph.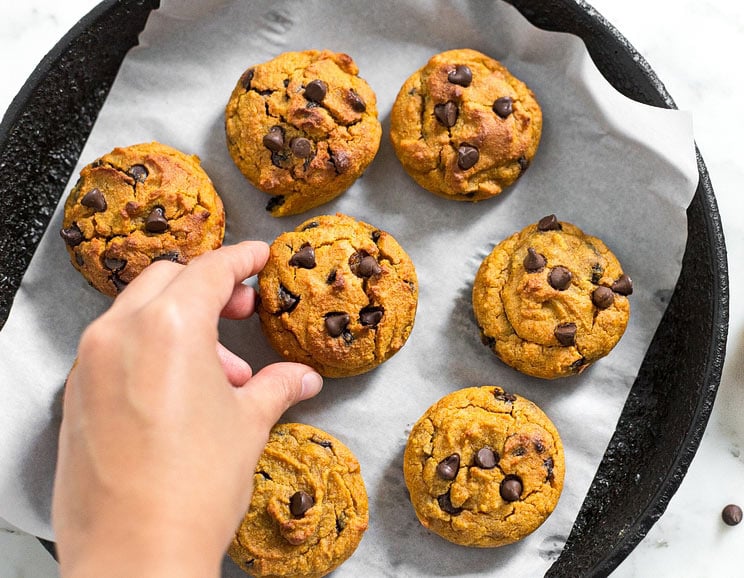 How To Bake With Sweet Potato
One of the reasons I incorporate mashed sweet potato in my baked goods is the natural sweetness it provides – on the Paleo diet, a natural, good-for-you sweetener is always a hit.
Sweet potato also imparts mega moisture in baked goods. In this recipe, the muffins can thank the sweet potato purée for an addictive, deliciously moist crumb.
Helpful Tips To Get You Started:
Use a silicone mold for best results. I prefer silicone molds for muffins because the batter doesn't stick to the mold, making paper liners unnecessary. If you use a metal muffin pan, you'll need those paper liners.
Swap out the sweet potato for pumpkin. If you don't have sweet potato purée on hand, simply swap it out for equal amounts of pumpkin purée instead.
Felicia Lim
Sweet Potato Chocolate Chip Muffins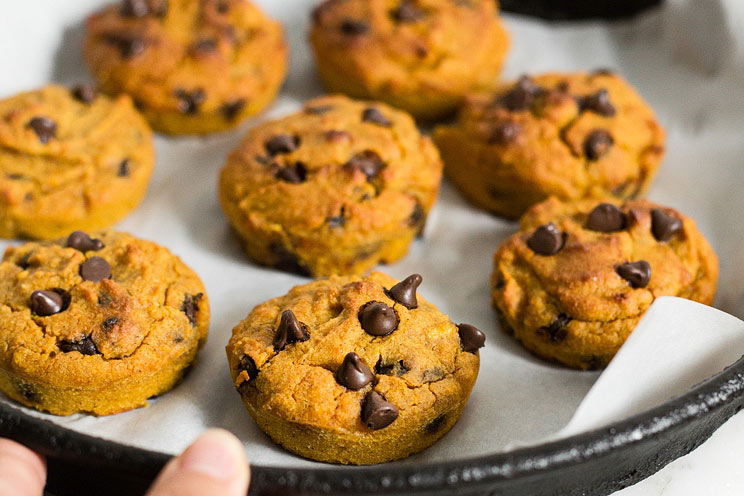 Inactive Time:
15 mins
15 minutes
Cook Time:
30 mins
30 minutes
Prep Time:
10 mins
10 minutes
Nutrition facts:
4 grams of protein
21 grams of carbohydrates
8 grams of fat
Sweet Potato Chocolate Chip Muffins
Whip up moist, chocolate chip-studded sweet potato muffins for the perfect on-the-go treat or afternoon snack.
Tools
Large mixing bowl

Electric mixer

Silicone muffin mold
Ingredients
1 cup sweet potato purée

1/3 cup tahini

½ cup coconut sugar

2 large eggs

¼ cup coconut flour

1½ t baking powder

½ t salt

½ cup dark chocolate chips
Instructions
Preheat oven to 350°F.

In a large mixing bowl, beat the sweet potato purée, tahini, and coconut sugar together until combined. Add in the eggs and beat until smooth.

Sift in the coconut flour, baking powder, and salt, and mix until you have a thick, homogeneous batter.

Fold in the chocolate chips until they are evenly distributed.

Fill each cavity in the muffin mold with batter, a little more than half full. Bake for 30 minutes until the tops are golden brown and a toothpick inserted in the middle comes out clean.

Allow the muffins to cool completely in the mold before removing them, about 15 minutes.
Looking for Paleo ingredients? Here are a few we'd recommend:
Coconut flour (Nutiva)
Baking powder (Hain)
Semi-sweet chocolate chips (Enjoy Life)
You'll Also Love: Chocolate Avocado Blueberry Muffins