Takeout gets a Paleo spin with fresh chow mein zucchini noodles. Spiralized zucchini is tossed in a sweet and tangy sauce with veggies for a light, healthy meal.
For this plant-based recipe, zucchini noodles amp up fiber while also packing much more nutritional punch than traditional chow mein noodles. This quick and convenient meal is ready for the table in under 30 minutes, making it a go-to for busy days.
Start by lightly tenderizing carrots, celery and cabbage in a large wok or skillet with toasted sesame oil. Toasted sesame oil adds a ton of flavor and aroma, making it terrific for stir-frying and as a sauce base.
Trying to figure out exactly what to eat on Paleo? Look no further than our FREE 21 Day Paleo Meal Plan.
Grab Our FREE Paleo Meal Plan By Clicking Here!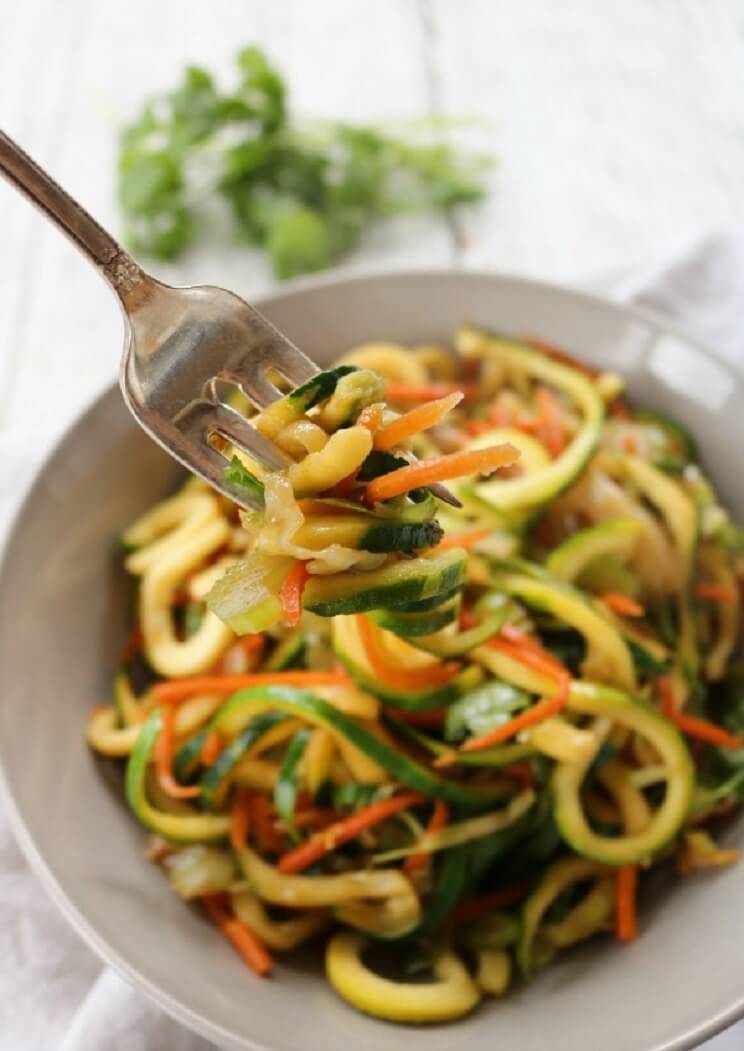 Once veggies start to tenderize, the rest of the sauce ingredients are added. Coconut aminos are a Paleo staple and the perfect replacement to soy sauce, with far less sodium. Coconut sugar is added to the sauce for a touch of sweetness and to help thicken it up.
I like my zucchini noodles to stay a little crunchy, so I cook them just long enough to heat through. If you prefer a softer zoodle, cook them for an additional 2-3 minutes. Finish with some fresh chopped cilantro and a sprinkle of sesame seeds. This recipe also happens to be vegetarian, but feel free to add thin slices of beef or chicken for protein.
Tip: For the heat lovers out there, spice this dish up with a sprinkle of red pepper flakes or Thai chili peppers.
Jennafer Ashley
Light, Healthy Chow Mein Made with Zucchini Noodles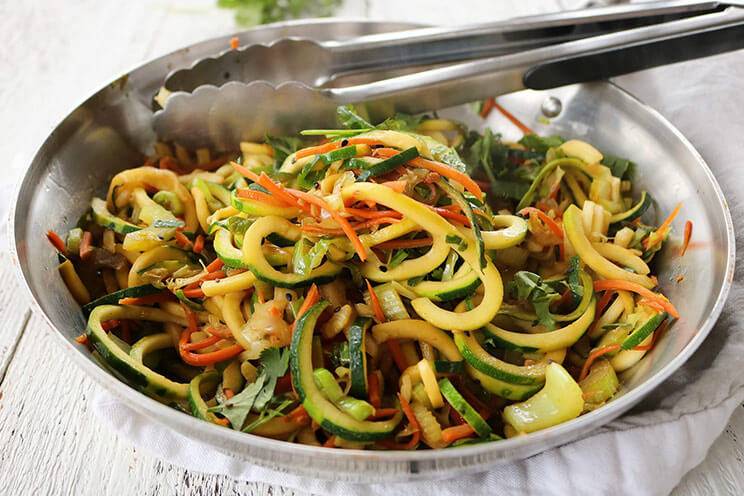 Cook Time:
15 mins
15 minutes
Prep Time:
10 mins
10 minutes
Light, Healthy Chow Mein Made with Zucchini Noodles
Takeout gets a Paleo spin with fresh zucchini noodles tossed in a sweet and tangy sauce with veggies.
Ingredients
For the Noodles:
2 medium zucchini

1 cup celery, thinly sliced

1 cup shredded carrots

1 cup shredded green cabbage

1/2 cup green onions, thinly sliced

2 T toasted sesame oil
For the Sauce:
4 T coconut aminos

1 t coconut sugar

1 garlic clove, minced

1/2 t ginger, grated
Optional toppings:
Chopped cilantro

Sesame seeds
Instructions
Using a spiral slicer on 3mm blade, slice zucchini into noodles and place into a bowl.

Heat sesame oil in a large skillet over medium heat. Add celery, cabbage and carrots. Cook 5 minutes.

Whisk ingredients for sauce in a small bowl. Pour sauce into skillet and stir. Cook 3 minutes.

Add scallions and zucchini noodles. Stir again. Cook 4-5 minutes longer. Finish with sesame seeds and cilantro.
(You'll Also Love: Spicy Sesame Almond Zucchini Noodles)