Dig into this sweet potato chili filled with nourishing veggies!
This flavorful chili is full of delicious sweet potatoes to produce a rich bowl of fiery goodness. It's hearty and healthy, making for a great dinner on nights when you need warmth for the body and soul.
Additionally, sweet potatoes are rich in vitamins A and C and can help regulate blood sugar. Combine that with smoked paprika and you've got an anti-inflammatory duo that can help improve skin, eyesight, and cholesterol levels. (Talk about a meal with some serious benefits!)
For all you spice lovers, feel free to experiment with a dash of cumin or onion powder for an extra kick. Serve this chili with your favorite vegetables or a slice of Paleo bread for a complete meal.
Trying to figure out exactly what to eat on Paleo? Look no further than our FREE 21 Day Paleo Meal Plan Click here to get your copy!
Whichever way you decide to enjoy it, you can bet this recipe is the best cup of soul-warming chili to keep you warm all winter.
Rebecca Hughes
Sweet Potato Paleo Chili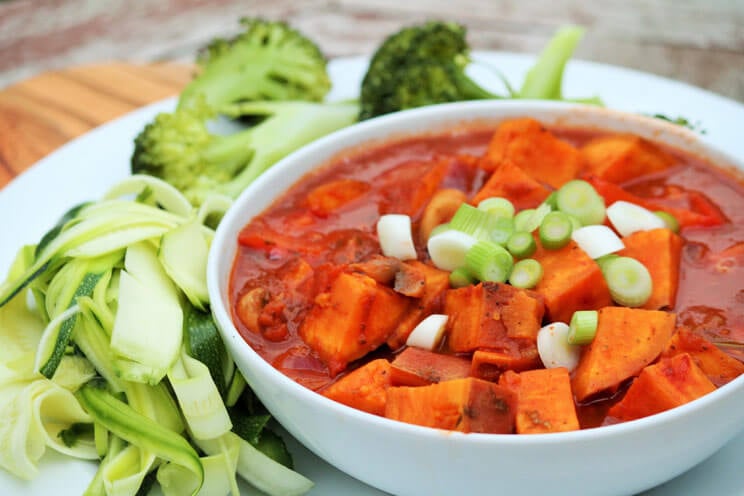 Cook Time:
30 mins
30 minutes
Prep Time:
10 mins
10 minutes
Sweet Potato Paleo Chili
Warm yourself up with this hearty chili recipe that includes sweet potatoes, mushrooms, and tomatoes.
Ingredients
2 medium to large sweet potatoes, chopped into cubes

Handful of button mushrooms, sliced

1 onion, chopped

Handful cherry tomatoes, halved

6 large, peeled tomatoes

1/2 to 1 T chili powder

1 t cayenne

2 t smoked paprika

2 t mixed herbs

1 t black pepper

Water

Optional topping: sliced spring (green) onions
Instructions
Add the peeled tomatoes, cherry tomatoes, onion, mushrooms, sweet potatoes, herbs and spices to a big saucepan on a medium to high heat.

Stir everything together, then add water until it's just above the entire mix. Stir again.

Leave to cook on a medium to high heat for 30 to 40 minutes.

Keep an eye on the chili to see if it needs more water, adding as the liquid reduces.

Once the sweet potatoes are cooked and the chili reaches a rich consistency, serve with dinner.
(You'll Also Love: Slow Cooker Chicken Chili)